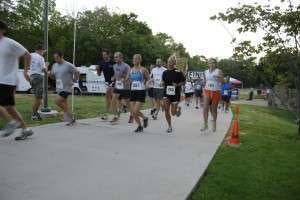 Seventy-two contestants finished the 5k Big Rig Run shortly after dawn on Friday, Aug. 26, as part of the growing health advocacy at the Great American Trucking Show.
Scottie McCulloch placed first in the male division, and Cindy George won first in the female division. A new category this year, the top CDL holders, were, in the male division, Nate Seymour, Benjamin Smith and Brian Sutherland. The female CDL winner was Lisa Lyons.
Lyons, a 55-year-old Fed Ex Custom Critical driver, was one of several truckers, fleet executives and exercise enthusiasts who said they run for fun, despite 88-degree heat for the sunny day on the Katy Trail in Dallas's Reverchon Park.
"I've always been into fitness," said Lyons, a Tampa, Fla., resident who is training for one of the races in Orlando's Disney Marathon in January. "I feel good when I run. If you're not exercising, life isn't worth living."
Marten Transport driver Sam McDowell of Austin, Texas, and his 10-year-old son, Ben McDowell, agreed. McDowell said he started running to improve his health about six months ago and has lost 80 pounds since. His blood pressure is lower now, too.
"I worked on it little by little," McDowell, an Austin, Texas, resident said shortly before he and Ben took off together in the race. "I got pretty excited after I ran my first mile."
Roadrunner Transportation vice president Keith Johnson said he ran from his hotel to the race trail and had posted a challenge to his fleet's drivers attending the show to join him at the race. "I'm pushing [exercise] because statistics show that drivers really need it," he said. Johnson started running about two years ago and has lost 43 pounds since. "I know it's hard, but if you start walking even 100 yards, it matters."
Detroit Diesel, Freightliner, John Christner Trucking, Right Weight Load Scales, Swift Transportation, Stay Fit and TA/Petro sponsored the race, proceeds for which benefited the National Center for Missing and Exploited Children.