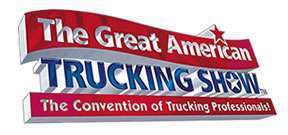 The 2011 Great American Trucking Show and other events surrounding it enjoyed more attendees with proven buying power and from more industry segments than ever before. With registration of 48,219, attendance was among the best and most diverse in the show's 13-year history.
"Our focus over the last few years on creating segment-specific programs is attracting new audiences to Dallas, including more dealers, private and for-hire fleets and suppliers," says Alan Sims, vice president/executive director, Randall-Reilly Events. "GATS has always attracted small and medium fleets, owner-operators and company drivers and continues to do so. The difference is now we are garnering support from the entire supply chain."
Exhibit space was up 22 percent over 2010 with almost 500 exhibiting companies and all major truck and trailer brands represented. The show also enjoyed greater participation from external groups that held meetings before or concurrently with GATS, including the American Truck Dealers, National Trailer Dealers Association, Truckload Carriers Association, Texas Motor Transportation Association, Avondale Partners and the Heavy Duty Manufacturers Association.
The second annual Commercial Vehicle Outlook Conference attracted more than 350 industry leaders from all segments of trucking to enjoy expert presentations, panel discussions and numerous networking opportunities during two half-days immediately prior to the opening of GATS. For-hire and private carriers represented at CVOC own and operate more than $8 billion in trucks and trailers. The event was produced by Randall-Reilly Business Media & Information and the Heavy Duty Manufacturers Association.
On the final day of GATS, thousands of truckers watched as winners of the first Custom Rigs Pride & Polish National Championship were announced. The event will be featured on Speed Channel's "American Trucker," hosted by Robb Mariani, who also served as a judge at the contest.
Beginning next year, GATS and all of the events and conferences surrounding it will fall under the umbrella Intersection 2012, an all-encompassing trucking convention developed to attract even more participants from all segments of the industry, including on-highway and vocational fleet executives, owner-operators, drivers, dealers, OEMs, suppliers and associations.
"We believe Intersection 2012 will benefit exhibitors and attendees by enabling them to maximize their networking, educational and buying/selling opportunities," says Jeff Mason, Randall-Reilly senior vice president, trucking. "They will save time and money by achieving multiple goals with one all-encompassing event."
Next year's GATS will be held Aug. 23-25 at the Dallas Convention Center.