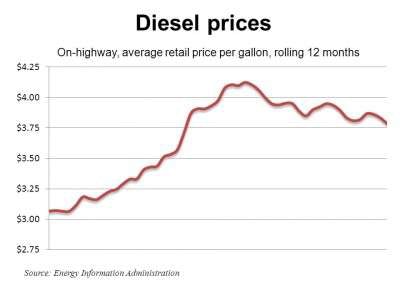 The U.S. average price of a gallon of diesel fuel dropped for the fourth straight week during the week ended Monday, Oct. 3, retreating 3.7 cents to $3.749, according to the U.S. Department of Energy's Energy Information Administration. That price is 74.9 cents higher than the same week last year.
Prices fell in every region, let by a 4.1-cent drop per gallon in the Central Atlantic region. But the decreases were fairly uniform in the Eastern United States, with the declines ranging from 3.7 cents in the Gulf Coast states to 4.1 cents except for New England, where prices fell by only 2.2 cents. Rocky Mountain states the nation's smallest drop at 2.1 cents.
As usual, the nation's most expensive diesel was in California, where prices fell 3.2 cents last week to hang on just above the $4 mark. The least expensive diesel was $3.693 in the Gulf Coast region, although prices in the Midwest and lower Atlantic states were almost insignificantly higher at $3.699.
Complete diesel price information is available on EIA's Website.