The future is here – and it's optimized
Volvo's XE13 powertrain helps maximize fuel economy
One of the fun parts of my job is getting to see new technologies come to fruition. And during a ride-and-drive event last month, I saw firsthand how intelligent drivetrains soon will shape fleet operations across the country.
Volvo's XE13 is an optimized powertrain that doesn't feature any new components; the reliable Volvo D13 diesel engine and proven iShift automated manual transmission are well regarded by truck fleets. What's new is how Volvo is using electronics to link these components together, allowing them to communicate with each other effectively and deliver optimized vehicle performance to meet any set of road conditions or geographic terrain.
As part of my introduction to the powertrain system, I took an XE13-equipped Volvo VN 670 tractor on a six-hour road test out of Greensboro, N.C., highlighted by a climb up Fancy Gap, a 2,000-foot mountain on I-77 near the North Carolina-Virginia border. For most of the run up the mountain, I was able to hang out in the middle lane, easily passing lugging rigs, some of which were sporting the logos of much higher-displacement engines on their hoods.
Electronics help the diesel engine and automated manual transmission work together.
That's the beauty of the XE13's new technology: Because the drivetrain is fully integrated, each system knows precisely what demands are being placed on each component. This information is updated thousands of times per second – and the decision-making process never stops. In essence, this light-speed communication network allows the tractor's I-Shift transmission to direct the engine to respond to its needs instead of the other way around.
Integrated beauty. Each system knows what demands are being placed on each component.
Fuel efficiency. In cruise mode, the optimized powertrain runs at a lower rpm than a conventional unit.
Safe bet. Intelligent, optimized powertrains will become commonplace in coming years.
The result is an amazingly smooth ride up and down a mountain in crowded road conditions while pulling 77,000 pounds. There is no tentative gear-searching here; the XE system tunes overall vehicle performance to match an array of driving conditions and then provides continuous, intelligent power to meet and overcome those conditions consistently.
In my case going up Fancy Gap, the system selected 10th gear early in the climb and held a steady 53 mph all the way up the summit, never straining and never feeling like the transmission was winding out. On flat stretches of highway, the transmission got to 12th gear quickly and smoothly and then stayed there. Mild inclines don't cause downshifts or a lot of gear-searching because the transmission calculates the grade and notes it's not increasing (thanks to a built-in inclinometer). Volvo engineers understand that higher gears and lower rpms mean better cruise characteristics and better fuel economy – and that's a mission the XE powertrain takes seriously.
The XE13 package is rated up to 80,000 pounds, and the D13 engine provides 425 hp and 1,750 lb.-ft. of torque. The Volvo I-Shift overdrive transmission comes with a 0.78:1 ratio and a software package that facilitates communication between the powertrain components.
Volvo engineers note that every 100 rpm reduction in an on-highway diesel engine nets a 1.5 percent fuel savings. Volvo is confident in predicting fuel savings of up to $2,000 a year for each XE13-equipped VN tractor. It took two years for Volvo engineers to perfect the algorithms and electronic systems that allowed them to optimize their powertrain in this way, but as the results show, it was worth the time and money invested.
It's a safe bet that more intelligent, optimized powertrains will become commonplace in coming years. The benefits they offer will prove to be too good for many fleets to ignore.
For exclusive multimedia and online of Volvo's I-Shift, visit www.ccjdigital.com/volvoishift.
Medium-duty quality up, satisfaction down, survey says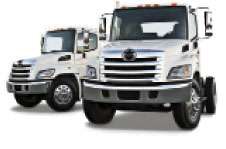 While the quality of medium-duty trucks has improved during the past five years, overall customer satisfaction has declined during the same period, according to the J.D. Power and Associates 2011 U.S. Medium-Duty Truck Customer Satisfaction Study. The study finds that the incidence of owner-reported problems decreased by 26 percent between 2007 and 2011 on average – an indication of higher quality – but that during the same timeframe, owner satisfaction declined by 27 index points (on a 1,000-point scale) among trucks that have been in service 13 to 18 months.
The study finds that manufacturers have made improvements during the past five years in wheel/tire, braking system and cab/body quality, resulting in a decline in the total number of problems. However, the number of engine problems in trucks that have been in service 13 to 18 months increased by 13 problems per 100 vehicles (PP100) between 2007 and 2011. "Declining engine quality is putting downward pressure on satisfaction," says Brent Gruber, senior manager of the commercial vehicle practice at J.D. Power.
With a score of 807, Hino ranks highest in customer satisfaction within the conventional truck segment for a second consecutive year. Freightliner (762) and Ford (757) follow in the index rankings.
Goodyear's fleetHQ set to service 500,000 trucks in three years
During a live demonstration last month at its commercial tire manufacturing plant in Danville, Va., Goodyear Tire & Rubber Co. announced its fleetHQ program – which provides 24/7 roadside assistance and a variety of other services and tools to address fleet needs – was on pace to hit the 500,000-truck service mark since the program began three years ago. Going forward, the company expects to service 250,000 trucks per year from its network of 300 fleetHQ locations nationwide.
Goodyear also announced the launch of its "Ask The Tire Answer Man" blog (http://www.blog.fleethq.com), giving fleets and owner-operators an opportunity to interact with Tim Miller, a 30-plus-year commercial tire veteran and marketing communications manager for Goodyear's commercial tire business.
IN BRIEF
Jacobs Vehicle Systems now offers engine decompression capability, which provides the ability to decompress the engine cylinders for better engine response.
Michelin's Commercial Service Network has added about 200 locations to increase its coverage by nearly 70 percent since being launched in February. The network also has enhanced the Michelin OnCall Emergency Road Service, resulting in it handling a projected 80 percent more events this year than it did in 2010.
Horton expanded its QuickShip warehouse program for smaller, urgent customer orders by adding a warehouse in Edison, N.J., to support growth in the Northeast region, provide faster response and reduce freight charges.
Dana Holding Corp. completed the sale of its equity in two joint ventures to Getrag for $136 million in cash.
Minimizer was named a Silver Medalist in the Heavy Gauge Vacuum Forming Parts Competition at the 2011 Thermoforming Conference in Schaumburg, Ill.
Jeffrey Schlecht, a technician with Omaha Trucks, became the Technology and Maintenance Council's second back-to-back SuperTech champion. Schlecht, who is based at Omaha Truck's facility in Norfolk, Neb., competed against professional vehicle technicians from across the country during TMC's Fall Meeting in Raleigh, N.C.
Road test:
Cat's CT660 vocational truck
On Sept. 9, Caterpillar gave the green light to begin CT660 vocational truck production for the North American market. George Taylor, director of Caterpillar's Global On-Highway Truck Group, says the CT660 is Cat's most intensely researched product launch ever.
The result, Taylor says, was a chance to bring the "Caterpillar difference" to its vocational customers. "Really, the development of this truck was about a company focusing for the first time not just on the truck itself, but the application of that truck in a business," Taylor says. "Customers told us how their older trucks that interacted with the machines on their jobsites were really a weak link in their production cycle. We really zeroed in on how this new truck worked with equipment and how it could help our customers make more money using our products."
Caterpillar launched the CT660 earlier this year at the CONEXPO-CONAGG trade show in Las Vegas, but the trucks on hand for that premiere were not road-ready. In late September, Cat invited journalists from across North America to its Edwards Proving Grounds facility in Peoria, Ill., for a first chance behind the wheel of the new trucks.
A full-blooded Cat?
The CT660 was developed using the Navistar WorkStar vocational truck as a starting point. And Cat trucks will offer only one make of engine: Navistar's 2010 exhaust gas recirculation-only family of heavy-duty diesel engines, painted yellow and branded as Cat CT11 and CT13 diesels.
While it might be a stretch to call the CT660 a full-blooded Cat truck, this is no mere rebranding job on Cat's part.
It's worth pointing out, however, that Cat and Navistar diesel engines share a lot of common DNA: The two companies jointly developed the high-pressure fuel injection system that helps enable Navistar engines to meet U.S. Environmental Protection Agency 2010 emissions regulations without the use of selective catalytic reduction exhaust aftertreatment systems requiring diesel exhaust fluid. Building on this strong relationship, Cat will offer the CT660 with either an 11-liter or 13-liter diesel engine, with ratings ranging from 330 to 475 hp.
A 15-liter option is planned in the near future with power ratings as high as 550 hp, although Gary Blood, vocational truck product manager for Cat, says the current 475-hp CT13 engine mated with Cat's CX31 automated manual transmission delivers power on par with a 15-liter. The CX31 weighs 100 pounds more than the standard Eaton 10-speed manual gearbox offered in the CT660, but Blood says it delivers up to an 8 percent boost in fuel economy and offers three exclusive rear PTO options for mixers and other applications.
Although there was some scoffing when Cat announced it was entering the on-highway truck market using the WorkStar as a "donor" truck ("Caternational" was a particularly derisive term for the new vehicle), it is abundantly clear climbing into the cab for the first time that Cat isn't kidding when it says it redesigned the cab both inside and out with a strong emphasis on driver ergonomics. When Blood is asked how much the CT660 had in common with a WorkStar, he notes with the exception of "a couple of components" that the CT660 is all-new from the frame rails up.
Particular attention was paid to the vehicle's "buzz, squeak and rattle" or "BSR" factor during the design phase; those efforts have yielded impressive results. Climb into the cab of a CT660 and settle behind the wheel, and you'll find nothing in common with a WorkStar. The entire cab – from the dash, instrument layout, exterior views and storage space to seat placement – is all new. Interior trim, highlighted by brushed aluminum highlights on a black background, reinforces the fact that you're driving a vocational truck.
Cat has learned a lot about operator comfort and ergonomics during the years, and that knowledge is put to good use here in terms of control placement and access. The speedometer and tachometer both are centered in front of the driver on a single large gauge, and the lighting scheme makes dials, switches and gauges sharp, vibrant and easy to read.
The CT660 cab's sound dampening is impressive. Vehicle engineers went on their sound-dampening mission with such zeal that the final-production vehicle actually exceeds the initial target in-cab sound level by 3 decibels. That extra effort is readily apparent when you put the CT660 in gear and take off down the road.
Keeping drivers safe, comfortable and productive even in harsh offroad driving conditions was another key focus by Cat's vehicle design group, even though the truck has a set-back front axle.
"Every possible factor was considered to improve driver comfort and productivity," Blood says. "Our use of a quieter compacted graphite iron engine block, premium interior materials with robust Hendrickson and Chalmers suspensions and multiple seating options gives us a truck that is not punishing to a driver and isn't going to throw his head all over the cab when he's driving in tough offroad conditions."
On the road, the CT660 continues to impress. Acceleration with the 475-hp CT13 under the hood was peppy, and the CX31 provided smooth shifts right on cue. Equally impressive are the truck's wheel cuts and turning radius. Exterior views from the driver's seat are outstanding, and cab entry and egress is safe and easy thanks to thoughtfully placed, robust grab-handles.
It might be a stretch to call the CT660 a full-blooded Caterpillar truck, but it's clear this isn't a mere rebranding job on Cat's part. The company has done a remarkable job taking a "donor truck" and recasting it into a vehicle that fits nicely into the company's overall product line.
Moreover, the CT660 draws on Caterpillar's century-plus construction heritage and enters the North American market driving, looking and feeling just like a full-blooded Cat truck.
Cat, Navistar announce global truck alliance
As production ramps up on the new Caterpillar CT660 vocational truck, Caterpillar and Navistar announced the next phase of their partnership to develop, manufacture, sell and support vocational and on-highway trucks for both the North American market and the rest of the world. In June 2008, the two companies formed an alliance for the on-highway truck business, which led to the creation of a 50/50 joint venture called NC2 Global, focused on the development of on-highway trucks for markets outside of North America, including current truck offerings in Australia, South Africa and Brazil.
The next stage restructures certain aspects of NC2, which will become a wholly owned subsidiary of Navistar. Both International and Caterpillar branded trucks will continue to be distributed through both International and Caterpillar dealers outside of the United States. The companies also are planning a new cab-over-engine Cat vocational truck that will be sold globally.