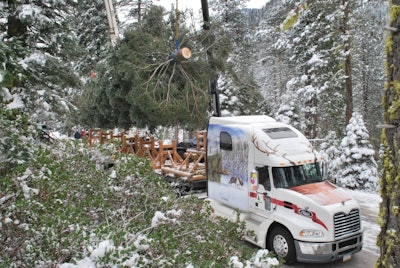 A cheerfully decorated Mack Pinnacle model is trekking cross-country this holiday season to Washington, D.C., with a 65-foot white fir tree in tow. The U.S. Environmental Protection Agency Smartway-certified Pinnacle Axle Back model sleeper, provided by Mack, is hauling the tree that will light up the nation's capitol this year as part of the 2011 Capitol Christmas Tree Project.
The conifer in tow was selected from the Stanislaus National Forest in the central Sierra Nevada Mountains and loaded onto a special trailer with a custom-built cradle to support the tree's branches throughout its journey.
The tree is taking a multiday tour of California before embarking on a two-week cross-country journey to Washington. Numerous cities and towns will hold celebrations at stops along the way, giving visitors an opportunity to see the Mack Pinnacle hauling the massive tree – including one near Mack's World Headquarters in Greensboro, N.C.
Royal Trucking Co. is joining Mack in delivering Christmas spirit. The Concord, Calif.-based carrier is providing drivers and a second truck to transport a trailer supplied by Mack containing 3,000 handmade ornaments and 100 smaller trees for government offices.
After arriving in Washington, the tree will be decorated with almost 10,000 low-energy LED lights and thousands of ornaments. A lighting ceremony on the west lawn of the Capitol will be held on Dec. 6, and the tree will remain lit throughout the holiday season.
The tradition of "the People's Tree" began in 1964, and national forests rotate responsibility for providing the tree. The Bulldog has delivered Christmas to the Capitol before, most recently in 2009 when a Mack truck hauled an 85-foot blue spruce from Arizona to Washington.