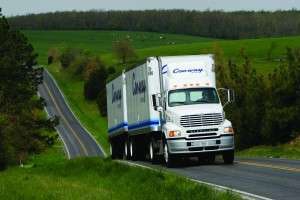 Con-way Inc. on Thursday, Nov. 3, reported 2011 third-quarter net income of $29.1 million compared to a 2010 third-quarter net loss of $8.2 million, which included goodwill impairment and other pre-tax charges of $21.9 million. Operating income was $61.1 million compared to $12.5 million, while revenue was $1.38 billion, an 8.4 percent increase from $1.27 billion.
Douglas Stotlar, president and chief executive officer of the Ann Arbor, Mich.-based company, said the 2011 quarter's results reflected consistent operating improvement in Con-way's core businesses compared to last year's third quarter.
Con-way Freight, the company's less-than-truckload operation, overcame soft demand trends early in the quarter to turn in a solid performance, with business levels steadily improving as the quarter progressed. Revenue was $843.3 million, a 5.8 percent increase over $797.1 million; improved yield, including higher fuel surcharge revenue, accounted for revenue growth. Operating income was $40.7 million, an increase over $13.1 million.
Tonnage per day declined 5.5 percent, reflecting the company's focus on network efficiency. Operating ratio was 95.2 compared to 98.4. "Con-way Freight's continued focus on managing costs, rationalizing volumes in the network and maintaining yield growth delivered positive results," Stotlar said. "The emphasis remains on continuous improvement in all areas of the business."
Menlo Worldwide Logistics, the company's global logistics and supply chain management operation, sustained its momentum. Revenue was $417.1 million, an increase of 12.7 percent from $370.0 million due to increased revenue in both transportation management and warehouse management services. Net revenue was $154.7 million, a 9.9 percent increase from $140.7 million.
Operating income was $12.7 million compared to an operating loss of $6.3 million; excluding a $16.4 million goodwill impairment charge, third-quarter operating income in 2010 was $10.1 million. "Stable customer volumes and good cost controls enabled Menlo to deliver growth in net revenues and profits," Stotlar said. "We were encouraged as demand for high-value contract logistics and supply chain management services continued to gain traction."
Con-way Truckload recorded gains in revenue, operating efficiencies and income. Revenue was $158.7 million, a 12.8 percent increase over $140.7 million, reflecting the positive effects of higher fuel surcharges and improved revenue per loaded mile, which increased 4.6 percent, excluding fuel surcharges. Operating income was $7.9 million, a 43.7 percent increase over $5.5 million, resulting largely from improved pricing and operating efficiencies, partially offset by higher self-insurance expense.
Empty miles were 9.5 percent of total miles compared to 10.8 percent, while operating ratio exclusive of fuel surcharges was 93.6 compared to 95.3. "Higher asset utilization, increased revenue per mile and lower empty miles contributed to the quarter's results," Stotlar said. "Overall market demand has been steady and some regions are becoming capacity constrained. Con-way Truckload is maintaining its emphasis on premium service, margin improvement and network efficiency."