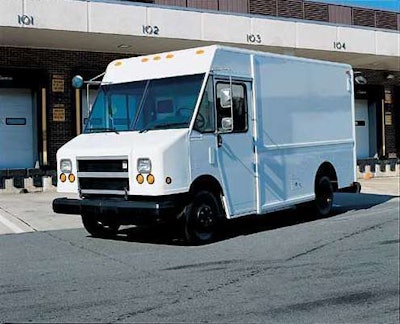 Freightliner Custom Chassis Corp., a developer of hybrid-electric and all-electric drive systems and drive system components for the green commercial vehicle market, has launched a program designed to make electric vehicles more accessible to fleets. The Green for Free program allows fleet executives to purchase all-electric vehicles for the cost of a diesel-powered commercial vehicle. The savings fleets incur from the reduced maintenance and fuel savings of the electric vehicles (EVs) then is used over a period of time to cover the incremental expense for the technology.
The Green for Free program will utilize the FCCC All-Electric Walk-in Van (WIV) chassis powered by the Enova drive system. Fleets with set routes in pickup-and-delivery applications are suited for the Green for Free program because they have predictable drive routes and return each night to the company depot. FCCC can provide immediate volume, which is required to reduce high-cost components such as batteries. Additionally, the project looks to focus on disciplined duty cycles, utilizing 80 percent of the battery daily, versus design for extended range.
"FCCC and Enova recognize that the Green For Free program is necessary in order to make all-electric vehicles more affordable, and therefore more accessible, to fleets," says Bob Harbin, FCCC president. "We want to help those fleets interested in reducing their energy consumption and environmental impact by enabling them to purchase more alternative-fuel vehicles at one time because of the reduced upfront costs."
The commercial vehicle market has relied on government funding for alternative-fuel vehicles with some success. However, FCCC says its program will eliminate the overall incremental costs associated with buying and operating an all-electric vehicle, making the program attractive to fleets that are both large and small. FCCC and Enova plan to deploy a total of 3,000 alternative-fuel vehicles within a two-year timeframe beginning no later than the third quarter of 2012 as a result of the Green for Free program.
Enova and FCCC developed an integration method for both new and retrofit applications. FCCC's all-electric chassis is built upon the FCCC MT-45 chassis, which has a GVWR of 14,000 to 19,500 pounds and is capable of handling heavy payloads. "This business model has the potential to stimulate tremendous and rapid growth, helping achieve economies of scale through cost reduction, resulting in an excellent value proposition for the commercial fleet operator," says Mike Staran, Enova president and chief executive officer.