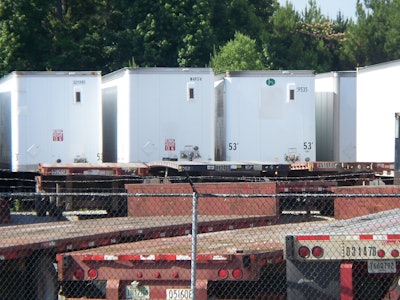 Telular Corp., which specializes in connecting businesses and machines over wireless networks, this week announced the signing of a definitive merger agreement to acquire SkyBitz Inc., a provider of mobile resource management solutions focusing on tracking and management of truck trailers, intermodal containers, seagoing containers, rail cars, power generators and rental equipment.
Transaction terms include a purchase price of $42 million comprised of $35 million in cash and $7 million in newly issued shares of common stock. The cash portion will be financed with a $30 million five-year bank loan and cash on hand. The acquisition is subject to regulatory approval and is expected to close in 60-90 days.
Telular says the acquisition expands its position in the M2M space as a result of SkyBitz's broad base of additional customers and proprietary SAAS technology platform. The combined companies say they will create one of the world's largest "pure player" asset tracking and management companies.
SkyBitz's Global Locating System (GLS) satellite-based technology is designed to provide real-time visibility of many asset types. Telular says SkyBitz addresses a multibillion-dollar market opportunity by reducing operating costs, increasing efficiency and aiding in the compliance with regulatory requirements across an increasingly complex set of supply chains and business ecosystems. SkyBitz says that by the end of their calendar fiscal year, it expects to be tracking and managing about 190,000 assets, a net increase of about 11 percent over the end of the prior year.
"I am very excited about the acquisition of SkyBitz as it gives us the leading position in an adjacent M2M vertical market, provides immediate incremental cash flow and builds upon our stream of high-margin recurring service revenues," says Joseph Beatty, president and chief executive officer of Telular. "SkyBitz's management approach and growth objectives fit very well with Telular's strategy and include growing its installed base of units, enhancing its international presence and entering new vertical markets related to asset tracking."
Beatty says the combination of SkyBitz's assets with Telular's existing portfolio of Telguard and TankLink services will allow Telular to address a much larger market opportunity and expand its technology base with satellite communications capabilities that will complement its historical expertise in cellular communications. "We believe that this acquisition will help us accelerate our growth and profitability in the wireless space while maintaining a strong financial position and staunchly supporting a tangible return to our shareholders in the form of a quarterly dividend," he says.
Dr. Homaira Akbari, president and CEO of SkyBitz, brings 20 years of experience in sales, marketing, product development, consulting and operations, and plans to remain with the combined company as president of SkyBitz. In addition, SkyBitz's experienced management team is expected to stay in its entirety to help grow the asset tracking business and continue developing related add-on services in the areas of cargo security, cargo status monitoring, preventive maintenance and other applications to be announced. SkyBitz's employees will continue to work from their offices near Washington, D.C., under Akbari's direction.
"SkyBitz's technology platform is the industry's best-in-breed, providing a powerful, highly reliable solution that is complementary to Telular's existing portfolio of M2M solutions," Akbari says. "We have developed cutting-edge SAAS solutions that are well suited to serve many industries, including government, due to the patented way in which we use GPS signals to determine the location of critical assets. My team and I look forward to continued profitable growth as part of the Telular family of wireless solutions."