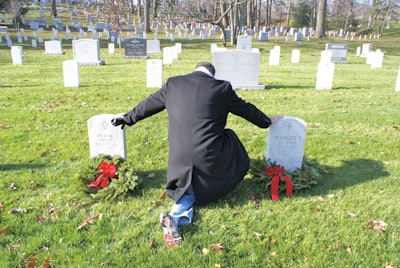 Nearly 50 trucking companies hauled 80 truckloads of about 325,000 fresh wreaths to be laid on graves at more than 700 veterans' cemeteries across the nation. The massive distribution supports Wreaths Across America, a nonprofit organization that coordinates veteran services and provides schools with teaching aides for projects.
Barry Pottle, president and chief executive officer of Pottle's Transportation of Bangor, Maine, and a past chairman of the Truckload Carriers Association, has taken the lead in coordinating the trucking industry's involvement with this event. "Wreaths Across America is a great cause … it has really brought the trucking industry together," he says. "We're united in wanting to wish veterans and their families happy holidays and to thank those who died protecting our freedom."
Wreath Across America Day is held annually on the second Saturday of every December. The tradition of laying wreaths at Arlington National Cemetery began in 1992 when the owner of Worcester Wreath Co. found a surplus of leftover wreaths. With the help of Sen. Olympia Snowe (R-Maine), arrangements were made for the wreaths to be placed in one of the sections of the cemetery.
The largest Wreath Across America event was held Saturday, Dec. 10, at Arlington, the final resting place for more than 300,000 veterans. Among the 15,000 volunteers at Arlington was Mike Reilly, chairman, president and chief executive officer of Randall-Reilly Business Media & Information, CCJ's parent company. Reilly helped unload boxes of wreaths from a truck and trailer provided by Pottle's.
The event holds special meaning for Reilly, whose parents, Blanche and Major Frank Kent Reilly Jr., both are laid to rest at Arlington. Frank Reilly was a Marine fighter pilot who received six Gold Star and Distinguished Flying Cross awards before being killed in a test mission prior to Mike's birth. As he laid wreaths on his parents' gravestones, Reilly vowed to remain involved in future events. "I don't know how anyone who participates in Wreaths Across America would not want to come back," he said.
In Michigan on Saturday, Dec. 10, employees for Load One went to military cemeteries to place wreaths on graves. The expedited hauler also picked up a truckload of wreaths from Worcester Wreath Co. The following Tuesday and Wednesday, Dale New, an Air Force veteran and company driver for Taylor, Mich.-based Load One, delivered more than 2,000 wreaths to six locations: four military cemeteries in Alabama and two in Louisiana. "It just touched me that people care this much," New says.
One stop, in particular, created a lasting memory. When New arrived at the gate of the Alabama National Cemetery in Montevallo, flags lined the entrance all the way to the delivery spot. As he turned the vehicle to enter, a member of the Patriot Guard and other volunteers paused to salute New and his load of wreaths.
"That really made it all come together about how important the wreaths are," he says. "Out of all years I've driven, this was most important load. I can't put it into words. This one did it."
For more information about the Wreaths Across America program, go to WreathsAcrossAmerica.org. To volunteer trucking equipment and drivers for next year, contact Pottle at 800-370-5623 or bpottle@pottlestrans.com.