Accident-prevention technologies bring visibility, control
The most minor of accidents involving one of your drivers still can cause great financial pain – even if it wasn't your driver's fault. Property damage, injuries, legal fees and other incidentals often will exceed the cost for technology that might have prevented the accident. But spending limited capital on technology without a clear timetable for a return on investment can seem like a financial gamble.
The investment becomes less risky when considering the accidents that may happen down the road, such as a tractor collision with a passenger vehicle: 75 percent of large truck fatalities result from collisions with moving vehicles, and 60 percent of fatalities include an initial frontal impact, according to 2009 Federal Motor Carrier Safety Administration data.
Technologies that can help prevent accidents generally fall into three categories: safety systems that give audible or visual warnings to drivers to increase reaction time; active systems that automatically engage the vehicle brakes when a crash is imminent; and those that capture information about risky driving behaviors.
These first two technologies could have a significant impact on the 81 percent of critical safety events that involve some type of driver distraction, according to a 2009 FMCSA study. They also can increase driver reaction time: A study by the University of Michigan Transportation Research Institute found that 90 percent of rear-end accidents could be prevented if the driver recognized the situation one second earlier.
As for the third technology, a recent analysis from DriveCam, a provider of driver risk management systems, compared drivers involved in one or more collisions with drivers who have not had a collision. The first group is 6.5 times more likely to exhibit aggressive driving and more than two times as likely to be drowsy or demonstrate judgment error. Technology that can change driving behavior has a high likelihood for return on investment.
Increasingly, fleets are looking to maximize return on investment through product integration and by using multiple systems together to manage risk. While each system is different, they all bring real-time visibility and control over situations that otherwise would be left to chance.
1.ACTIVE SAFETY
All truck manufacturers now offer active safety systems from one or more suppliers such as Meritor Wabco and Bendix.
Meritor Wabco offers a stability control system as well as OnGuard, an active radar-based forward-collision safety system that scans the environment and gives drivers a basic warning alert of stationary or slower-moving objects in their path of travel. OnGuard automatically will engage the vehicle's brakes when a collision is imminent regardless of driver activity and whether cruise control is engaged or not.
Meritor Wabco is seeing increased demand for integrated safety systems that can provide both active controls and driver alerts. "Our current strategy is to develop things like lane-departure warning systems that allow features such as drowsy driver and video capture to work in conjunction with OnGuard," says Mark Melletat, director of field operations.
Bendix offers an active electronic stability system and the Bendix Wingman Advanced collision mitigation system. The company also offers alert-only systems: AutoVue for lane departures and Vorad for blind-spot detection and forward collision. Bendix acquired AutoVue from Iteris and Vorad from Eaton.
While Bendix plans to continue offering both its active and alert safety systems separately, its product roadmap includes integration among systems that will prioritize alerts, says T.J. Thomas, director of marketing and customer solutions for the Bendix Controls Group. Suppose a truck is equipped with both lane departure and collision warning systems, and a driver has to swerve into another lane to avoid a rear-end collision; the driver would receive an alert from the collision warning system – the highest priority – but not from the lane-departure warning system.
Six of the 80 tractors operated by James Burg Trucking have active electronic stability control safety systems that automatically engage vehicle brakes to prevent or at least mitigate the severity of imminent rollovers. Jim Burg, president of the Warren, Mich.-based flatbed hauler, says all new tractors and trailers added to the fleet will be equipped with this technology
James Burg Trucking currently is testing a radar-based forward-collision avoidance and mitigation system. "The systems I am interested in are ones that intervene when the driver has blown his chance," Burg says. "With all of the distractions around in the cab, you need something to back them up and give them an extra second or two to react."
One of Burg's deciding factors in purchasing new trucks is which manufacturers offer his preferred options for active safety systems. "As we buy new trucks, this technology will be employed," he says.
Say what?
Study links driver satisfaction with frequency of invalid warnings
Suppose you decided to equip your fleet with one or more safety systems to give drivers as much advance warning of unsafe driving conditions as possible. Would the warnings be too frequent or perhaps unnecessary to the point of aggravating the driver?
The University of Michigan Transportation Research Institute last year concluded a four-year Integrated Vehicle-Based Safety System program that involved researching, developing and the verification testing of a fully integrated safety system with multiple crash warning features – forward-collision warning, lane-departure warning and lane change/merge warning – in a platform for commercial trucks.
In February 2009, Con-Way Freight partnered with UMTRI to conduct a field test using 10 company trucks equipped with IVBSS for 10 months with 20 commercial truck drivers. The warning rates across all drivers were 3.3 per 100 miles for forward-collision warning, 13.0 per 100 miles for lane-departure warning and 2.0 per 100 miles for lane change/merge warning. The rates of invalid warnings were 1.8 per 100 miles for forward-collision warning, 0.2 per 100 miles for lane-departure warning and 3.0 per 100 miles for lane change/merge warning.
Drivers rated the lane-departure warning subsystem the highest in terms of satisfaction and second-highest in terms of perceived usefulness. Drivers liked the lane change/merge warning subsystem the least, which can be explained by the high rate of invalid warnings.
Top 10 list of crash risk
If a driver has: The increase in crash likelihood is:
A failure to use/improper signal conviction 96%
A past crash 88%
An improper passing violation 88%
An improper turn conviction 84%
An improper or erratic lane change conviction 80%
An improper lane/location conviction 68%
A failure to obey traffic sign conviction 68%
A speeding more than 15 miles over speed limit conviction 67%
Any conviction 65%
A reckless/careless/inattentive/negligent driving conviction 64%
According to ATRI data, a driver's failure to use a turn signal or improperly using it is the leading indicator of a possible future accident.
2. DATA COLLECTION
Besides alerting drivers to risky events and engaging vehicle controls when necessary, technology can provide fleets with visibility to driving behaviors.
Cargo Transporters, a 450-truck fleet based in Claremont, N.C., chose the Vorad forward-collision warning system 10 years ago based on its potential to help drivers increase reaction time, particularly in poor-visibility situations such as fog. Besides giving drivers alerts, the system engages the vehicle's engine brakes when the vehicle is in cruise control to maintain spacing.
Cargo Transporters also uses the AutoVue LDW (lane departure warning) and Roll Stability Control systems. Going forward, the fleet plans to spec all new vehicles with the active OnGuard collision avoidance system and AutoVue LDW.
Cargo Transporters' safety department receives an immediate alert when Roll Stability Control is activated and when drivers have a "panic braking" event. After the company receives these alerts via the onboard computing system linked to the J1939 databus of its vehicles, a manager will contact the driver immediately to investigate each occurrence.
By using these technologies, Cargo Transporters has seen a significant reduction in both the number and severity of accidents. "We don't really attribute it to one specific item, but a combination of all safety initiatives," says John Pope, chief executive officer. "We are confident enough that the systems work that we would not order a truck without them."
The OnGuard system can capture information to evaluate driver behavior, but Cargo Transporters hasn't chosen this feature. Fleets that want information captured by OnGuard have the option to download the data, and Meritor has various options for reporting, such as individual driver reports that include the number of brake activations and the average distance between vehicles, Melletat says.
Bendix offers a manual download option for its safety products via the ACOM software product. Data from the AutoVue LDW system can be sent to the Safety Direct Web-based safety management system along with hard-braking and other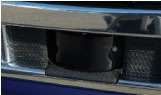 safety event information captured by onboard computers.
3. DRIVER COACHING
The problem with hard-braking events and other information collected directly from the vehicle or from safety systems is lack of context. A single hard-braking event does not explain the circumstances; only the driver or an eyewitness can know the truth, but events happen quickly and stories conflict. Some fleets have invested in camera-based risk management systems that can help prevent accidents by changing driver behavior and capturing what really happened.
Melton Truck Lines, a 900-truck carrier based in Tulsa, Okla., has used the Iteris LDW system for several years. "We think this technology has reduced rollover and driver fatigue and increased general safety awareness," says Angela Buchanan, vice president of safety. Melton also has seen an improvement in driving behaviors by following up immediately when hard-braking events occur. Based on the success of these technologies, the company recently began testing DriveCam's risk management system.
The DriveCam system uses two cameras and a small self-contained windshield-mounted recording device. One camera faces the driver, and the other faces forward outside the vehicle. The device captures video continuously as it monitors the vehicle's location, speed and accelerometer data. When the device detects a critical safety event such as a rapid deceleration or lane change, it will capture a video of the event that includes 12 seconds of footage before and four seconds after.
The video is sent wirelessly from the vehicle to DriveCam, where it is reviewed and scored by a driver behavior analyst. The following day, customers such as Melton can go online to review the video and scores.
For Melton, every critical event that is captured by DriveCam is used as a coachable moment. Even noncritical events, such as when a truck hits a pothole and triggers a video, are used by management as a coachable moment if the driver exhibits a risky behavior such as distraction or not wearing a seatbelt.
With DriveCam on 100 of Melton's 900 trucks, the fleet has one or two videos to review each morning from the previous day. "Drivers drive like they have a trainer in the truck," Buchanan says. "We have found that the technology impacts driver behavior and improves skill behind the wheel."
Pat Salmon & Sons, a 750-truck carrier based in Little Rock, Ark., evaluated DriveCam on the basis that the technology had the potential to prevent accidents as well as to save significant money that otherwise would be spent investigating accidents. Pat Salmon recently began installing the technology on all of its vehicles.
Besides having video evidence of accidents as well as risky driving behaviors, DriveCam builds a risk profile of drivers over time. Jim Salmon, vice president, says that once drivers see the video and are coached on an event, they rarely repeat the same mistake. "Good or bad, you instantly know what happened and can deal with it."
4. Real-time feedback
Besides notifying the fleet quickly when incidents occur, technologies also can provide immediate feedback to drivers. DHL Supply Chain – a Westerville, Ohio-based nationwide dedicated carrier and a division of global logistics provider Deutsche Post/DHL – recently began equipping more than 600 of its 1,000 vehicles with GreenRoad Technologies' risk management system that gives drivers real-time feedback and provides managers with driver risk profile information.
GreenRoad has a small in-cab device with three LEDs – green, yellow and red – that DHL Supply Chain has positioned within plain view of drivers. The LEDs show a solid light that represents the risk level of the driver's most recent five to 10 minutes of driving. When an event such as a rapid deceleration or swerve occurs, a light will flash according to the severity of the event.
The GreenRoad system establishes a profile of driver behavior over a period of time. Drivers are scored in five categories based on the number and severity of events for every 10 hours of driving. GreenRoad's Website displays individual and cumulative information for the last seven days and also maintains historical reports. Users can see on a map where each event occurred.
"Drivers love it," says Philip Renaud, vice president of operational risk for DHL Supply Chain. "They have reacted very well. It has become a bit of a contest with them."
During the test period, DHL Supply Chain told its drivers the company would be installing the system in its vehicles and what information it would capture, but the initial installation intentionally did not include the LED lightbar.
Data was collected for one week; at the conclusion of that period, the company installed the full lightbar mechanism, and management began having weekly conversations with drivers about their performance.
In a short period of time, the number of "red" conditions decreased by more than 70 percent.