Making the latest technology developments work for your fleet
Zero tolerance?
It takes more than policy to remove cell phone distractions
Before the sun rose on March 26, 2010, a semi-truck departed the left lane of southbound Interstate 65 near Munfordville, Ky. After crossing a 60-foot-wide median into the northbound travel lanes, it struck a 15-passenger van. The truck driver and 10 of the 12 van occupants were killed.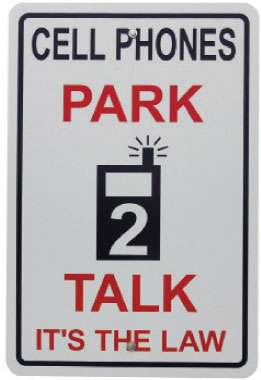 Investigators later determined that the truck driver had used his mobile phone for calls and text messages a total of 69 times while driving in the 24-hour period prior to the accident. The driver made four calls in the minutes leading up to the crash. The last call was at 5:14 a.m., the time when the truck departed the highway.
Hoping to prevent future tragedies such as this, on Nov. 23 the Federal Motor Carrier Safety Administration issued a long-awaited final rule that prohibits interstate commercial truck and bus drivers from using handheld cell phones while operating their vehicles.
The rule took effect on Jan. 3 and has harsh federal civil penalties for drivers – up to $2,750 per violation. Companies that allow drivers to use handheld cell phones while driving face a maximum penalty of $11,000.
The dangers of distracted driving are far greater than the risk of getting caught. According to a study in the New England Journal of Medicine, the risk of driving while using a cell phone equals the risk caused by legal intoxication. But obtaining cell phone records is easier than using a breathalyzer to prove guilt.
With a final rule now in place, carriers must have a policy that prohibits drivers from using cell phones while driving. But many – if not most – drivers have grown accustomed to using the devices for business and personal reasons, so implementing a zero-tolerance policy for cell phone use will not be as easy as banning passengers or pets from the cab. Any policy that restricts cell phone use by drivers must be accompanied by safety awareness, training and enforcement tools.
Writing a policy is the easy part. To get a head start, Operation Safe Driver – a joint program by the Commercial Vehicle Safety Alliance and the Federal Motor Carrier Safety Administration – has published a sample policy against distracted driving on its Website (www.cvsa.org/osd).
Compliance requires safety awareness, training and enforcement.
The next steps are to distribute, train and enforce your policy, and technology can make the process efficient from start to finish. With the latest generation of onboard computers and mobile communications, fleets can push training materials to drivers to complete in the cab or through any device with an Internet connection.
Instructional Technologies' Pro-Tread driver training modules can be installed on in-cab computers or made available to drivers online. Pro-Tread quizzes the driver and provides proof that the training took place. The company recently updated its "Driver Distractions" course with a new Handheld Cell Phone Ban portion.
Compli, which offers compliance management software, provides its customers with a policy template for cell phone use that was written by a national law firm. The policy can be distributed to employees through Compli's Web-based software, where employees log in to read and sign documents electronically.
Compli offers training documents and presentations for distracted driving. Customers also can create their own training material and distribute it electronically. Compli has violation forms and automated workflow tools to apply disciplinary steps, retraining and other procedures according to each type of safety, compliance and policy violation.
Once the communication and training has taken place, technology also can be used to automate compliance with company cell phone policies. ZoomSafer's software includes an administrative portal for managing usage policies and to view safe driving analytics such as cell phone use by time and location. ZoomSafer also includes a client app for smartphones and a set of optional hands-free services. Companies that use the software can block phones from being used while a vehicle is in motion, or allow access only to certain numbers.
With the right technology, fleets can roll out and manage safety policies efficiently to help ensure they get the traction they need to succeed.
*No talking. Technology can manage employee compliance with cell phone policy.
*It's the law. A new final rule has harsh penalties for drivers and fleets.
*Resources. ZoomSafer's in-depth whitepaper about managing distracted driving risks is available at http://www.zoomsafer.com/resources/#1.

AARON HUFF is Senior Editor of Commercial Carrier Journal. E-mail ahuff@ccjmagazine.com or call (801) 754-4296.
InBrief
GreenRoad (www.greenroad.com) added two new reports to its driver performance and safety management solutions: a Monthly Performance Scorecard to provide current, historical and rolling-period comparisons of driver and fleet location performance, and a Collision Suspect Report that spotlights driving events in which forces on the vehicle indicate a collision.
Trinium (www.triniumtech.com) added a Management Dashboard application to its transportation management system designed to meet the needs of both managers and front-end system users with various job roles, including customer service, dispatch and accounting.
Aljex (www.aljex.com) now offers software APIs, allowing brokers and third-party logistics providers to quickly and easily access carrier tracking information and proof of delivery, as well as extract correct and updated rates and quotes.
Airclic (www.airclic.com) updated its Transport Perform cloud-based software for third-party logistics providers. New features of Transport Perform 11.5 include internationalization, reverse logistics and cross-dock reporting.
ALK Technologies (www.alk.com) formed an Enterprise Solutions group responsible for worldwide sales, business development, marketing, product management and support for its PC Miler, CoPilot Truck and CoPilot Live Professional product lines.
Prophesy Transportation Solutions (www.prophesyondemand.com/demos) released a series of eight short video demonstrations featuring different sections of its Web-based pay-as-you-go Prophesy OnDemand solution geared toward smaller trucking companies and brokers.
SpeedGauge (www.speedgauge.net), which provides speed tracking on streets and highways, released SpeedGaugeAnywhere for fleets to create speed zones and monitor speeding violations around any custom location that is not subject to speed limits, such as logging roads and oil fields.
Rair (www.rair.com) partnered with Instructional Technologies Inc. to use ITI's Pro-Tread online safety training to address risky driving behavior by matching specific training lessons to individual drivers based on key performance indicators, including Compliance Safety Accountability BASIC scores.
TomTom, ProMiles partner for truck navigation
TomTom Business Solutions, a division dedicated to commercial fleets, announced the TomTom Pro 7150 Truck navigation device designed to provide truck drivers and fleet managers with automated routing, taking into account vehicle profiles and road attributes and restrictions. TomTom has partnered with ProMiles, a provider of mapping, mileage and routing systems, to deliver the attributes for commercial vehicles in the North American market.
"Due to the complexities of commercial vehicle regulations and road restrictions, it is critical to collaborate with a partner that has a longstanding expertise on trucking," says Michael Geffroy, vice president of North America sales for TomTom Business Solutions.
With Pro 7150 Truck, drivers get navigation that automatically favors main roads over secondary roads, avoids sharp turns and U-turns and includes truck attributes such as weight and dimension limitations to avoid low-bridge clearances, and load characteristics such as hazmat restrictions, the company says. Safety-focused features include road restriction and dead-end warnings that automatically pop up when drivers are about to encounter danger, advanced lane guidance for difficult intersections, hands-free dialing and a 5-inch touchscreen.
Pro 7150 Truck includes nationwide map coverage of national and state/provincial highways in the United States and Canada, including last-mile restriction coverage in most major truck-relevant municipalities. The POI database contains more than seven million points of interest.
SkyBitz acquired by Telular for $42M
Telular Corp., which specializes in connecting businesses and machines over wireless networks, last month signed a definitive merger agreement to acquire SkyBitz Inc., a provider of mobile resource management solutions focusing on tracking and management of truck trailers, intermodal containers, seagoing containers, rail cars, power generators and rental equipment.
Transaction terms included a purchase price of $42 million comprised of $35 million in cash and $7 million in newly issued shares of common stock. Telular says the acquisition expands its position in the M2M space as a result of SkyBitz's broad base of additional customers and its proprietary Software-as-a-Service technology platform.
SkyBitz's Global Locating System satellite-based technology is designed to provide real-time visibility of many asset types. Telular says SkyBitz addresses a multibillion-dollar market opportunity by reducing operating costs, increasing efficiency and aiding in the compliance with regulatory requirements across an increasingly complex set of supply chains and business ecosystems.
In Focus: Onboard Diagnostics
Vital signs
Onboard diagnostics shine light on vehicle health
Tractors and trailers teem with information about performance and driving behaviors. When filtered properly, fault codes can be transformed into leading indicators for maintenance issues that can turn into costly repairs if not addressed. The latest onboard computing and mobile communication systems give fleet managers real-time leading indicators of fleet maintenance needs. They also help manage noncritical faults that can be just as critical for keeping vehicles running at peak efficiency.
Shaping the lens
Applications to manage fault codes typically are sold as upgrades to a base platform. Users can customize the alerts and workflow processes for managing leading indicators such as low oil pressure. With real-time information, fleet managers often can respond to critical maintenance issues before the driver is aware of the problem.
Vehicle performance monitoring and diagnostics comes standard with Rand McNally's product offerings, which include the TruckPC and TND 760 Fleet Edition. The company provides open access via Web services and through its FleetWatcher portal to more than 200 different vehicle metrics.
"We allow customers to mine through the data and determine which metrics impact their operation most significantly," says Mason Meadows, director of product management.
Qualcomm Enterprise Services provides numerous fault code and diagnostic information options in its Vehicle Maintenance application. The options can be tailored to avoid overwhelming a fleet with data that it cannot manage.
"As (customers) learn more, we can adjust the fault codes sent to meet their changing needs," says Jim Sassen, senior product marketing manager. "For fleets that may not have a lot of experience with managing fault codes, we typically start them off with the most common and critical fault codes."
More than 90 percent of deployed PeopleNet units are equipped with the company's Vehicle Maintenance product that allows customers to access vehicle fault codes. Through the Web-based PeopleNet Fleet Manager portal, customers are able to identify their own priority list of real-time fault codes that can be transmitted to the back office.
Fault codes can be transformed into leading indicators for maintenance issues.
Visibility is provided to all fault codes on the vehicle and is not limited to a static list. "This allows maintenance departments the flexibility to see critical fault codes but also allows in-depth vehicle analysis that can assist in future vehicle purchase decisions," says Tom Dorazio, product manager of vehicle integration.
Through Zonar's ZAlert push notification service, customers can select fault codes they deem critical so that the appropriate personnel can be notified. ZAlert also includes escalation capabilities so that if the first person notified doesn't respond within a specified time period, the next person in the hierarchy is notified, says Chris Oliver, vice president of sales and marketing.
Xata recently added reports that summarize fault code information at different levels over time. A fleet summary report can highlight trends for fault code types, while a vehicle summary can help identify vehicles with chronic issues, says Charlie Mohn, director of product management.
Third-party integration
Through software integration, fleets can integrate fault code data with their maintenance software systems to provide detailed information about the codes and recommended actions to address the problems.
Fleets can integrate fault code data with their maintenance software systems to address problems.
Zonar has integrations with most major maintenance software providers, most recently with TMW's TMT software system. TMT can utilize the fault codes from the Zonar system as well as results from Zonar's Electronic Vehicle Inspection Report. The maintenance department has immediate real-time access not only to fault codes but also the results of verified pre- and post-trip inspections.
Fleets also are able to leverage satellite tracking information and vendor networks to automatically route vehicles to repair shops that are equipped to handle the specific problem.
FleetNet America's fault code roadside service allows it to receive an emergency notification via e-mail directly from a fleet customer's onboard computing platform for critical fault codes such as low oil pressure or high temperature.
The fault code is displayed on a designated screen in FleetNet's command center, along with unit number, driver name, contact information and other pertinent data. A FleetNet supervisor will call the driver and initiate a standard FleetNet America protocol for roadside service – either to tow the vehicle or to correct the problem on the spot – depending on the severity of the problem, says Oren Summers, founder of FleetNet America.
Part of the package
A few truck and engine makers now offer onboard systems that monitor electronic systems and fault codes. The data is sent to a service center, where a person will contact the fleet or driver to ensure a fault code is addressed appropriately.
Zonar worked with Daimler Trucks North America on the Virtual Technician program, which is embedded in trucks at the factory. DTNA can include instructions as to where the driver should take the vehicle to resolve the problem, Oliver says.
Judging by current trends, automation is going beyond using technology merely to report fault codes and now includes problem resolution.