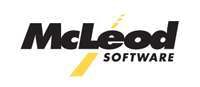 McLeod Software, a provider of transportation, brokerage, 3PL and document management systems, announced it is shipping Version 10 of its DocumentPower Enterprise business process management and automation system.
DocumentPower is in use at over 350 transportation companies, including 20 trucking companies who use it in conjunction with dispatch operations systems other than McLeod's. New features added to this release will drive more productivity for transportation companies, the company says, and help them achieve even greater speed and accuracy in their critical business processes.
The new product release includes an expanded set of barcode capabilities and enhancements to the systems existing automated forms recognition module. These new features offer more flexibility and accuracy in auto-indexing for all documents that come into the system from any source, the company says, reducing the manual labor associated with document indexing to nearly zero.
Other features in Version 10 allow "electronic stapling" of document images and broader compatibility with emails, photos, and other electronic images or documents that may come into the system via the web, email, or remote scanners.
The system's new document traceabilty function expands the auditability the system offers and ensures that incoming documents are never lost, incorrectly indexed or accidentally deleted. A new high availability architecture for Version 10 gives companies the ability to make their business process management processes built on DocumentPower Enterprise available 24/7/365 without the risk of downtime due to single point hardware failures, McLeod says.
The rendition processing capabilities in DocumentPower Enterprise have been expanded to allow individual electronic customer bills to be completely tailored on a case-by-case basis for every customer based on their format requirements. This extends to the format of the email header and attachment names for the bills that are regularly emailed to customers.