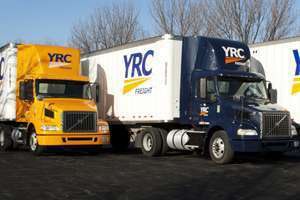 YRC Inc., a subsidiary of YRC Worldwide Inc., officially unveiled the launch of its new brand – YRC Freight. The brand was introduced to employees in late January at a company event. In addition to the new name, a new logo, uniforms, equipment and signage will be rolled out across North America.
"Moving freight is our heritage, what we do best and the key to our future," says Jeff Rogers, president of YRC Freight. "Our new name, logo and branding program publicly demonstrate the unification of a new company and culture that aligns perfectly with our strategy moving forward."
The company will begin the rebranding process immediately and convert equipment as part of regularly scheduled maintenance and refurbishing schedules. The new driver uniforms and building signs will feature bright blue, white and orange colors that will be accompanied by the addition of "Freight" incorporated into the brand name.
"Our new name reflects our passion, our purpose and our commitment to regain our role as leaders in the industry," says Rogers. "Freight is our business, and now it is our name. We're freight professionals, and it's critically important that we focus like never before on exceeding expectations of our customers every day with every shipment. We will work to keep our brand promise – Confidence Delivered."
The company says it has worked diligently for the last several months to set a new standard of service, streamline management and refocus its core business, and that those efforts are beginning to show positive results. YRC Freight plans to emphasize three top priorities in 2012, including improved service, better safety and excellent customer experience.
"In the four months that new leadership has been in place, we have experienced month-over-month increases in our on-time service performance, our customer satisfaction scores and in our market share position," says Rick Mathews, senior vice president of sales and marketing at YRC Freight. "As shipment counts trend upward for 2012, we will continue to emphasize picking up and delivering shipments on time and delivering them damage-free."