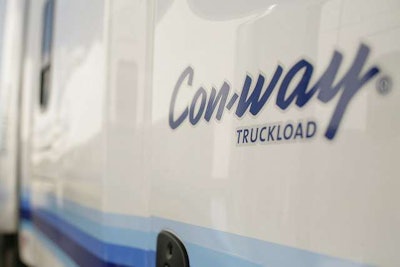 Con-way Truckload unveiled two programs designed to meet the needs of individual and team drivers. The carrier says it has developed and piloted Destination Ownership and Guaranteed Team Pay, designed to provide effective solutions for drivers seeking greater independence and steady, reliable compensation while supporting the company's driver retention and recruitment efforts.
Through Destination Ownership, qualified company drivers will have an easier means of securing profitable owner-operator careers. The program allows drivers to purchase a Con-way Truckload trade truck at a low outright cost or through an affordable leasing program. Trucks purchased through Destination Ownership include an extended warranty to cover most engine issues. A transmission warranty also is available at an additional cost.
The new ownership program is open to Con-way drivers in good standing with a minimum of one year of service with the carrier. Lease approval will be based upon work and credit history. Once lease applications are completed and reviewed, interested drivers will be notified of eligibility within 24 hours. Approved drivers will be able to examine the truck of their choice at the carrier's terminal in Joplin, Mo., prior to final detailing and paperwork.
A second initiative, Guaranteed Team Pay, is designed to prevent week-to-week disparities in team drivers' available miles. Intended to minimize the negative impact of dwell time and inconsistent miles, the program guarantees team drivers reliable pay periods. Eligible drivers who adhere to the program guidelines will receive payment for a minimum of 5,000 miles per week, even if their miles don't hit that benchmark. Guaranteed Team Pay officially will be implemented March 4 following a 10-week pilot study.
"We are happy to work with our drivers to generate solutions and address specific needs," says Bert Johnson, vice president of human resources and driver recruitment for Con-way Truckload. "Through exploring new programs, we sustain a fair environment where drivers can set and attain personal career goals. We are confident Destination Ownership and Guaranteed Team Pay will bring owner-operators and team drivers the success and peace of mind they need and deserve."