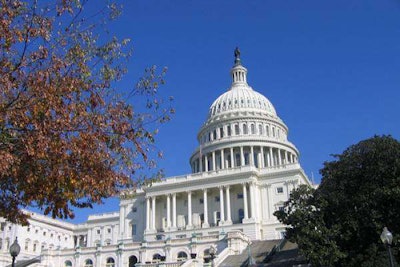 The Senate on Wednesday, March 14, passed a $109 billion measure that would reauthorize the nation's surface transportation programs for two years. "The highway bill passed by the Senate is an example of how things should work in Washington," said Bill Graves, American Trucking Associations president and chief executive officer. "This bill advances the cause of highway safety and takes a number of important steps toward reforming our transportation system."
Graves said the trucking industry was pleased to see the bill provide not just attention to, but $2 billion a year in funding for, highway freight-specific projects. The bill, which passed by a 74-22 vote, also would speed project approval and steer clear of tolls on existing interstates.
"Today's passage of the Senate transportation bill shows what Congress is capable of when they work together in a bipartisan manner," said U.S. Transportation Secretary Ray LaHood. "States are one step closer to putting Americans to work rebuilding our roads, bridges, transit systems and railways. Like President Obama's transportation proposal, this bill would relieve congestion on our roads, expand our transit and rails systems, and provide Americans with safe, affordable ways to reach their destinations when gas prices are high. I hope that the House will follow their lead in passing a bipartisan transportation bill."
The bill also would order the creation of a clearinghouse for commercial drivers' drug and alcohol test results, direct the federal government to create a notification system so employers can be told of drivers' traffic infractions, move in the direction of establishing crashworthiness standards for large trucks, raise the bar that new companies and drivers must clear before coming into the trucking industry, and order the mandating of electronic logs for all commercial drivers.
"While several safety initiatives, such as improved truck productivity, were not included in this bill, it is important to recognize just how much this bill does to improve truck safety," Graves said. "Now that the Senate has completed its work, I urge the House to pass its own bill and then quickly work with the Senate to send a bipartisan reform bill to the president, one which sets a new course based on the principles of promoting targeted, effective safety programs, and funding the most cost-beneficial transportation projects."
On Tuesday, March 13, the Senate voted on two related amendments, defeating the first amendment and approving the second. A measure by Sen. Jeff Bingaman (D-N.M.), which passed 50-47, would prevent privatized highways from being taken into account when issuing federal highway funds. Another amendment from Sen. Jim DeMint (R-S.C.) that would have scrapped the current funding program was defeated 67-30.
DeMint argued that most states pay more into the federal gas tax-funded system than they get back, and he said scrapping the current funding system would empower states to have more control over the transportation decision within their borders. He also said his amendment would have allowed states save money because they would no longer would be required to comply with the Davis-Bacon Act, a Depression-era law that requires workers be paid prevailing wages on federal projects. DeMint said the act increased the cost of those projects by $11 billion in 2011.