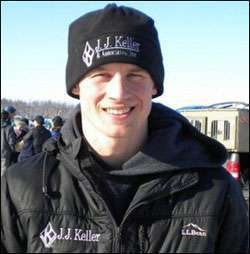 Dallas Seavey – a musher sponsored by James and Rosanne Keller, representing J. J. Keller & Associates Inc. – became the youngest musher in history to win the Iditarod Alaskan sled dog race. Seavey, 25, finished the 40th annual Iditarod in Nome, Alaska, on Tuesday, March 13 at 7:29 p.m. AT. He finished in 9 days, 4 hours, 29 minutes and 26 seconds.
In his sixth run to the Burled Arch finish line, Dallas competed against 65 registered mushers. At the halfway point, Dallas and his father, Mitch Seavey, each reached top five positions as they fought to gain momentum.
While Mitch fell in and out of the top five during the second half of the race, Dallas continued to gain ground on those ahead, eventually leading the pack out of Shaktoolik. From there, Dallas played a game of cat and mouse with Aliy Zirkle, as they each took turns leading the race. Even as they headed into White Mountain, the last major checkpoint for the final mandatory 8-hour rest, the race was too close to call.

On the trail, many credited Dallas' athletic stamina as a key to his success. Having wrestled at an international level just a few years ago, it was clear in this race that Dallas was in peak physical condition, some noting that Dallas was frequently off the sled runners, running on the tough terrain.
Leaving White Mountain on the last leg of the race to Nome, Dallas was not going to give up the lead without a fight. With Zirkle and Ramey Smyth in hot pursuit, it became a three-way race to the finish.
"I trained hard and had a veteran team that took me to the championship," Dallas said. "You need to plan and think like a champion, and you can fulfill your dreams. I'd also like to thank my sponsors. I would not be here without them."
Dallas put the mushing world on notice with last year's hard-fought victory in the equally grueling Yukon Quest and his fourth place finish in the Iditarod within weeks of each other. Additionally, Dallas has broken a number of Iditarod records in his short career:
• 2005 – Youngest musher to compete in the race — age 18;
• 2009 – Youngest musher to finish the race in a top 10 position — sixth place, age 22
• 2010 – Youngest musher to win the GCI Dorothy Page Halfway Award — age 23;
• 2011 – Youngest musher to finish the race in a top five position — fourth place, age 24;
• 2012 – Youngest musher to win the Iditarod — age 25; and
• 2012 – Seavey family record finish — 9 days, 4 hours, 29 minutes.
Dallas is part of a long Iditarod history that runs through the veins of the Seavey family. Patriarch Dan Seavey helped to found the Iditarod in 1973 and finished third in that race. At age 74, he is still on the trail, enjoying the ride to Nome as the 2012 "centennial musher" sponsored by the Iditarod Historic Trail Alliance.
His 15-year-old grandson, 2012 Junior Iditarod winner Conway Seavey, rode with Dan during the ceremonial start.
The 2012 race was the nineteenth Iditarod for Dallas' father, Mitch Seavey, 52, who arrived in Nome in seventh place and now has 10 top 10 finishes, including a win in the 2004 Iditarod.