Before and after the DPF
Any truck built in 2007 and later requires an additional maintenance interval: servicing the diesel particulate filter. Cleaning the filter element removes accumulated engine oil ash, particularly for heavy-to-severe-duty trucks in high-

idle on-/off-road applications. While ash in the DPF typically remains loose, a small amount of carbon may adhere tightly to the DPF's ceramic walls, forming gooey or even hard deposits, especially if the engine is not operating properly.
While thorough cleaning may result in better fuel economy and more miles, inadequate cleaning can compromise the filter's life and warranty. But simply learning when to clean is not enough; know the cleaning procedure and the vendors for an effective plan.
When to clean
Ash doesn't burn, so it has to be removed from the DPF mechanically when it impedes exhaust flow, a condition indicated by a backpressure light on the dash. But most experts believe drivers shouldn't wait for a warning light.
"With a lot of idling or local service, you'll see shorter intervals."
–WheelTime's Bob Giguere
First, determine the duty cycle. "Under ideal conditions in over-the-road service, you can go 300,000 miles, but with a lot of idling or local service, you'll see shorter intervals," says Bob Giguere, product support manager at Inland Power Group of the WheelTime truck service network. Giguere recommends following manufacturers' recommended intervals for DPFs operated under favorable conditions.
What's favorable? The amount of oil consumed and engine hours are both primary factors, says Giguere. A major reason for clogging is ash from burned oil, and idling engines use more oil because the piston rings work less effectively. Idling also means poor combustion of fuel and more soot, potentially fouling the DPF.
On-/off-road and heavy-haul operations put the engine in high load conditions more often than highway vehicles. Any condition that helps maintain proper airflow into the engine or optimizes the injection system will help extend mileage and hours between cleanings by minimizing exhaust soot.
To optimize DPF cleaning intervals, pay attention to:
• Necessary overhead adjustment;
• Air cleaner replacement;
• Charge air cooler cleaning and testing, with intake air hose maintenance to minimize charge air leakage;
• Periodic turbocharger inspection; and
• Thorough injector maintenance, including adding injector cleaners and having injectors replaced or reworked as necessary.
Operate the engine at an appropriate rpm, normally at or above peak torque, when running continuously in heavily loaded full-throttle situations. "A driver needs to pay attention to an increase in the frequency of active regeneration cycles, loss of power and a decrease in fuel economy," says Larry White, Paccar Parts business development manager.
Picking the shop
DPF cleaning equipment often is too expensive for small fleets – as much as $20,000 for a unit – so most DPF cleaning is handled by truck dealerships. The service typically costs from $250 to $700 – a wide range because systems and procedures vary. Cleaning methods include compressed air or heat or a combination of both. "Some filters may be sensitive to high temperature or pressure," Giguere says.
One sure approach is to use the manufacturer's technology. Detroit's method, performed in the company's reman center network, involves treating the interior surfaces with a liquid. Brad Williamson, engine and component marketing manager, recommends using Detroit's reman exchange program to swap a dirty DPF for a cleaned one. Detroit's reman units are covered by a one-year warranty with no limit on miles, and the change interval for a DPF cleaned with its process has the same recommended service interval as a new one.
Another plus for manufacturer recommendations: maintaining the warranty. "If you have the unit cleaned using an unapproved method, it could alter your warranty," says Gary Parsons, emissions business unit manager for Pacific Power Products. Look for a cleaning process "documented step by step," Parsons says. "They should be keeping records that will verify that each step of the process was completed on each filter you send in for cleaning. There should be a check sheet."
Detroit's reman exchange program enables operators to swap a dirty DPF for a newly cleaned one.
Both Navistar and Paccar have partnered with DPF-cleaning manufacturer FSX to develop cleaning processes.
EQUIPMENT NEWS IN BRIEF
The Cummins ISX12 engine is built to provide an estimated 12 percent fuel economy improvement over its predecessor, the ISX11.9, in vocational applications. Featuring better pulling power, driveability and strong clutch engagement torque, the ISX12 is designed to work in rigorous duty cycles, including refuse applications and those for work trucks such as dumps and mixers. Visit cummins.com.
The Detroit DD platform of engines – including the DD13, DD15 and DD16 – marked production of its 100,000th unit since the DD15's launch in 2007. Visit detroitdiesel.com.

Eaton extended the warranty coverage for its Eaton Fuller Reman and Eaton Fuller Flex Reman vocational transmissions from 18 months to 2 years. The company began similar expanded warranty coverage for all Reman and Flex Reman linehaul transmissions last year. Visit roadranger.com.
Grand Junction, Colo., recently accepted delivery of four natural gas-powered Mack TerraPro Low Entry refuse trucks. Grand Junction operates an all-Mack fleet of 12 refuse trucks, including gas-powered models. Visit macktrucks.com.
Kenworth offers the Cummins ISX11.9 engine with a rear engine power take-off (REPTO) option capable of 466 lb.-ft. of continuous torque and a maximum rating of 520 lb.-ft. of torque when used for intermittent load applications. The manufacturer also has added the Neway ADZ rear air suspension from SAF-Holland for heavy- and severe-duty applications. Visit kenworth.com.
Kenworth Sales Co. recently opened a new facility to service oil and gas industry customers. The dealership at 5259 S. 5400 E. in Naples, Utah, features six service bays. Visit kenworth.com.
Excavators use dump doubles rig to fight MS
For almost half a decade, Champagne & Marx Excavating has pulled "Michigan specials" – double-dump tractor-trailer rigs capable of moving 50 tons of payload – for road prep, foundation digging and other commercial and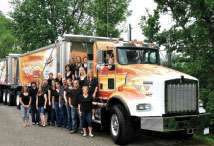 industrial projects. But the company also has tackled a project as challenging as the heavy commodities it hauls: trying to combat multiple sclerosis. In 2011, Champagne & Marx ranked fourth in Michigan in total MS fund raising, including more than $50,000 raised from MS Walk and MS Bike events.
Second-generation Champagne & Marx President David Marx of Saginaw, Mich., approaches the fight against multiple sclerosis personally. His daughter, Christine Davis, a company vice president, deals daily with the condition, an autoimmune disease that affects the brain and spinal cord and comes in various forms and severities. Symptoms can range from difficulty speaking to loss of movement.
The company outfitted the 2012 Kenworth T800 daycab and double-dump trailers pictured with a special graphics package that reflects the company's commitment to MS research: "Join the Movement" is splashed on one trailer, while the MS logo and "OrangeYaCurious.com" (a Michigan MS info and donation Website) is seen on the other.
"We've had nothing but wonderful comments about our MS truck, and it has driven awareness and donations," says Davis, whose drivers line up to drive the special T800. "Our choice (of drivers) was easy. Tom Lavrack, who has been with us since 1986… [has] always been behind our MS efforts and always seems to be first to donate to the cause. When we told him we'd like him to drive the MS truck, he asked if he could take it home with him. He wanted to get it all polished up. He's as proud of the truck as we are."
FEATURED PRODUCTS

Protecting lubes
Post-warranty engines can make use of Lubegard's Engine Protectant, Gear Protectant and Power Transfer Protectant. All use LXE technology to join negative and positive polarity to create a bond designed to offer lubrication and anti-wear protection under pressure.
Lubegard, lubegard.com
Detroit, Cummins engine options for SD line
Freightliner Trucks offers vocational customers Detroit or Cummins engines to power its SD severe-service model line, which includes the Coronado SD, 114SD (pictured) and 108SD. The Detroit DD13 and Cummins ISL9 are suited to operations requiring 13- and/or 9-liter configurations, with horsepower ratings from 200 to 600 and torque ratings up to 2,050 lb.-ft., whether diesel or natural gas is used.
Freightliner Trucks,

Granite 'medium heavy duty'
Mack Trucks' Granite Medium Heavy Duty made its debut at the World of Concrete show with an eight-yard volumetric concrete mixer body. The MHD is designed to offer a lower-cost lighter-weight option without sacrificing durability and reliability.
Mack Trucks, macktrucks.com

Leak detection kit
The TP-8697HD kit from Tracer Products includes the Optimax 3000 super-high-intensity blue-LED leak detection flashlight with an inspection range of up to 20 feet. The package also includes an EZ-Ject A/C dye injector with hose and couplers, two EZ-Ject universal A/C dye cartridges with co-solvent-free Fluoro-Lite dye, an 8-ounce bottle of Dye-Lite All-In-One concentrated oil dye, an 8-ounce bottle of Dye-Lite coolant dye and fluorescence-enhancing glasses.
Tracer Products, tracerline.com
RigDig takes guesswork out of buying used trucks
RigDig says its truck history reports help fleet managers, dealers and owner-operators make informed used truck purchase decisions. By logging onto www.rigdig.com and typing in a truck's vehicle identification number, truck buyers and sellers can get critical information to help make smarter buys in an easy-to-use report.
"The launch of RigDig marks the first time buyers can check a truck's background using a service designed specifically for the commercial truck market," said James Vogel, general manager. "By meshing a variety of data sources that track junk and salvage vehicles, total loss insurance claims, title and odometer brands, accidents, inspections, ownership, cargo hauled and CSA scores, RigDig gives truck buyers a level of confidence in making purchase decisions that's unprecedented."
RigDig was developed by the researchers at Equipment Data Associates, a division of Randall-Reilly Business Media & Information that has been compiling equipment-related information in trucking, construction and other industries for more than 20 years. Beginning in 2008, the experts at EDA, in conjunction with Randall-Reilly's Trucking Media Group, conducted more than 50 in-depth in
terviews with companies operating in the trucking industry, analyzed every facet of the vehicle history reports designed for the consumer vehicle market, and determined that there wasn't a good source of information available for consumers on used commercial vehicles.
"That put us on a mission to arm the used truck buyer with information to help them make a more informed purchase decision," Vogel said. "Three years later, after building, acquiring and partnering with the best information sources available, we were ready to launch RigDig."
RigDig reports can protect the used truck buyer from making bad investments by alerting them when the truck may be:
• A junk or salvage yard vehicle. Through RigDig's partnership with the Department of Justices' National Motor Vehicle Title Information System, RigDig can alert buyers to trucks that may have shown up at a junk or salvage yard. Often, junked vehicles are rebuilt, but these rebuilt vehicles always aren't identified with a "Rebuilt" title brand. Also, VIN cloning is a white-collar crime that begins by using VINs from junked vehicles. RigDig helps protect the consumer from purchasing, selling or insuring a VIN cloned vehicle;
• A total loss insurance claim. Also provided through RigDig's integration with NMVTIS, RigDig can help the used truck buyer know if a vehicle was written off as a total loss before they buy or sell;
• DMV title brands, such as junked, salvage or flooded. RigDig's partnership with the Department of Justice's NMVTIS database allows RigDig to deliver title information in real time. This can protect the consumer from purchasing a vehicle that was just stamped with a "Salvage" brand earlier in the day;
• Involved in a federally recordable accident. These are the most severe accidents that resulted in an injury, fatality or a towaway. RigDig's database includes more than 639,000 federally recordable towaway accidents for Class 3-8 trucks (for valid VINs) since 2000. Of these accidents, more than 23,000 resulted in a fatality;
• Involved in a less-severe nonfederally recordable accident. These are identified through a post-accident inspection. RigDig's database includes more than 139,000 post-accident inspections for Class 3-8 vehicles since 2000;
• Improperly maintained. Multiple inspection or out-of-service violations identified in a RigDig report may indicate poor vehicle maintenance that could make the vehicle less safe or result in higher repair costs. RigDig users also can learn the safety rating, Compliance Safety Accountability vehicle maintenance status, the name of the carrier/owner of the vehicle and the type of operation in which it was used. Carriers with nonsatisfactory safety ratings may not maintain their vehicles as well as those with satisfactory ratings. Vehicles involved in severe-service applications may have seen years of hard use;
• Modified or altered. RigDig reports also provide a truck's original factory specifications so users can see if a truck has been modified before they take it as a trade-in or purchase it at auction; and
• Tied to UCC liens. Buyers also can check to see if any Uniform Commercial Code liens were tied to a truck's VIN.
A single report can be purchased for $34, and a pack of three reports can be purchased for $60. Also, there are monthly subscription plans available for dealers, fleets, insurance companies, finance companies, warranty companies or any other company or individual whose business is impacted by used-truck purchase transactions.