In and Out
By switching to computer-based training, Marten Transport drivers move faster, more effectively through orientation
Whether your newly hired drivers come in for orientation one at a time or by the dozen, how can you be sure any of them are paying attention? Contrary to popular belief, instructor-led training can cause more daydreaming than learning.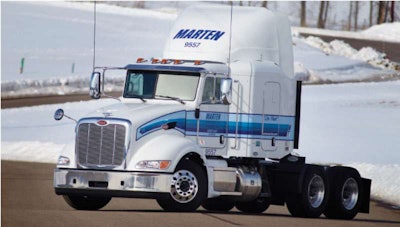 When you consider the high cost of recruiting and the risk of putting new drivers behind the wheel, face time is critical – but attention span is short. By using computer-based training that is tailored specifically for adult learning, drivers can move faster and more effectively through orientation.
Marten Transport holds its new driver orientation at six locations across the country. Until recently, the company's program was two full days of training. Each department was responsible for sending a representative to train drivers on specific policies and procedures. The downtime between the rotations was about 15 minutes.
Marten now uses a uniform computer-based training system that compresses the time of its orientation process and focuses on the individual needs of each driver, says Tim Norlin, director of recruiting for the Mondovi, Wis.-based fleet.
Attention, please:
Computer-based training enhances adult learning.
Personal experience:
Drivers learn at their own paces.
Cheaper and better:
Shorter orientation costs less and is more effective.
"Each driver has to pay attention and take a knowledge test to show he is learning and comprehending what he is watching," Norlin says. "It has been a tremendous help. When it is over, drivers know they received the proper orientation to be successful."
Marten Transport contracted with ACS to customize a Web-based driver orientation program with ACS' Command Solutions offering. The 2,400-truck refrigerated carrier now uses the same consistent orientation training program at all six locations.
"To me, this is the next evolution of learning," says Steve Sichterman, ACS vice president of business development, safety and compliance.
"To me, this is the next evolution of learning."
 – Steve Sichterman, ACS vice president of business development, safety and compliance
For all of Marten's training modules – currently at 17 – ACS filmed the same actress who presents scripts using content that is managed by each Marten department. Each presentation is filmed against a green screen so that graphical and visual cues can be added to draw drivers' attention to key points in the presentations. The videos are interspersed with footage of Marten equipment and facilities.
"We can add, subtract or change content easily," Norlin says. "If we decide to do orientation at another location, it is very easy to do. All it takes is a PC or laptop, and we're in business."
Each module is followed by a knowledge test. If drivers do not pass the test, they can review the video at any point and retake the test; this method allows drivers to work at their own pace. The technology also allows more astute drivers to speed up the process and identifies those who may need additional time and attention from instructors.
"Guys want to push through," Norlin says. "We have shaved a half-day off orientation. Drivers want to get out there and get in a truck." Even though Marten has shortened its orientation program, the time drivers are spending with people is much more productive, he says.
The system also keeps records for each driver, which helps answer the most common question in litigation: What type of training do you provide to drivers?
"It is much easier to share training videos with attorneys than a driver's manual," Norlin says.
Feedback from drivers concurs with Marten's decision to implement computer-based training. Drivers regularly say that the orientation is the most unique they have experienced. They also say they feel better prepared because of the amount of interaction they have with the training modules.
"Drivers do a better job of grasping information," Norlin says.

Aaron Huff is Senior Editor of Commercial Carrier Journal. E-mail ahuff@ccjmagazine.com or call (801) 754-4296.
InBrief
Zonar's latest patent-pending technology adds fuel to its GPS reporting. Zonar says its telematics platforms will determine sample rates based not just on geographical data – latitude, longitude, time and odometer – but also on fuel usage so that customers easily can identify routes and lanes over which their vehicles are most and least efficient.
Telogis says its Driver Scorecard, now part of the Telogis Fleet Software-as-a-Service fleet management system, enables the system to more easily manage and communicate behaviors that directly influence driver and asset safety.
Con-way Truckload is installing Maptuit NaviGo technology in all company trucks and Qualcomm-equipped owner-operator tractors. The in-cab navigation upgrade follows a pilot study that was launched in September 2011.
Rand McNally unveiled Rand McNally Connect, a software platform designed to integrate the company's FleetWatcher Web portal with third-party applications. Combined with its mobile communications systems, TruckPC and TND760 Fleet Edition, Rand McNally Connect allows transportation management software to pull through vehicle diagnostics, driver behavior, hours-of-service status and e-mail.
Xata Corp., a provider of fleet optimization software, and ALK Technologies, a provider of geologistics and navigation software, integrated ALK's CoPilot Truck 8 Professional with XataNet to provide users with updated PC Miler 25 routing and availability on a wider range of hardware platforms.
QuikQ, provider of a cardless direct fuel connection between truckstop point-of-sale and motor carrier enterprise systems, is collaborating on a product to allow internal vehicle data to be written to and/or read from RFID tags while a vehicle is at a fuel dispenser.
CarrierWeb releasing new in-cab terminals
CarrierWeb, a provider of electronic onboard recorders, is releasing two new fleet management products, the CarrierMate 2500 and CarrierMate 5700 terminals, both featuring driver-friendly high-resolution interfaces. The 2500 has a 4.3-inch touchscreen display; the 5700 has a 7-inch display.
Both come with electronic logging, auto dispatch and compliance alert notifications. The 5700 features an onboard scanner and provides additional features – including training videos and reports on emissions and fuel – along with hourly driver performance updates.
CarrierWeb is offering three monthly service packages for the new terminals. The EOBR package includes messaging and tracking for less than $25 per month. The Plus package is less than $35 per month and adds more messaging and integration features. The Platinum package includes navigation and management dashboard reporting.
PeopleNet adds Wi-Fi, fuel theft detection, route compliance
PeopleNet, a provider of integrated onboard computing and mobile communications systems, announced that its Tablet in-cab/portable computing system now provides secure fleet-managed wireless Internet access and Web browsing.
PeopleNet also announced that its data integration and analytics company, Vusion, is nearing completion of a fuel theft detection system. Fleets will be able to track pre- and post-transaction fuel tank levels without the cost of additional hardware. Vehicle data is integrated with fuel purchases for instant verification that the entire purchase was deposited into the truck.
The company also announced enhancements to its In-Cab Navigation powered by Maptuit NaviGo to help reduce excess fuel expense due to out-of-route miles. Route Compliance compares the GPS trail to individual NaviGo routes to identify out-of-route miles for each driver. Fleets also will have the option to use Route Compliance if In-Cab Navigation is not integrated to their dispatch system.
In Focus: Low-cost EOBRS
Easy Access
Electronic logging becoming focal point of mobile entry
All of the changes to and litigation over hours of service and electronic onboard recorders have made the transportation industry the Wild West as far as electronic logs go. The Federal Motor Carrier Safety Administration now is working on a new rule with updated technology specifications for EOBRs from its Motor Carrier Safety Advisory Committee.
As of today, ELDs, EOBRs and computer-assisted logging devices all are acceptable technology in the eyes of the law. But one thing is certain: Without a mandate, it will be impossible for law enforcement to ensure compliance when FMCSA's final hours-of-service rule takes effect in July 2013.
A mandate is all but certain. Meanwhile, technology providers have rolled out a variety of low-cost electronic logging devices that can be implemented quickly.
Smartphone logging
Internet Truckstop affiliate uDrove has an hours-of-service compliance management application for BlackBerry, iPhone and Android smartphone platforms. The app costs $25 per month and includes electronic vehicle inspection reports. Fleets can deploy the app without hardware costs since most drivers own smartphones.
Scott Moscrip, president of Internet Truckstop, describes uDrove as a computer-assisted logbook; as such, it does not audit drivers' logbook data. Drivers can share their electronic logbook data with law enforcement officers, fleets and other parties directly from their phones through the uDrove Website, fax or e-mail.
J.J. Keller's Web-based Encompass fleet management system combines an onboard computer ($199) with a mobile app for Windows Mobile and Android devices. The app allows drivers to capture logs, vehicle inspections and fuel receipts electronically. The mobile app starts at $3 per month for electronic logs, which does not include the cost of a data plan from a wireless provider.
Xata Turnpike includes driver logs, vehicle tracking, vehicle inspection reporting and engine diagnostics and telematics. Turnpike is $35 per month and includes a driver app, tpMobile – which runs in an open software environment on Android, BlackBerry and Windows Mobile platforms – and a device that connects to the vehicle. Data plans are sold separately from wireless providers.
Onboard computers
All companies that offer all-in-one onboard computing and mobile communications systems have come out with low-cost platforms for fleets that want to implement EOBR technology.
CarrierWeb's CarrierMate 2500 is a 4.3-inch touchscreen device with a list price of $675. Monthly service plans start at $25 per month for electronic logging along with tracking, auto dispatch and compliance alert notifications.
Qualcomm plans to make its Mobile Computing Platform 50 available this month. The list price is $799, with monthly service plans starting at $19.99. For $24.95, fleets get electronic logs along with safety, tracking, messaging and driver performance monitoring. Through a lease plan, the MCP 50 can cost $31 per month for both hardware and software.
PeopleNet offers an EOBR and compliance bundle for $50 to $60 per month. The bundle includes the onboard computer, display and eDriver Logs application. Customers also can choose the BLU.2 bundle for $65; the platform features a 7-inch touchscreen display with a wide range of applications available as an upgrade.
In the fourth quarter, Zonar plans to release the 2020, a 7-inch ruggedized Android-based tablet that can be removed from a dock for drivers to perform electronic RFID vehicle inspections. Zonar 2020 also has electronic logs, tracking, messaging and various safety and performance management applications. The tablet will list for less than $500, with monthly service plans maxing out at $40.
Rand McNally's TND 760 Fleet Edition combines the company's in-cab navigation with a mobile communications system that includes electronic logs, safety and driver performance applications for less than $800.
With a mandate on the horizon, implementing electronic logs from scratch not only is affordable; electronic logs also have become the starting point for gaining more value from other fleet management tools.