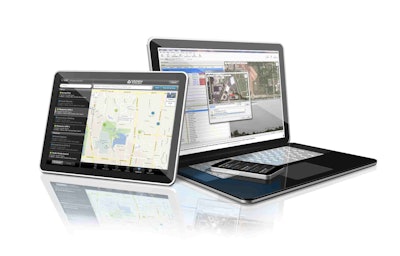 Navman Wireless released an expanded mobile app for its OnlineAVL2 fleet tracking system that enables dispatchers, fleet managers and executives to monitor and manage fleet activities from their iPhones or iPads.
Launching in the U.S. as a free companion application to OnlineAVL2 with other markets to follow later this year, Navman says the new app provides insights into real-time fleet operations as well as the ability to send and receive messages through Navman Wireless in-vehicle terminals for fast and easy communication with drivers.
OnlineAVL2 users can now use the mobile app to:
• Determine the real-time location of any vehicle or asset, along with status information such as ignition on/off and travel speed, simply by selecting from a vehicle list.
• View the entire fleet, vehicle groups or individual assets in real time on Google Maps, with choice of standard, satellite or street map views.
• Spot out-of-bounds vehicles or construction equipment by tapping a button to add previously created geofences or job sites to the map view.
• 'Replay a Day' to see any vehicle's current-day activity plotted on a map, making it possible to retrace driving routes and pinpoint the time and location of events such as speeding or idling. The same information can also be delivered in a report format.
• Route drivers to a specific address with turn-by-turn directions by sending the information to the Navman Wireless M-Nav dispatch/messaging/navigation terminals.
• Send messages to one or multiple Navman Wireless in-vehicle terminals with a tap, eliminating phone calls or separate text messages with associated delays.
"Fleet operators don't sit at their desks all day, so they need to be able to check the location of a specific work truck or route the closest service van to a new assignment whether they're in the office, at a job site or sitting at the local coffee shop," said Renaat Ver Eecke, vice president and general manager, Navman Wireless North America. "Now OnlineAVL2 customers can access the real-time data and tools they need whether they're using their desktop, laptop, smartphone or tablet. It's a major step toward better fleet management."
The Navman Wireless OnlineAVL2 mobile app is available immediately for free from the iTunes App Store at this site.