First impressions
Kenworth T680's modern design aids driving experience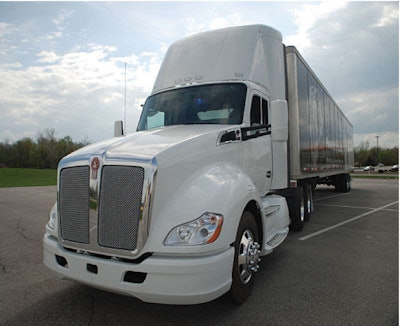 Trucking is a dynamic industry; there's always something happening for journalists to cover. But if it does have a drawback – and this is from a purely selfish point of view – it's that there's not a lot of new trucks to cover and review on a year-in year-out basis. Sometimes at a pickup truck launch, I'll run into the automotive magazine guys, and all they seem to do is rush around the world to see and test new cars and trucks. Let's not dwell on that fact that sometimes those new cars are Ferraris, Porsches or Corvettes. Jealous? Who, me?
It's the nature of the beast. On the four-wheeler scene, new vehicles appear with startling regularity, while on the heavy-duty side, that's not the case: Truck models last for years and years – and they're expensive to design and build. So once you've got a winning design, you tweak it and improve it and wring every last possible innovation and mile out of it before consigning it to the boneyard.
That's why it's such a treat to get three all-new truck platforms unveiled at the same time. In late March, Paccar and International both chose Louisville, Ky., as the venue to showcase three new trucks. I actually got a preview of Peterbilt's new Model 579 tractor beforehand when I flew to Denton, Texas, for an exclusive test drive (see review, page 28). International also launched its LoadStar low-cab-forward vocational truck (see page 30). And Kenworth gave me the opportunity to take its new aerodynamic T680 tractor for a spin.
No matter how rounded the sleek design, it's obvious this is a Kenworth.
The truck's front end builds on the company's aerodynamic heritage with a smooth sculpted look, but no matter how rounded the design, it's obvious this is a Kenworth. No sharp or protruding edges are evident, making this the sleekest design the company has ever produced, says Brian Lindgren, manager of research and development.
Well-researched.
Kenworth engineers spent five years working on the T680.
Simple design. Everything in the cab is laid out logically and ergonomically.
Quiet ride.
Kenworth focused on sound-dampening qualities.
I drove a regional-cab tractor with a 13-liter Paccar MX engine and an Eaton 10-speed manual gearbox. Settling into the cab was a delight thanks to Kenworth's new seat design featuring an advanced air-suspension system and multiple lumbar and recline adjustments. Combined with the new tilt/telescoping steering wheel, the overall design makes it easy to get comfortable quickly.
Another nice touch is the redesigned dashboard. If there's a theme here, it has to be simplicity; Kenworth engineers determined that truck dashes were becoming crammed with competing information systems that all too often prove to be difficult and distracting to operate. Here, critical engine and vehicle data is arranged in the "A" cluster directly in front of the driver, with auxiliary controls and switches within easy reach. Toggle switches glow green when activated to allow drivers to tell at a glance if they're on.
Pulling out of the Peterson Kenworth lot in Louisville with a partially loaded 53-foot trailer behind was a snap thanks to the company's new clutch. Most comparable clutches demand about 55 pounds of down force from the driver's left leg to actuate, but Kenworth's new clutch has a hydraulic-assist feature that dramatically reduces the amount of force needed – down to about 30 pounds of pressure. The result is a truck that is noticeably less fatiguing to drive, even in heavy traffic.
Once out on the Interstate 264 bypass, the T680 accelerated smoothly. But even in lower gears, the cab's sound quality was amazing. In the new chassis and cab design, Kenworth focused on sound-dampening qualities from the ground up. "With the T680, we made sound dampening a priority from the get-go and managed to achieve an impressively quiet cab without adding a lot of sound insulation materials," says Lindgren.
Drivers also will appreciate the commanding views from the T680 driver seat. The tall windshield features a new A pillar design – thinner and less intrusive but just as strong – for a wider field of view. The new rearview mirror design also contributes to overall awareness.

The truck displayed no bad habits or quirks cruising on the highway. Overall handling characteristics – in both heavy traffic and at highway speeds – were straightforward.
The truck's design features kept stress and fatigue low throughout the trip.
2014-compliant Cummins engines coming next year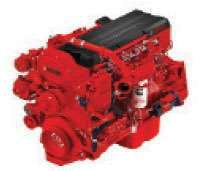 Cummins announced that its lineup of diesel engines will meet 2014 fuel efficiency and greenhouse gas regulations beginning in January 2013. The new engines will deliver up to a 2 percent fuel economy improvement over comparable engines being produced today and will use the same engine subsystems such as variable-geometry turbochargers, high-pressure fuel systems and exhaust gas aftertreatment.
Cummins' theme for its 2013 and 2014 engine program is "Better where it counts," a sentiment reflected by Rich Freeland, vice president and president of the company's engine business. "We met the EPA 2010 standard on time, and our product development teams are now delivering even better products where it counts – to our customers," Freeland said. "These new 2014-compliant engines are a sign of that."
Freeland said that Cummins will not change its diesel engine lineup in any significant way this coming January: The only major pending change to the company's power offering will be a new natural-gas version of the ISX15 currently in development.
While Cummins already is producing on-highway spark-ignited natural gas engines with Cummins Westport – its joint venture with Westport Innovations in Vancouver, B.C. – the new 15-liter project is being developed solely by Cummins. Ed Pence, vice president and general manager of Cummins' heavy-duty engine business, says the new 15-liter will be capable of burning compressed natural gas, liquefied natural gas or biomethane fuel. Cummins expects to begin field-testing the new engine early next year and begin production in early 2015. – Jack Roberts
CCJ Test Drive:
Peterbilt Model 579
'New Legacy' a fine addition to company's rich history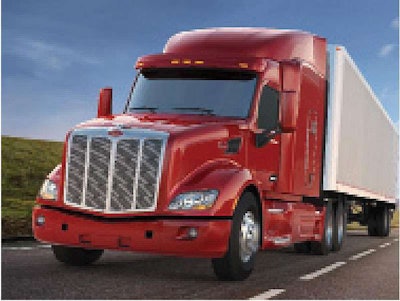 I'm in Denton, Texas, at Peterbilt's world headquarters and manufacturing plant to try out the company's all-new Class 8 tractor. For almost 10 years, engineering resources and research and development dollars have been tied up to meet the strict 2010 U.S. Environmental Protection Agency diesel emissions mandates.
Today, the emissions regulations have been met. And at Peterbilt, the talk now is all about the future, evident in the company's new Model 579 aerodynamic tractor. This is Peterbilt's first all-new chassis and cab in 14 years and the sixth model to join the company's stable of trucks.
Andy Weiblen, one of the 579's designers, says the new truck takes everything that has happened to heavy-duty trucks during the past few years and turned it into a highly integrated technological marvel. Everything about the new truck was designed to make life easier and more productive for fleets, owner-operators and drivers.
Weiblen says the five-year development cycle for the new truck was driven by the most intensive market/driver/fleet research ever conducted by Peterbilt. "One of our projects was to take a fully adjustable truck cab and sleeper to truckstops all around the country," he says. "We invited drivers into the cab and sleeper and asked them to set any component in the mockup exactly where they would want it if they were designing their own personal vehicles."
This is the sleekest, cleanest overall tractor in Peterbilt's history.
Drivers could adjust armrests, bunk heights, interior cab width or seat positions – to name a few. The result, Weiblen says, was a database of hundreds of thousands of real-world ergonomic options. "We were able to use that information to design a truck that is remarkably comfortable for a wide range of drivers."
Engineering evolution
The first thing that makes an impression when inspecting this truck is the sleek frontal design. Weiblen says Peterbilt has faced a challenge over the past decade as aerodynamics have come to the forefront in fuel economy technology, while the company's legacy was built with large, powerful flat-nosed conventional tractors. He says the new 579 continues with many of the lessons learned during the 379's development.
If the 579 looks somehow smaller and more compact than most Class 8 tractors, it's because this is the sleekest, cleanest overall tractor design in Peterbilt's history. The nose on the new truck is 2 inches lower than anything else the company offers, and every sharp or flat edge has been rounded or smoothed off to facilitate airflow over, around and under the truck.
The front windshield is higher and blends seamlessly into an air dam above the cab. The A pillars are noticeably thinner – optimizing both visibility and airflow – while details such as the cab marker lights were subjected to air-fluidity dynamics testing to achieve the ideal location and help the truck cut efficiently through the air.
Peterbilt will offer the 579 in a variety of aerodynamic configurations, from a base model to a California Air Resources Board-legal version to the full aerodynamic package, which Weiblen says delivers between 8 percent and 10 percent better aerodynamics – which translates into a 4 to 5 percent boost in fuel economy.
The 579 will be offered with Peterbilt's powertrain offerings, including Paccar MX and Cummins ISX diesel engines and Eaton automated and manual transmissions. Peterbilt has developed a new clutch for use with manual gearboxes on the 579, notable for its extremely easy engagement pressures. Most clutches today take about 55 pounds of down-pressure to actuate, but the new Peterbilt clutch requires only about 30 pounds of down-force – a tremendous difference for a driver dealing with heavy stop-and-go traffic.
The Evolution premier driver's seat demands attention – even before climbing into the cab. Before stepping up, a driver can hit a large button that automatically deflates the seat down to the floorboard for easier entry and exit from the cab. Once in the seat, simply hit the same button again, and the seat automatically returns to the preset drive height.
Another large toggle switch close to the height button allows drivers to instantly adjust seat compression to deal with a rough patch of road. And the seat is not only wider than most, it also features numerous lumbar settings, ensuring a comfortable ride in just about any road condition. Combine that with the new telescoping-tilt steering wheel, and a driver may feel more like he's behind the wheel of a sports car than a Class 8 tractor.
Once behind the wheel, the next thing that impresses is the elegantly functional dash layout. Weiblen says simplicity was the overriding design criteria for the entire cab and sleeper, and the dashboard is proof of that; large easy-to-read softly backlit dials are accented by bold chrome bezels, while the stereo, HVAC and navigation systems have been simplified to make them easier – and safer – to operate. One nice touch is the automatic thermostat, which blends the air inside the cab and sleeper to hold a preset temperature all day long.
On the road
Driver safety and awareness systems are among the countless technologies designed into this tractor. The passive cruise control feature radar-tracks four-wheelers in front of the tractor and either holds the preset cruise speed or automatically adjusts it to deal with slower-moving traffic.
Views from the driver seat are outstanding, thanks to the lower nose, taller front windshield and smaller A pillars. Designers also expanded the side windows and optimized rearview mirror placement, which inflicts almost no drag penalty on overall vehicle aerodynamics.
Weiblen says to make the 579 among the highway's quietest, Peterbilt's engineering team used the latest composites and ride-dampening technology on the truck cab. A particular emphasis was placed on eliminating any "buzz, pops and squeals" – the truck is amazingly quiet even at full-throttle highway speeds.
The truck's aerodynamic design also virtually eliminates exterior wind noise buffeting over the cab; a driver can roll the windows down at 65 mph and still carry on a normal conversation with a passenger. With the windows up, interior noise levels in the 579 are about 69 decibels.
With an all-new chassis and suspension, designers have taken almost all the lateral sway out of the equation, making for sure-footed handling. The truck doesn't wander around its lane at highway speeds – even with an occasional blast of wind. The clean aerodynamics contribute by making the truck feel one with the road.
Peterbilt is taking 579 orders now, with the first production trucks likely to arrive at fleets and dealerships by late summer. – Jack Roberts
IN BRIEF
Daimler Trucks North America is recalling 8,747 2012 Freightliner Cascadia and Western Star 4900 vehicles manufactured from Dec. 22, 2011, through Feb. 23 because the driver's seat bases may have out-of-specification welds; DTNA also is recalling 1,046 2012 Freightliner Business Class M2 and Cascadia vehicles manufactured from Jan. 20 through Feb. 17 because a steering wheel nut may not provide the proper clamp load. DTNA will notify owners, and affected vehicles will have replacement components installed for free. Owners can contact DTNA at 800-547-0712.
Dana Holding Corp. now offers a Spicer SelecTrac housing option on its Pro-40 tandem axle that optimizes the use of wide-base single tires for customers wanting the flexibility to convert between wide-base tires with low offset wheels and standard dual wheels with a single housing.
Western Star Truck Sales said its new 4900 set-back with Fuel Efficiency package, combined with the Detroit DD15, is showing the most improved fuel economy results of any Western Star truck model. Featuring a 123-inch BBC, the 4900SB FE package includes an aerodynamic high-visibility hood, chrome wrap-around bumper, underhood air cleaner and horizontal or back-of-sleeper exhaust. The package also is available with the Detroit DD13 engine and the Cummins ISX series.
Navistar announced the OnCommand Connection telematics vehicle support system from International, a program that provides a wide range of vital operating information while on the road. The system, now being tested by Celadon, is scheduled for release this year and will be free to customers running International MaxxForce engines.
Bendix announced several updates to its active safety systems, including its e-Trac system that now automatically dumps air in the rear tractor axle in slippery conditions, forcing weight onto the drive axle to increase traction performance; SmarTire for trailers, a standalone tire pressure monitoring system that now includes auto-detection; and Wingman Advanced, which soon will use a combined radar, camera and braking system working together to confirm and prioritize events and eliminate false alerts.
Stemco acquired Motor Wheel Commercial Vehicle Systems, a manufacturer of brake components, including drums and component assemblies for heavy-duty trucks and other commercial vehicles; terms were not disclosed.
Mack Trucks introduced its Pedigree Powertrain, an integrated powertrain with engine, transmission and axles; Pedigree-spec'd trucks will be adorned with a gold Bulldog hood ornament. Mack also debuted its Super Econodyne powertrain package, an integration that includes the company's C125 overdrive rear axles, MP8-445SE engines and mDrive transmissions; the system is designed to downspeed the engine by about 200 rpm at highway speeds.
Utility Trailer Manufacturing Co. introduced an optional double-deck loading system for its dry vans designed to maximize trailer cube space and increase overall freight capacity. The system, which can support up to 500 pounds per square foot with a 26,000-pound total rating, is designed to provide several different configurations for freight.
International LoadStar work truck rolls out
Severe-service LCF targets niche vocational markets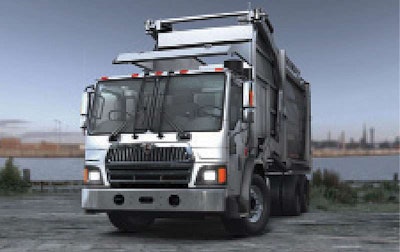 International Trucks debuted the LoadStar, a new severe-service low-cab-forward work truck that shows that the company is laser-focused on all aspects of the vocational truck market regardless of size, says Jim Hebe, vice president of North American sales.
"The industries this truck is designed for is fairly small in terms of volume," Hebe says. "Generally, you're talking 6,000 to 8,000 units a year. To say that International will build a product to solve all the customer challenges our customers face in a market that small proves that we strongly believe in vocational markets and reinforces our determination to be the number-one player."
Hebe says the LoadStar is all-new from the ground up, even though it uses many shared components from preexisting International vehicles – most notably the WorkStar. Drivers and fleet managers were involved in the design process to meet a variety of needs in the waste, concrete-pumping and aircraft refueling markets.
Key features include a stainless-steel cab to minimize corrosion and increase durability, vocationally designed variable-depth frame rails for lower weight and frame rail heights as well as an improved ride, an ergonomically designed cab interior with fully optimized and body-builder-integrated control placements, and full Diamond Logic capabilities as well as integrated powertrain options, including MaxxForce Cleanburn emissions technology or an optional natural gas version available early next year.
"To fit driver needs, we optimized the space in the cab, increased seat and steering wheel movement and adjusted joystick placement to deliver an outstanding ergonomic and customizable work environment," Hebe says. "The exterior boasts the signature appearance and design of the International Truck brand." – Jack Roberts
Daimler completes powertrain integration with new transmission
Daimler Trucks North America introduced the Detroit Transmission, completing the truck manufacturer's goal of full powertrain integration to complement its Detroit axle and heavy-duty engine offerings.
Daimler said the integration will service its customers better and provide improved driving dynamics, fuel efficiency and durability. "When we optimize all components in-house, we can best tailor them to each other and to the truck," said Andreas Renschler, head of Daimler Trucks.
The Detroit Transmission is a 12-speed direct or overdrive automated transmission with a traditional clutch-actuated manual gearbox with high-speed computer-controlled shift and clutch actuators that automatically select the right shift pattern for optimum fuel economy and engine power. The transmission initially will be paired with the DD15 in the Freightliner Cascadia lineup.
"Automated transmissions represent the next generation of technology that will increase efficiency and enhance performance," said Martin Daum, chief executive officer for Daimler Trucks North America. "When packaged with all of the Detroit powertrain products, customers have the best resources in the world to enhance their bottom lines." – Jeff Crissey