With Crete Carrier's Andy Brabec, who manages the company's marketing and communications
Location: Lincoln, Neb.
COMPANY EQUIPMENT: a fleet of more than 5,600 trucks, 13,000 trailers and multiple divisions
Number of owner-operators: 225
Crete Connections
Using social media to recruit and retain drivers
Facebook is today's version of a "Cheers" bar where everyone knows your name and a company driver may have thousands of Internet-based "friends." Two years ago, Andy Brabec, 27, who manages the marketing and communications for the Crete Carrier family of companies – including Hunt Transportation (flatbed) and Shaffer Trucking (refrigerated) – jumpstarted Crete's digital marketing reach and created a vibrant community of connected drivers using social media.
Rank your social media tools.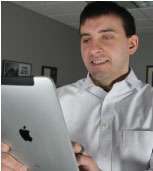 Our Facebook page reaches our highest-priority audience. Drivers and their friends and family congregate there every day. Some come from other Facebook friends and others from the corporate blog (http://www.blog.cretecarrier.com). Next in order of importance – YouTube (youtube.com/cretecarriercorp) and Twitter (twitter.com/cretecarrier).
Truck drivers with Facebook pages. Seriously?
Absolutely! In fact, I would say that over 50 percent of our drivers have Facebook accounts, a number that's growing by leaps and bounds.
How do you know you are reaching your audience?
When I started two years ago, we had 40 Facebook Page "likes." As of the end of February, we have nearly 21,259 total "likes" and acquire somewhere between 100 to 200 new "likes" daily. It's not about the "likes," though – it's about the ability to share content with a community, answering questions, responding in a quick manner and listening.
96.2% of company drivers have a Facebook account.
Source: Randall-Reilly Market Intelligence
Most trucking company social media sites post updates about employment benefits, but you seem to start non-Crete conversation.
I start topics with comments about the weather, price of fuel, CSA, health concerns and periodically ask how they like driving for Crete. The content we share on our Facebook site has reached up to 500,000 people in a given week. All it takes is our content to be "liked," "shared" or "commented" on. Once an individual does one of those three things, that content becomes viral to all their friends, thus reaching several thousands of people in a given week.
Fleet owners say they are fearful of opening their business to negative company comments.
I don't censor commenters when they bash the company. I don't need to. Crete Carrier, Shaffer Trucking and Hunt Transportation are great companies, and drivers leap to the chance to set the record straight. I allow the conversation to flow, and eventually the disgruntled employee or driver from another company either slinks away or comes around to realization. Commenters using profanity or hate speech and spammers get banned, but I rarely have to kick someone off the site.
Fleets twice your size don't have nearly as many social media users as you do.
"I'm always connected."
– Andy Brabec
I don't constantly try to recruit drivers by bombarding them with company accolades. Instead, I facilitate discussions where drivers feel connected to their co-workers and part of the Crete Carrier family. They bring friends and drivers from other companies who pop in to see what's happening on the Crete site. They can post on the wall, upload videos and photos, sign up for our e-mail and even search and apply for a driving career.
You responded to a post at 9 p.m. last night. What's up with that?
I work around the clock because I am passionate about marketing and getting to promote the Crete Carrier family message. When I'm not at my computer, I'm checking my smartphone.
And the future looks like?
I'd say more drivers will use social media to talk with companies and their drivers to find the right career for them.