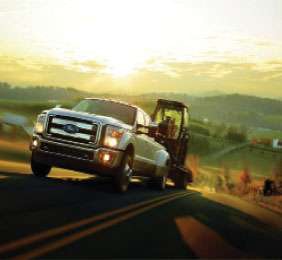 A Clean Fight
While diesel may be today's fuel of choice, it faces growing competition from several alternative options
In commercial trucking, diesel is the undisputed heavyweight champion of fuels. Diesel packs an impressive amount of energy, supporting engines with the powerful punch of low-end torque – ideal when traveling long distances and hauling heavy loads. But despite engine upgrades and aftertreatment devices that reduce smog-producing NOx and lung-clogging particulate matter, diesel-powered trucks still leave a sizable carbon footprint.
A growing number of fleets – facing greenhouse gas accountability, soaring diesel costs and a call to cut ties with foreign oil – are exploring their alternatives.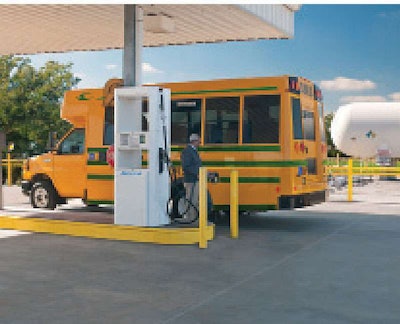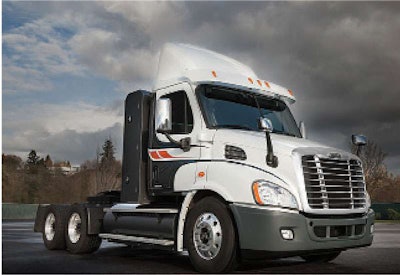 Options like compressed natural gas (CNG), liquefied natural gas (LNG), liquefied petroleum gas (LPG or "propane autogas"), electric power and hydraulic accumulators all are enjoying added attention, particularly among environmentally sensitive fleets. The 18 fleets that belong to the Energy Department's National Clean Fleets Partnership account for 12 percent of the commercial vehicles on American roads, and they all have embraced a mandate to use less gasoline and diesel.
Some of the partnership's latest members include Best Buy, Johnson Controls and Veolia Environmental Services' solid waste division, which boasts four of its own CNG fueling stations and more than 100 CNG vehicles.
But alternative fuels tend to store less energy per volume than diesel or gasoline, so their related trucks need larger fuel tanks or have to fuel up more often, and equipment upgrades also add to purchase costs. That's why a fleet considering a switch to an alternative power supply of any sort needs to take a close look at its unique operating needs.
Natural gas
Natural gas costs 30 percent less than diesel when comparing diesel equivalent gallons (volumes of fuel that store the same energy), but the LNG truck itself can cost 50 percent more than its diesel counterpart, largely because of the need for specialized fuel tanks. Calculated savings over a truck's life will depend on the number of miles traveled. (See "Ready for heavy-duty," page 60.)
"Thirty-five years ago, diesel was the alternative."
– Todd Mouw, vice president of sales and marketing, Roush CleanTech
Natural gas supports fleets that want to embrace domestic energy sources. President Obama described the United States as the "Saudi Arabia" of natural gas. Available supplies also are expanding because of hydraulic fracturing techniques that are tapping into pockets of the fuel trapped in layers of shale.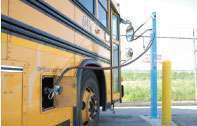 "It's an unconventional natural gas revolution," says James Burns, general manager of Shell's LNG transportation network in the Americas. Shell, which recently established a network of four LNG stations at Flying J truckstops in Alberta, is predicting that LNG and diesel are going to be the fuels of choice for commercial vehicles as far into the future as 2050. "It's abundant, affordable and acceptable," Burns says.
However, since natural gas holds less energy by volume than diesel, it has to be compressed or liquefied, reducing the required storage space and increasing driving range.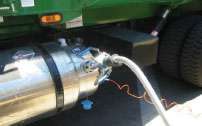 Even then, there still are gaps. A diesel truck that enjoys 6.5 mpg of diesel might deliver 3.8 mpg on LNG and 1.7 mpg on CNG, Burns says. To travel 100 miles, the same truck would need 15 gallons of diesel, 28 gallons of LNG or 58 gallons of CNG stored at 3,600 psi.
Driving ranges typically dictate the choice between CNG and LNG. Anyone who wants to travel 400 miles on a tank of fuel likely will have to focus on LNG, which is chilled to -160 degrees Celsius and reduced to 1/600th of its natural volume before being stored in an insulated tank. Package vans that travel shorter distances might opt for CNG's lower energy density.
Natural gas vehicle technology also is well-proven and is built on well-recognized diesel platforms. The factory-built Cummins ISL G engine meets 2010 emissions standards without diesel particulate filters or selective catalytic reduction, and its aftertreatment is limited to a maintenance-free three-way catalyst. The Westport GX HD engine operates on LNG but still needs a small amount of diesel – about 5 percent – for ignition, using a two-phase high-pressure injector.
While reducing emissions, natural gas also has virtually no sulfur, which otherwise can transform into sulfuric acid that corrodes engine components. One LNG engine torn down after 200,000 miles looked virtually brand new, Burns says.
The nation's fleet included about 105,000 natural gas engines in 2010 – about the same as the 1990s – although larger vehicles are accounting for an ever-larger share. Today there are 7,500 medium-duty natural gas vehicles and 22,000 heavy-duty designs such as transit buses and trash trucks.
Those numbers are likely to grow. "Package delivery is going to be a big market for this," says Richard Kolodziej, president of Natural Gas Vehicles for America.
Liquified petroleum gas (LPG)
Philip Squair, senior vice president of global and public affairs for the National Propane Gas Association, refers to propane fleets ranging from police cruisers to Las Vegas taxis, and test vehicles being run by the likes of UPS, Pepsi and Frito-Lay. While propane has made its biggest impact in light-duty vehicles, it now is fueling everything from street sweepers to school buses.
"Propane is the world's third-largest motor fuel already," Squair says; the United States has been slow to adopt it. There are about 200,000 propane vehicles on American roads; even Poland has more than that.
Some of the slow growth may be linked to equipment that was ahead of its time. Early experiments with propane involved carbureted engines during the 1970s and 1980s, opening the business to any shade tree mechanic. The results came in the form of low horsepower and torque, as well as cold-start problems.
Today's engine conversions by Roush CleanTech are more complex. Changes to a Ford F-250 include a 62-gallon fuel tank in the bed, stainless-steel fuel lines, aluminum fuel rails and related hardware.
Propane autogas (LPG) is stored on the truck at between 175 and 250 psi and can match the torque of an engine running on 104-octane gasoline, says Todd Mouw, vice president of sales and marketing at Roush CleanTech. There are sacrifices in terms of low-end torque when compared to diesel, but larger equipment is emerging. Ford F-650 trucks will come with Roush propane systems by 2013, and the fuel already is used to power 33,000-pound BlueBird school buses.
Just like natural gas, the added equipment comes at a cost, and propane is cheaper than diesel. But users recently lost an advantage in the form of tax credits, which reduced fuel prices by 50 cents per gallon and offset the higher price of related vehicle components and fueling infrastructure.
Not surprisingly, the propane industry actively is lobbying for credits to return, but this time, it wants them offered in a sustained way. The past credits were "herky-jerky," Squair says; they were extended a year at a time, and some credits disappeared and reappeared in the process. A predictable program would offer a bigger incentive, he says.
Ethanol
Plant-based ethanol supplies also continue to grow in every sense of the word. The 209 ethanol refineries in 29 states generated about 13.9 billion gallons of the fuel in 2011, according to the Renewable Fuels Association; that's up from 1.63 billion gallons in 2000.
Research by the U.S. Environmental Protection Agency and University of Nebraska-Lincoln suggest the fuel can reduce greenhouse gas emissions by 30 to 49 percent when compared to gasoline. But since ethanol contains less energy per volume, a Flex Fuel Vehicle (FFV) – equipped with corrosion-resisting fuel systems that can handle fuel with higher oxygen content – will see its fuel economy drop 25 to 30 percent when running on E85, which contains 85 percent ethanol and 15 percent gasoline.
The fuel undeniably is easier to source when compared to some alternatives. More than 2,860 gas stations can pour E85, even though most supplies are at E10 levels. This supports light-duty FFV fleets in a large number of locales.
Typical ethanol levels likely will grow to E15 now that EPA has approved the fuel for cars, light-duty trucks and SUVs built since 2001. But Mouw questions just how many of the FFVs will ever burn anything other than gasoline.
Electric and hybrid
Lobby groups point to different numbers when arguing which alternative fuel offers the best environmental benefits. Natural gas generates 53.06 kilograms of carbon dioxide per million British Thermal Units, while propane produces 62.30, E85 ethanol generates 66.7, gasoline creates 70.88 and diesel produces 73.15. But the methane found in natural gas creates 25 times more carbon monoxide.
The winner in any environmental debate depends on which numbers you embrace. Some fleets are looking at vehicles that abandon the traditional fuel tank altogether.
PepsiCo's Frito-Lay – the seventh-largest private fleet in the United States – is deploying 176 Smith Electric Vehicles known as the Newton, a Class 4-7 truck that can travel up to 100 miles on a single charge, reducing traditional greenhouse gases by 75 percent. The trucks also are virtually silent, which can be a selling point in an urban setting.
In contrast, hybrid options combine several energy sources in a single package. Every offering includes some unique components, but most designs tend to fall into one of two categories.
Hydraulic systems, such as those adopted by several leading waste haulers, use the kinetic energy from a braking truck to drive a combined pump and motor. When working as a pump, the system transfers hydraulic fluid from a low-pressure reservoir to a high-pressure accumulator. This stored energy is released to drive the motor, which helps the truck accelerate – either on its own or by combining the power of a combustion engine.
The electric hybrids that power a growing number of urban package delivery vans use a combined generator and motor mounted between the transmission and the flywheel. The braking energy captured with the generator is stored in a battery, which can be used to drive the electric motor that can help move the truck or drive the power take-off for tools such as cherry pickers, reducing the need to idle.
Depending on the design, the new sources of energy can be used as an independent power supply or combined with a traditional combustion engine. Parallel systems dominate the offerings, with the storage system and engine working together to launch a truck from the curb and add torque during acceleration. Series systems would uncouple the transmission and driveshaft so an internal combustion engine could be shut down when it's not needed.
Regardless of the energy source, a fleet's shift away from diesel may be inevitable – part of a natural evolution.
"Thirty-five years ago," Mouw notes, "diesel was the alternative."