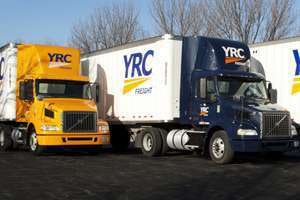 YRC Freight on Tuesday, May 15, announced immediate plans to hire 200 qualified over-the-road drivers in cities across the United States, primarily in Maybrook, N.Y.; Buffalo, N.Y.; St. Paul, Minn.; Chicago; Salt Lake City; Akron, Ohio; Cleveland; Cincinnati; Indianapolis; Charlotte, N.C.; Jackson, Miss.: Albuquerque, N.M.; and Kansas City, Mo.
"YRC Freight is growing, and our volumes are building," says Jeff Rogers, president. "A huge key to our ability to prosper is engaged employees who are focused on working together with the common objective of on-time pickups and deliveries, claims-free service, emphasis on safety and the long-term commitment of delivering confidence to our customers every day."
YRC Freight, a unionized company and a subsidiary of YRC Worldwide, recruits from about 100 truck-driving schools across the nation and offers training for new drivers to help them fine-tune their freight driving skills – including how to maneuver in city traffic and how to complete hazmat-required paperwork.
YRC Freight also announced its selection as the 2011 National Carrier of the Year by FreightCenter.com, a third-party logistics company. This marks the second consecutive year YRC Freight has received the award from FreightCenter.com, which considered quantitative and qualitative factors such as the total number of completed shipments, number of processed quotes, the percentage of claims-free shipments and overall customer and agent feedback.
Fellow YRC Worldwide subsidiaries Reddaway and Holland both received Carrier of the Year honors from GlobalTranz, a logistics management firm specializing in carrier, supply chain and warehouse management. Reddaway was named 2011 Western LTL Carrier of the Year, while Holland received the 2011 Central LTL Carrier of the Year honor. The GlobalTranz award program recognizes suppliers for exceptional performance and quality. To determine award recipients, GlobalTranz agents and representatives rated carriers on six key criteria: on-time pickup, on-time delivery, driver courtesy, claims and damages, billing accuracy and customer service.