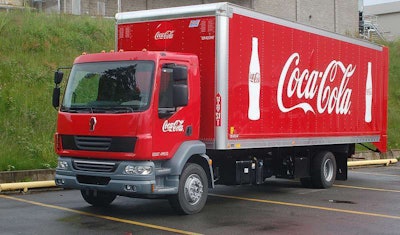 Kenworth Truck Co.'s first Kenworth K370 cabover was officially presented to the Coca-Cola Refreshments fleet operation in Bellevue, Wash., during a special ceremony on Thursday, May 24.
"It's exciting to bring the Kenworth K370 cabover into the market, and there's no better way to start than with Coca-Cola Refreshments," said Gary Moore, Kenworth general manager and Paccar vice president. "Our new cabover products open the door for us to offer Kenworth quality, styling and ease of service to a variety of customer applications."
During the ceremony, Moore presented the keys for the new Kenworth K370 to Coca-Cola Refreshments' Bob Slack, vice president of field operations for the Pacific Northwest Market Unit; and Curt Kazen, Bellevue distribution manager. The first K370 features a 6.7-liter Paccar PX-6 250-hp engine with 660 lb.-ft. of torque and an Allison 2500 HS 5-speed automatic transmission.
"It's an honor for Coca-Cola Refreshments to receive the first Kenworth K370 cabover," said Tony Eiermann, fleet asset manager for Coca-Cola Refreshments at the company's headquarters in Atlanta. "Kenworth and Coca-Cola have been long-term collaborators, and we look forward to continuing our work together in the future."
Coca-Cola Refreshments has made an initial purchase of seven K370s, all to be placed into service at the Bellevue facility. The K370s were purchased from MHC Kenworth–Atlanta. Coca-Cola Refreshments also operates more than 500 Kenworth T370 conventional diesel-electric hybrid tractors and trucks in the United States and Canada.