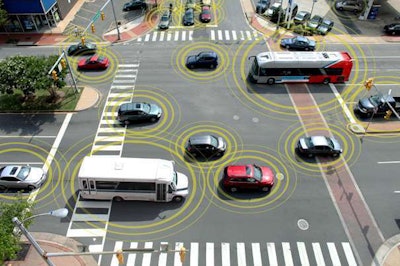 An overwhelming majority of drivers who have experienced technology that allows vehicles to communicate with each other have a highly favorable opinion of its safety benefits, according to data released by the U.S. Department of Transportation.
Together, the National Highway Traffic Safety Administration and the Research and Innovation Technology Administration have been working with the auto industry, state and federal partners to research the effectiveness and feasibility of connected vehicle technology that enables vehicles to "talk" to one another with Wi-Fi-like technology that could help prevent crashes altogether.
DOT announced the results of six "driver acceptance clinics" that were held across the country at the Intelligent Transportation Society of America's 2012 Annual Meeting held at the National Harbor. The pilot programs were held between August 2011 and January 2012 to gather feedback from 688 drivers who participated in tests of "vehicle-to-vehicle" communications. The information gathered from the program showed that an overwhelming majority of drivers would like to have the features included in their own vehicles, and most believe the technology would be useful in improving driver safety.
"Safety is our top priority, and we are always looking for ways that innovative technology can be harnessed to improve driver safety," said Transportation Secretary Ray LaHood. "Connected vehicle technology offers tremendous promise – for improving safety, reducing traffic jams and increasing fuel efficiency. It's encouraging to see that most drivers agree and want this technology in their cars."
The driver clinics, the first phase of the Connected Vehicle Safety Pilot Program, were completed this past year to gather information on how drivers would interact with the technology. More than four out of five participants, or 82 percent, strongly agreed that they would like to have vehicle-to-vehicle safety features on their personal vehicle. In addition, more than 90 percent of the participants believed that a number of specific features of the connected vehicle technology would improve driving in the real world, including features alerting drivers about cars approaching an intersection, warning of possible forward collisions and notifying drivers of cars changing lanes or moving into the driver's blind spot.
"Vehicle-to-vehicle technologies have the potential to significantly reduce fatalities and injuries in crashes and could one day help motorists avoid crashes altogether," said David Strickland, NHTSA Administrator. "These technologies may prove to be the next game-changer as we look at the future of auto safety."
NHTSA and RITA will launch the yearlong second phase of the Connected Vehicle program this summer, during which about 3,000 equipped vehicles will test crash-avoidance technologies that include in-vehicle forward-collision warnings, "do not pass" alerts and warnings that a vehicle ahead has stopped suddenly. The program will take place on roads in Ann Arbor, Mich., and will involve a limited number of applications allowing vehicles to communicate with the roadway.
"Intelligent Transportation Systems are the future of driver, roadway and vehicle safety," said RITA Acting Administrator Gregory Winfree. "The body of research going on across the country today shows that the life-saving potential for safety technologies that enable communications between vehicles and the roadway infrastructure is too great to ignore. We want to build a solid foundation for the next generation of transportation through consistent standards, reliable technology and policy work that ensures when the technology is ready, the general public will be ready as well."
Eight major automotive manufacturers are working closely with DOT on this research through partnering agreements: Ford Motor Co., General Motors., Honda R&D Americas Inc., Hyundai-Kia America Technical Center Inc., Mercedes-Benz Research and Development North America Inc., Nissan Technical Center North America, Toyota Motor Engineering & Manufacturing North America Inc. and Volkswagen Group of America, Inc. The information collected will be used by NHTSA to determine by 2013 whether to proceed with additional vehicle-to-vehicle communication activities, including possible future rulemakings.