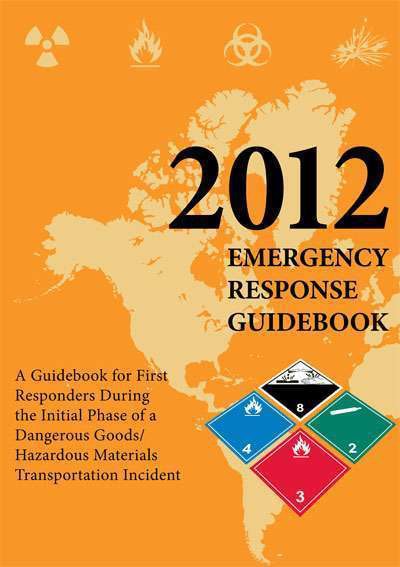 The Pipeline and Hazardous Materials Safety Administration has released the 2012 version of its Emergency Response Guidebook, providing first responders with an newly revised go-to manual to help deal with hazmat accidents during the critical first 30 minutes.
PHMSA will distribute more than two million copies of the guidebook to firefighters, emergency medical technicians and law enforcement officers across the nation, who will use it to identify specific risks associated with compromised hazmat items, measures they should take to protect themselves and procedures for containing the incident as quickly and safely as possible.
"We take the safety of this nation and its emergency responders very seriously," says U.S. Transportation Secretary Ray LaHood. "Our goal is to make sure that these critical responders have the most current information possible."
The ERG contains an indexed list of dangerous goods and the associated ID number, the general hazards they pose and recommended safety precautions. For example, if emergency responders arrive at the scene of an overturned tractor-trailer displaying a DOT hazmat placard, they would use the guide to identify the material associated with the placard and how to respond accordingly.
The 2012 version of the ERG includes general revisions, reorganized general information pages and new tables such as initial isolation and protective action distances for large spills involving six common toxic inhalation hazard gases. Updated every four years, the ERG is available free to public safety agencies in all states and territories through designated state coordinators' offices. PHMSA also has partnered with the National Library of Medicine to provide a free Smartphone version of the ERG in its Wireless Information System for Emergency Responders. The mobile version will be available this summer.
"The ERG is an invaluable tool that provides emergency responders with critical information and guidance during the initial stages of a hazmat emergency," says PHMSA Administrator Cynthia Quarterman. "Taking the proper action during those critical first minutes has a huge impact on the safety of both first responders and the people they serve. PHMSA is always committed to the safety of those involved in and potentially affected by the transportation of hazardous materials."
Print copies of ERG2012 are available for sale to the general public through the U.S. Government Printing Office Bookstore at http://bookstore.gpo.gov.