At its biennial customer conference Vision 2012 in San Diego, Qualcomm announced several new driver safety enhancements for its Mobile Computing Platform (MCP) for private and for-hire fleets.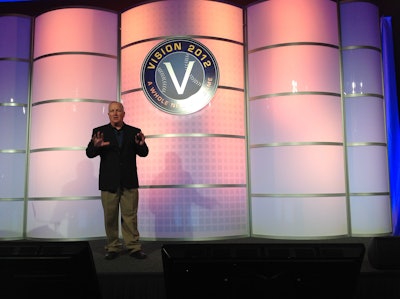 • NaviGo 4.0 powered by Telogis In-Cab Navigation – delivers routing capabilities, onboard geocoding, address wizard, points of interest searches and an improved user interface to help fleets increase productivity and customer satisfaction and reduce costs. NaviGo is slated for commercial availability in the third quarter of 2012.
• Bendix Wingman Advanced – a collision mitigation technology that leverages a radar sensor mounted to the front of the vehicle to deliver warnings, active interventions (i.e. throttle reduction, engine retarder and brake application) and information. Fleets using Qualcomm's Critical Event Reporting (CER) can use this newest third-party event trigger immediately.
• Takata's SafeTrak Lane – integrated onboard sensors to the CER application alerts fleet managers and distracted or fatigued drivers of an unintended lane departure. This event trigger is available immediately to Qualcomm users.
Qualcomm also says it reached a milestone for its Hours of Service (QHOS) application, which has been adopted by more than 140,000 users across more than 500 fleets. It will soon add an oilfield exemption feature to QHOS. The exemption allows for a 24-hour reset period instead of 34 hours and to log time waiting at well sites as off-duty.
Qualcomm also now is offering customers more flexibility with monthly data plans for the MCP110 and MCP200. The company says its new 4G terrestrial broadband options make it more cost-effective for private and for-hire fleets to adopt data-intensive applications, such as In-Cab Scanning and Media Manager to send video, audio and PDFs to drivers on the road, rather than incur additional transaction charges.
Sylectus, a business unit of Qualcomm Enterprise Services, also launched MyPro for private fleets with fewer than 400 trucks. MyPro is a secure Web-based transportation management software application that enables fleets to create their own secure partner network to take on bigger jobs without expensive technology investments. A few features and benefits include built-in dispatch, billing and driver settlement tools; flexible integration with many technology platforms; and electronic document management and reporting capabilities.