Dispatch software can provide fleet managers a consolidated view of what's happening with drivers, helping them anticipate and solve problems in advance.
Having a fully electronic office to manage dispatch, human resources, accounting and other core processes is expected in today's business environment. Even so, many fleet managers looking for information on drivers often find themselves having to troll through screens, Websites and third-party applications.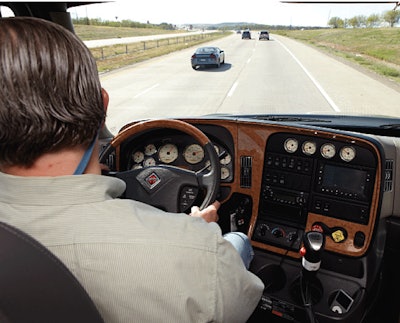 Driver-related data often is collected using multiple applications and stored in separate databases. Searching these different sources not only is unproductive, it also can lead to omitting important details that might make a difference in your relationships with drivers.
U.S. Xpress is using business intelligence to create singular applications for managers, drivers and customers to consume data more easily. As part of this extensive information strategy, the Chattanooga, Tenn.-based company recently analyzed how driver managers were spending their time. What it found was people using 300 different screens and sources of data. In many cases, data was being fed to driver managers in spreadsheets.
"We wanted to change how their work got done by how the data was presented to them," says John White, president. Today, all driver-related data – including pay, home time, miles, safety and compliance – is visible in a single platform.
This new management platform has "point-and-click" calendar views of data to help users visualize the work life of drivers. Managers also get real-time exception alerts when drivers veer off route or do anything else outside of fleet standards. Perhaps just as significant is that driver managers now can be trained in days – not weeks.
"We are much more effective and efficient in what we do," White says. "This comprehensive information strategy has done in our organization what CRM (customer relationship management software) has done for customer relations in a number of industries."
Even without a large IT staff and the resources of U.S. Xpress, carriers of all sizes are able to expand their capacity for managing driver information. With a chronic shortage of qualified drivers, savvy IT managers and executives are focusing on ways to increase the transparency and connectivity options for drivers to increase their satisfaction as well as performance.
Transparency
Nothing is more unnerving to drivers than having pay fluctuate from week to week. Like any employee, drivers expect to at least maintain or exceed their standard of living despite having a variable pay scale based on miles, hours or both. Technology makes it easy to remove the guesswork for drivers through transparency.
Carriers using Sylectus' Web-based transportation management system can give drivers access to both historical and current pay information through the Fleet Vision driver portal. As the week progresses, drivers can monitor how their next pay sheet is shaping up.
"We are much more effective and efficient in what we do."
– John White, U.S. Xpress president
Expedited freight hauler Load One Transport has found that drivers using this tool are auditing their payroll before the company sends out pay sheets. When drivers call with a question, fleet managers are discussing specific details rather than fending off complaints.
"Drivers are asking intelligent questions before pay happens," says John Elliott, president of the Taylor, Mich.-based 300-truck carrier. In most cases, drivers are able to find answers by looking at trip and revenue information along with deductions for fuel and other expenses. "It takes a lot of the surprise out," Elliott says.
TMW Systems' Web-based Driver Seat portal is designed to give drivers visibility to their work life. Live information from the TMS database can be shared with drivers, including pay history, payment due for pending trips, expense reimbursements, taxes and fuel card advances.
Drivers also can choose from available loads, print trip sheets with directions and mapping, and see a variety of performance items in a dashboard fashion, says Randall Burrell, vice president and general manager for TMW Systems. Driver Seat also includes social networking features; drivers can share their work calendar and photos and send and receive messages with friends and family.
Technology also can be used to eliminate the perception of favoritism between dispatchers and drivers. Load One Transport uses a feature in its Sylectus system that gives drivers transparency to the company's load planning process.
The majority of Load One drivers are owner-operators, and the company does not pay for empty miles. Drivers can use a form message in the Qualcomm MCP200 computing platform to query the Sylectus database to see how many similarly spec'd trucks (straight trucks, truckload, etc.) operated by Load One are currently in the driver's vicinity.
Drivers use this macro to see where they stand in line for the next available load. They also can enter a ZIP code to see how many Load One trucks are in a different area. With this information, drivers can make a decision about where to relocate for their next load.
A driver may realize he's getting a good rate to deliver to a rural area in Kansas because he is unlikely to get an outbound load from that area. After searching for trucks in Kansas City, Mo., he might notice the area is short on trucks and decide to deadhead in that direction.
"Drivers get savvy on how freight moves," Elliott says. "When you give them transparency to look at the data, it strengthens their confidence in what dispatch is telling them. They believe in the tool even more."
Load One also shares information with drivers about how well they are finding loads in comparison with competitors in the expedited freight market. Sylectus is used primarily by expedited haulers, and carriers that use the Web-based TMS regularly broker freight through an integrated Virtual Fleet load board and nationwide Alliance network. Load One also can view reports to see how the company's loads and revenue compare to the averages of other Sylectus users.
If drivers see a drop in their loads and revenue, they may think the company does not have enough business. If they feel that the company is doing better than or is in line with the rest of the industry, they're more likely to stay put. "There is validity to it," Elliott says. "It is a pretty powerful visual tool."
Virtual reality
With all of the data a fleet can collect on drivers, it may be more efficient to treat them as numbers – but not as effective. Having the right tools to manage relationships with drivers can deliver results that are both efficient and effective.
Companies that provide TMS software have platforms that provide visibility to all of the factors needed to manage driver relationships. These tools are able to "humanize" the information collected on drivers.
A Driver Manager screen is standard in McLeod Software's LoadMaster TMS. Current and preplanned work schedules, pay and mileage history, current hours-of-service information, location and upcoming scheduled events such as commercial driver's license renewal dates and vacations are a few of the details immediately visible onscreen.
A "driver profile" tab also lets driver managers input important details about a driver "outside of the truck" to help manage the human relationship, such as birthdays and other personal information that can make a difference in working with drivers.
Users can view "everything about a driver in one screen," says Randy Seals, customer advocate for McLeod. Additional details on safety, performance and compliance information can be found by drilling down into alerts and notifications. The system also includes all mobile communication messages with the ability to document important communications on nondispatch topics such as time off, pay inquiries and other work issues.
The screen is designed to be used in tandem with the load-planning screen for matching drivers with loads. If a driver's CDL has expired, the system will prevent a dispatcher from assigning the driver to a load. "For too long, software systems moved the driver, but the driver was lost in the whole world," Seals says.
Load One looks at two measurements in its planning screen: LA (Last Available) and LL (Last Load). LA, the more critical of the two, shows how many hours have expired since the driver indicated he is available to work. LL shows the number of hours since the driver was empty from his last paying load. The two numbers help dispatchers quickly determine which drivers should receive priority.
"I place an extra focus on my top sitters," Elliott says. "Those guys get the most frustrated." Besides looking at drivers individually, Load One looks at LL and LA times collectively by area. For areas with higher LA times, "we know we need to be moving trucks empty out of there faster and keep them rolling," he says. "When they sit, that's when they start looking for jobs."
TMW Systems has a Driver Zone module designed for dispatch managers to view and track driver information. "It's more of an easy-to-use calendar chart and detail window," Burrell says. The calendar view is a Gantt-style display that helps dispatchers see drivers' past, current and upcoming loads to assist in helping to balance their work and home time requirements.
In addition to having visibility into each driver's work life, Driver Zone automatically can pull information from various sources to track milestones such as safe miles, fuel economy and years of service. It also can be used to keep track of driver bonuses and incentives and to create peer-to-peer challenges for drivers.
Prophesy Dispatch, a software product from Accellos, is geared toward smaller fleets. In the Load Scheduler screen that dispatchers use most frequently, color-coded notifications appear when information in the vehicle or driver files needs attention, such as scheduled maintenance or a CDL that is about to expire.
Dispatchers also use Load Scheduler to visualize a driver's work life in a Gantt chart. Users can scroll the chart up to eight days back and forward by one week to see pre-assigned loads. Load Scheduler soon will include real-time drivers' hours-of-service information via integration with electronic onboard recording systems, says Kevin Pasternack, sales manager for Accellos.
PCS Software has had a Gantt scheduling grid in its Express TMS since its first version in 1996 when most software platforms were character-based, says Sean VanDyck, vice president of sales. By using PCS Software's Scheduler Screen, users always have been able to preplan driver dispatches days in advance.
With today's version, users can match drivers to loads automatically based on driver availability and freight in the system. If no match is found, the system automatically will notify shippers and brokers that equipment is available and search the Internet for loads that meet the criteria.
Enterprise mobility
Today's truck driver is a technology consumer that buys and procures smartphones and tablet devices to improve his life and make better business decisions. Analyst firm Gartner predicts sales of 320 million tablets by 2015.
A small but growing number of fleets are keeping up with this megatrend with apps they've designed to improve how drivers interact with the company by connecting them to dispatch and other business functions.
U.S. Xpress has apps that its drivers can use for personal Android or Apple devices. "Drivers no longer need to be tethered to the truck to communicate," White says. "We can send dispatches, and they can accept loads. It's all integrated into our process. Drivers can do what they need to do from a cellphone."
Another growing trend is giving drivers access to corporate data through a secure Website. McLeod Software's Internet module traditionally has been used by carriers for customer service offerings, including load tracking, document access, rate inquiries and other information from the LoadMaster TMS database. More fleets now are focusing on using the tool to give drivers access to payroll and other corporate information on mobile devices, such as being able to monitor available loads and view individual scorecards and reports, Seals says.
Dedicated hauler
FirstFleet has developed an extensive Intranet site for both Windows and mobile devices that provides drivers with all the information they need to manage their work experience. Drivers can view earnings, see current and upcoming trip details, monitor fuel economy, manage vacation time, audit logbook exceptions and complete forms for benefit enrollments. They also can view their fuel rankings by peer group, as well as the bonus they are sacrificing if their performance is below standard.
"I believe that our tools offer a better way for drivers to manage their experience with their employer," says Austin Henderson, director of IT infrastructure and innovation for the 1,500-truck fleet. "We make the work-life balance easier by giving access to information on the terms that our drivers want it."
The Murfreesboro, Tenn.-based company also encourages employees to share the Website with family members. "When their significant others are logging in to check, we've found that can drive change," Henderson says.
Aljex Software has a Web-hosted TMS system for carriers. Since the software already is cloud-based, companies quickly are able to set up portals for drivers to view available loads, payment status, escrow account balance and other live information – even outside the database.
"The system is now a communications hub," says Tom Heine, president of Aljex Software. "We have the ability to link into anything out there."
The ability to capture and monitor driver-related information through today's technology advancements is the easy part. The challenge is making drivers realize the technology is working for their best interests.
"We need to be viewed as the employer of choice for drivers," says U.S. Xpress' White. "Drivers at our fleet are now less disconnected and more connected."
A Window to Behavior
Shaw Transport uses technology to create a single view of driver data
After searching for three years, Greg Whisenant finally found what he was seeking: a way to integrate eight disparate applications along with his company's unique points profile into a comprehensive driver management system.
Shaw Transport, the private fleet for flooring manufacturer Shaw Industries, has more than 850 power units and 1,300 drivers among its 91 locations. The fleet was having difficulty managing all of its driver information on its separate systems because of zero integration, says Whisenant, corporate transportation safety manager.
After meeting with EBE Technologies, Shaw Transport implemented the provider's Ships Driver Management software system. The software is not designed to add more data to an enterprise, but to leverage existing data.
Shaw Transport now has an automated system to manage driver qualification files, annual safety reviews, training, incentive programs and more details. Ships Driver Management integrates with all of the company's separate systems, including its PeopleNet onboard communications platform that provides safety and performance data.
Shaw Transport plans to upgrade its PeopleNet display units so that drivers can interact with the company's Intranet site from the cab. The Shaw Driver Portal enables drivers to fill out electronic forms when events occur, such as moving violations or citations. They also can monitor their fuel performance and compliance scores and compare those with other drivers in the company.
"Changing driver behavior is what it's all about," says Whisenant. "Changing that behavior can be done by making sure they are informed."