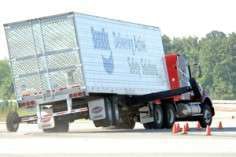 The National Highway Traffic Safety Administration will hold a public hearing regarding its notice of proposed rulemaking to require the installation of electronic stability control systems on truck tractors and large buses.
The hearing will be July 24 from 10 a.m. to 1 p.m. ET at the U.S. Department of Transportation, West Building Ground Floor, Media Center – Room W11-130, 1200 New Jersey Ave S.E., Washington, DC 20590. If necessary to accommodate a large number of presenters, the hearing may continue beyond 2 p.m. ET.
Anyone wanting to present oral testimony at the public hearing, or attend the public hearing as an observer, should contact Christopher Morris, Office of Rulemaking, by e-mail at christopher.m[email protected], telephone at 202-493-2218 or fax at 202-366-5930.
On May 23, the agency published its NPRM to establish a new standard – Federal Motor Vehicle Safety Standard No. 136, Electronic Stability Control Systems for Heavy Vehicles (77 FR 30766 – that would require truck tractors and certain large buses with a gross vehicle weight rating of greater than 26,000 pounds to be equipped with an electronic stability control system that meets the equipment and performance requirements of the proposed standard.
For more information, go to www.regulations.gov; the docket number is NHTSA-2012-0065.