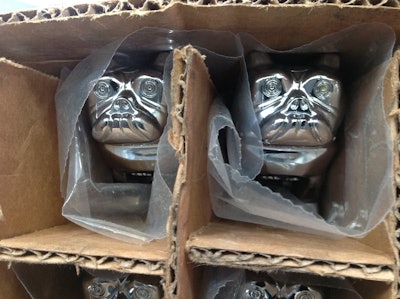 I get a bit of a chuckle when I consider the reputation Mack Trucks has in both our industry and in the public's mind, and the actual dynamic driving the engineering efforts at that company today. We all know how Mack Trucks are perceived: Big, tough brutes capable of tackling any dirty job and coming back for more. If you didn't know any better, you could almost be forgiven for thinking a small army of blacksmiths and welders hammers out each and every Mack by hand.
Mack Trucks are, of course, as sophisticated as any heavy-duty vehicle in the world today. The manufacturing line in Macungie, PA, is a technological marvel with more robots at work than in a Star Wars episode. And the final products that roll off the line are – as Mack employees proudly point out – still built entirely here in the U.S.A.
Given Mack's long-standing place in our collective national consciousness, you could also be forgiven for assuming that this isn't a company on the fore-front of the fuel economy efforts driving the trucking industry today. But you'd be wrong if you did.
True, for many years, getting the job done was Mission One for Mack customers. And fuel economy just wasn't considered that important. But, as it happened, Mack was looking farther ahead than most of its customers. It was, after all, 20 years ago, when the company introduced its first fuel-economy spec'd Econodyne drivetrain. Admittedly, it wasn't a popular option, notes David McKenna, director of powertrain sales for Mack. "Mack Trucks were all power, all the time," he says. "It's what our customers wanted and expected from us. And we always strive to give our customers exactly what they want to get their jobs done."
Today, of course, the dynamic is changed. What customers want – regardless of the work they're doing – is a boost in fuel economy. And Mack has a solution.
The new Super Econodyne powertrain package has been engineered from the ground up using all Mack components with optimized fuel economy its single-minded goal. It's no secret that lower RPMs equal better fuel economy. But, in the past lower RPMs also meant lower horsepower and torque. Fortunately, modern technology offers ways around that fundamental trade-off.
Every component on a Mack Super Econodyne drivetrain is optimized from the ground up to work together in as efficient a manner as possible. "You can drop another engine in our trucks and it will work well," McKenna says. "But it won't work as well as a fully-integrated Mack drivetrain will. Because we share all of our engineering data and real-time operating algorithms with all of our components to make sure they operate and co-operate exactly like we want them to. No manufacturer gives all its engineering data to another OEM. It's like giving away the formula for Coca-Cola. You just don't do it. So if you want to drop a competitive automated transmission in a Mack truck, it will work fine. But it will not ever work as well as a fully-integrated mDrive transmission will. Because that mDrive is operating with all the data from all the associated engine components insuring optimal performance at all times in all road conditions."
This optimization approach also allows the Super Econodyne to run at lower RPMs – mainly because the mDrive transmission is able to instantly improvise shift times and sequences to counter the lower engine speeds. In other words, the engine doesn't have to work harder and burn more fuel to get the rig going because the automated transmission and the C125 double-reduction tandem axle have its back.
After a technical briefing and plant tour earlier this month, I was given an extended drive test on the crowded highways outside of Allentown, PA, to judge all this for myself. I was behind the wheel of a fully decked-out Pinnacle tractor with a 53-foot van in tow. We were hauling around 78,000 pounds and change. But you'd never know it sitting behind the wheel. From a dead stop, the Super Econodyne accelerated quickly thanks to the 13 liter Mack MP8 diesel under the hood. But at cruise speeds, the tach settled in at 1,100 rpms – just as McKenna said it would – for a quiet, smooth ride down the highway. Even though it's spec'd for fuel economy, this is still a 455 horsepower engine churning out 1,750 pound-feet of torque. And that's plenty of combined power to get you moving and keep you cruising along if everything is pulling together in harmony.
McKenna says for now, Mack is offering the Super Econodyne package as free upgrade from the standard Econodyne powertrain configuration. He notes that Mack testing indicates the Gold Bulldog (fully-integrated) Super Econodyne is turning in about 2 percent improved fuel economy over the standard Econodyne package, which translates into typical fuel savings ranging from 5 to 10 percent in most fleet applications.
It's a good idea and one that performs exactly as advertised. Behind the wheel, there is no noticeable compromise in power or performance – in essence a drivetrain that makes both drivers and fleet owners happy. And what could be better than that?