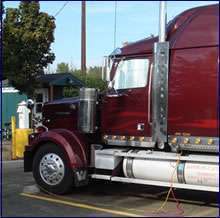 Four more sites in the southeastern United States have been added to the national network of truckstop electrification locations at which drivers can plug in to reduce idling:
• Southern Pride Truck Plaza at Exit 16 on I-24 at Paducah, Ky.;
• Big Easy Travel Plaza at Exit 239 on I-10 in New Orleans;
• The Tennessean Truck Stop at Exit 22 on I-65 in Cornersville, Tenn.; and
• The I-40 Travel Center at Exit 35 on I-40 in Ozark, Ark.
Each of the four sites has 24 truck parking spaces at which drivers can plug their vehicles into electrical connections, allowing them to operate heating, air conditioning and cab appliances without running the engine during their mandatory 10-hour rest periods.
The four truckstops are the latest among 50 along major freight corridors that are receiving plug-in-power installations through the federally funded Shorepower Truck Electrification Project (STEP), administered jointly by Shorepower Technologies and Cascade Sierra Solutions.
"We are in the midst of building a national network of plug-in locations at which truckers can count on saving money and get a sound, healthful night's rest," says Jeff Kim, president and chief executive officer of Shorepower Technologies. "Adding these four new truckstops along major freight routes is another important step in achieving that goal."