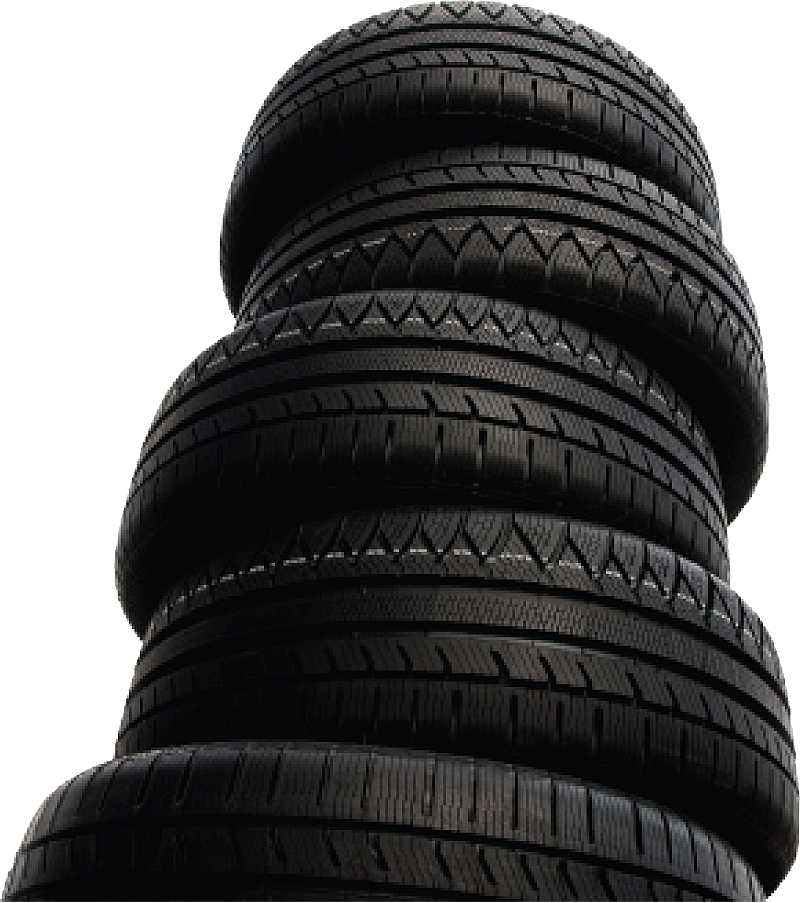 Multiple vehicles, various wheel positions and different performance demands for each can make tire spec'ing a nightmare. Learn how to get a handle on the basics.
As the ultimate moving part, tires lead hellish lives. Yet the job they do is so crucial and the operating environment so tough, they remain one of the hardest components without any moving parts to design and manufacture on a consistent reliable basis. And they have to perform to our expectations, in widely differing applications – and do so largely without failure.
Tires perform so well, it's easy to take them for granted – but wise fleet managers understand that it can be a costly error to do so. Year in and year out, tires consistently rank as one of a fleet's top three expenses along with fuel and labor costs. Understanding what tires work best on your vehicles and in your specific applications is fundamental for ensuring fleet productivity and efficiency. Moreover, correct tire spec'ing can provide an edge in today's highly competitive business environment. And who doesn't want to get a step ahead?
The problem many fleet managers face when considering tires is an embarrassment of riches: A multitude of manufacturers offer tires for every conceivable wheel position and application. There are tires for maximum fuel economy. There are tires for extreme off-road conditions. There are long-distance tires. There are regional tires. And there are tires for everything in between. And tire design is upgraded and tweaked continually. So it's not as simple as finding a tire you like and sticking with it; the technology and the products offered are evolving constantly.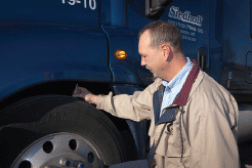 If it all seems too much for one person to track, it is. Luckily, things are changing for the better, says Clif Armstrong, commercial tire marketing manager for Continental Tire. "The truck tire market is becoming a more operationally specific industry," Armstrong says. "Spec'ing the right tire for the fleet application is critical." If the wrong tire is spec'd, the fleet will have more costs directly related to downtime. By paying attention to fuel-saving technologies, fleets potentially can save enough money in fuel alone to make the cost of the new tire irrelevant.
Back to basics
With tires, as with any vehicle spec, it's always a good idea to start with the basics. For Gary Enterline, product category manager, Michelin North America, that means taking stock of the vehicle in question. "Managers should take a hard look at the vehicle itself before making any decisions," Enterline says. A 4×2 configuration might need a different drive tire than a 6×4. "Then consider what kind of application the vehicle is being used for," he says. "Is it line haul, regional or on-/off-road? Or something else?"
Using a tire that is designed for short hauls in a metro area on a truck that goes coast to coast will have a negative impact on tire cost per mile because they will wear more quickly and probably endure irregular wear. "This would be an example of a misapplication that would be expensive," says Aaron Murphy, vice president of Double Coin Tire.
Even little details can play a role in proper tire selection. Enterline recommends driving the route or, if that's not possible, talking with your drivers to get a feel for the road conditions they encounter.
"Tires are one of the largest costs a fleet has. Spec'ing the right tire for the fleet application is critical."
– Clif Armstrong, commercial tire marketing manager, Continental Tire
"Are they on smooth asphalt, or is it an aggressive surface?" he asks. "Are they driving up and down hills? What is the climate like? That plays a key role in the decision-making process, particularly if heavy rain or snow are factors. What level of traction is needed? Is fuel efficiency an issue? How about weight? All of these factors will contribute to the decision of what kind of tire you need."
Other factors also come into play, adds Armstrong, who suggests that once basic vehicle demands and environmental conditions have been examined, it's time to take stock of the entire fleet operation. That means getting a handle on the typical freight hauled, routes, driver behavior, fuel-efficiency technologies and practices, and maintenance and air pressure practices – as well as fleet scrap tire trends on the back end of the equation.
"Knowing the total fleet picture allows fleet managers to run tires designed specifically for their needs," Armstrong says. "However, this doesn't necessarily mean that fleet managers should have to settle for a tire that fits only into this specific box, because often, their operations don't do that either."
One day you might be operating regionally within a 300-mile radius. The next day, the same truck might travel 1,000 miles in a long-haul application. "Because we can't change tires daily, it's important to seek out a tire supplier that can offer a balanced performance from the product, along with the flexibility to deal with changing operating conditions," Armstrong says.
While a fleet manager's experience is important, a fleet also should consult with sales representatives from the tire companies it is considering or the dealer that handles its day-to-day needs. If purchasing new vehicles similar to the ones currently in use and there are no changes in the type of service, choices should be simple. If the vehicles are different from what has been used in the past or if there will be a major change in the service conditions, consulting with a tire expert is all the more important.
"He or she can bring an understanding of what has worked for other similar fleets in your area," says Tim Miller, marketing communications manager for Goodyear Tire and Rubber's Commercial Tire Division.
Getting into position
Drive, steer and trailer tires obviously serve different functions on a tractor-trailer. But going even deeper, these functions can vary widely depending on fleet application. For normal long-haul use, Armstrong advises fleets that their criteria for each wheel position should include the following:
• Steer tires: The steer position is the driver's main contact with the road surface. Tires must be responsive to steering input, be quiet, run smooth and offer even wear. Newer to this wheel position is the requirement of greater fuel efficiency. Although steer tires contribute only 15 percent of a truck's rolling resistance, fleets are looking to save fuel anywhere they can.
• Drive tires: Drive tires give the truck unit traction from a starting position and when moving down the road. Highway drive tires typically are closed shoulder with less aggressive tread patterns if spec'd for fuel efficiency over traction. For fleets looking to maximize fuel efficiency while maintaining long original miles, deep-lug drive and open shoulder drive tires are recommended.
• Trailer tires: Typically the most neglected wheel position in the fleet, trailer tires, like drive tires, contribute about 42 percent of a vehicle's tire-related rolling resistance and because of this must offer fuel efficiency and mileage along with robustness for reliability.
"There are different steer tires for line-haul applications versus regional applications," Enterline says. A regional tire is more resistant to scrub abrasion associated with lots of turning in city driving, while a line-haul steer tire is more resistant to irregular wear associated with long-distance trips.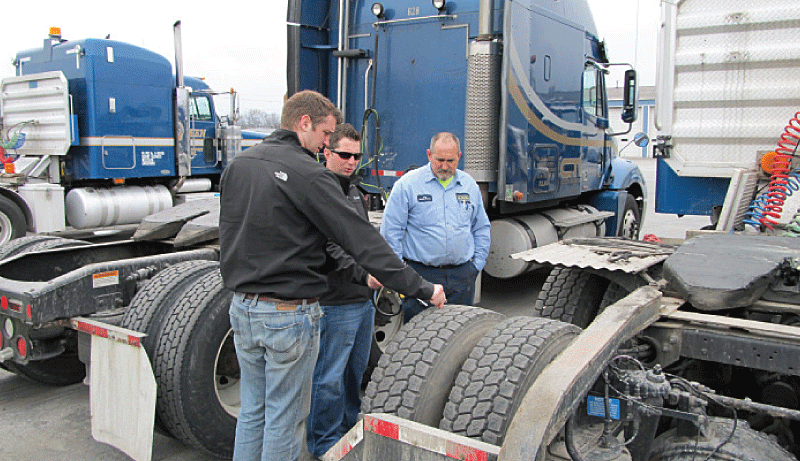 Resistance to high scrub, or fighting irregular wear that tends to develop with very little scrubbing, are factors in steer tire selection for over-the-road trucks, Miller says. In the past, tire companies tried to fill steer tire needs with just one tire, but as the tread life of steer axle tires was extended with high-mileage tread compounds, it became obvious that these tires did not work well in situations where vehicles made lots of sharp turns in the course of their daily routes.
Regional or urban-use tires were developed using tread compounds suited to the scrubbing that these tires encountered in every sharp turn. "If vehicles travel off-highway, a tread compound that resists chipping and chunking will be required," Miller says.
Enterline suggests fleet managers also monitor trailer tires for wear profiles. "Trailer tires can be problematic because they aren't often monitored with proper mileage logs," he says. Look at the tire aspect to see if the wear is regular or irregular, on the shoulder and in the center of the tire.
"If there is anything abnormal, it means you might have the wrong tire for the application and/or conditions," Enterline says. "Inflating the tire at the proper pressure for the load and the application is also important to get the most performance over the life of the tire."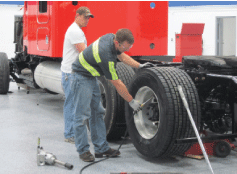 Many of the on- or off-highway performance factors for steer and drive tires also hold true for trailer positions. For that reason, many fleets find it cost-effective to spec trailers on steer axle tires. "Those fleets will replace their original tires with retreads upon delivery and place the steer tires in the racks for future steer tire use," Miller says. "The bottom line – it's an easy way to get premium steer tires at a great price."
A constant process
Applications constantly change; so too do tire technology and product offerings. When it comes to staying current on tire specifications, a fleet manager's job is never done. And then there's the possibility that something – somewhere – has changed and the tires you've spec'd aren't delivering their full potential in terms of longevity, fuel economy or some other critical performance point. The trick is being able to recognize why a tire isn't working the way you expect.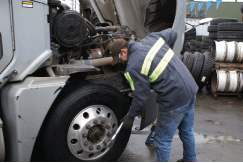 Armstrong says there are noticeable signs that something is wrong with a fleet's tire selection process, and that fleet managers and technicians alike need to be on the alert for the following warning signs:
• An unusual number of tire-related emergency road service calls;
• Spikes in or above industry-average fuel usage reporting;
• Premature tire changes due to low mileage;
• Driver feedback;
• Scrap tire trends such as irregular wear and premature failures;
• Retread reporting or low casing values; and
• Compliance Safety Accountability violations for low tread depth or tires out of service.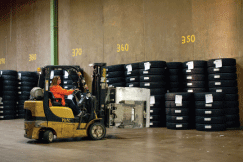 "Any and all of these signs will give the fleet manager a good idea as to whether the tire fitment is ideal for their fleet," Armstrong says. "It's always a good idea to be actively involved with the fleet. Walk the yard and look at tire wear and performance for yourself."
Use alignment tools to see if trucks are aligned properly or out of alignment and prematurely wearing tires. "Spend time in the tire shop looking at the tires that are coming off of your trucks," Armstrong says. "Also maintain good records for your tires so you'll know the trends for your tires."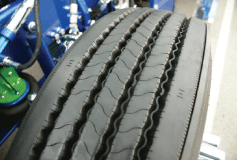 Murphy suggests keeping an open mind and considering other tire options and have 15 percent of vehicles running evaluation tires as a comparison test. "That way, you can monitor the performance of your primary product to make sure you are getting the most cost-efficient product. Without this approach, you would never know if your current tires are meeting your requirements."
Ultimately, it's still up to the fleet manager to get the right tire for the specific application, Miller says. "That's three different wheel positions for every tractor-trailer unit in a fleet," he says. Multiply that by each unique type of application, and that can be a lot of tire types to track.
"To avoid these mistakes, you should consult with the tire dealer or manufacturer to keep up with the latest technology and the best tire for each application," he says. "But it's worth the effort. If you have the right tire for the right job, you are going to get the best productivity for your vehicles."