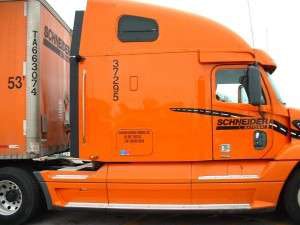 Schneider National is offering $6,000 for tuition reimbursement to qualified driving school graduates. The Green Bay, Wis.-based company says the program will cover the full cost of many truck-driving schools and give drivers a leg up as they enter the industry.
"Schneider National's tuition reimbursement program helps students overcome a big hurdle in starting a driving career – the cost of attending an accredited truck driving school," says Mike Hinz, Schneider vice president. "Safety – the heart of our core values and the cornerstone of our commitment to drivers – starts with proper professional training."
To qualify for the tuition reimbursement program, drivers must be hired by Schneider National within 60 days of graduation. Reimbursement payments of $150 are made monthly, up to $6,000 total. Truck driving school curriculum focuses on developing the foundational skills necessary to earn a CDL and typically is completed in four to eight weeks.
After signing on with Schneider, a driver completes one week of classroom training, followed by one to three weeks of on-the-job training with a training engineer. Drivers learn how to use Schneider's in-cab technology while completing simulation training and over-the-road work. The time spent with a training engineer varies to ensure each new driver is comfortable as a solo or team driver. Drivers receive training pay during this time before moving to mileage pay.