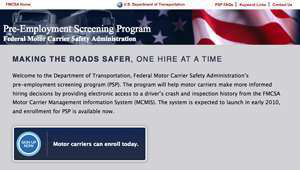 The U.S. Department of Transportation has proposed to update and reissue a System of Records Notice titled "Department of Transportation / Federal Motor Carrier Safety Administration – 007 Pre-Employment Screening Program." The updated system of records consists of information that is created and used by the program to provide commercial drivers and persons conducting pre-employment screening services for the motor carrier industry electronic access to driver history reports extracted from the Motor Carrier Management Information System.
DOT said that as a result of a biennial review of the system of records, the Privacy Office has made the five major modifications. The category of records identified as "Financial Transaction Records" in the previously published SRN for this system has been removed as the department does not maintain these records. The "Access Transaction Records" record category also has been revised to clarify the types of information maintained about the two categories of users permitted to request access to records for the purposes of pre-employment screening.
The routine uses have been updated to clarify disclosure of PSP records to industry service providers directly involved in the hiring of commercial motor vehicle drivers on behalf of motor carriers and/or CMV drivers and the routine use concerning the sharing of CMV driver access transaction records with validation authorities (e.g. Lexis-Nexis). The system owner information has been modified to omit the contact information for the MCMIS and Freedom of Information Act systems of records and instead include only contact information for the PSP system of records.
DOT says the updated notice also includes nonsubstantive changes to simplify the formatting and text of the previously published notice and that the updated system will be included in its inventory of record systems.
Written comments should be submitted on or before the effective date Aug. 21 at www.regulations.gov; the docket number is FMCSA-2012-0243. If no comments are received, the proposal will become effective. If comments are received, the comments will be considered and, where adopted, republished with changes.