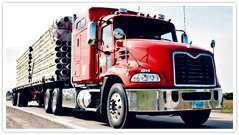 E.W. Wylie recently introduced a new "Pay for Performance" bonus program that allows its driving professionals to earn from 1 cent to 6 cents in additional per mile pay based on individual driving performance.
"We are always looking for ways to help our drivers become the best paid in the industry," says Bob Sweeney, director of recruiting for West Fargo, N.D.-based E.W. Wylie Corp. "This program is based on new monthly scorecard parameters and will allow a lot more of our drivers to participate."
According to Sweeney, the scorecard has points assigned for miles per gallon, idle percentage, preventable accidents, cargo damages, on-time performance, traffic violations, revenue miles run and fueling location compliance.
"We realize that some of these things we're asking are not always easy, but we're sure that under this plan, we will be helping our drivers boost their earnings considerably," Sweeney says. "The new pay plan gives a new driver the opportunity to earn as much as 50 cents per mile after only 30 to 60 days of employment."