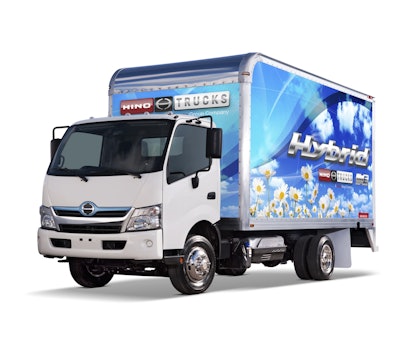 Hino Trucks announced that its new Class 5 195 and 195h COE trucks will be arriving at Hino dealerships across the country this fall. Available with a diesel (195) or diesel-electric hybrid (195h) powertrain, the 19,500 GVW trucks feature 210 horsepower and 440 lb.-ft. of torque from Hino's 5-liter J05E Series engine.
Hino says the launch of the new cabover product line offers dealers an opportunity to reach new customers. "A successful launch of our new cabover models is imperative to provide our customers and dealers with a competitive world-class cabover," said Glenn Ellis, vice president of marketing for Hino Trucks. "Over the past several months, the management team at Hino has monitored the truck market rebound, the U.S. economy and foreign currency exchange rates to develop a plan that supported our customers and dealers in the short term, while sustaining a business model for the long term. With these factors in mind, the introduction of the cabover truck is on track."
The first diesel cabover trucks will arrive to Hino dealers in August. Due to a limited supply of initial diesel-electric hybrid cabover trucks, the release of these vehicles will begin in the state of California in September. As more product becomes available in early 2013, a staged rollout for the remaining markets will be implemented.
Both COE models feature an ergonomically friendly wide cab with a North American standard 33-inch frame rail width, a 56,900-psi frame and a standard center-mounted rear fuel tank. The cab's styling emphasizes aerodynamics and visibility with an angled windshield, narrow pillars and rounded-radius curves. Inside, the new cab uses its increased width to provide room for drivers up to 6 feet, 6 inches tall, seating for three and a versatile mobile workspace with a variety of organizational storage options.
In addition to a Diesel-Electric Hybrid option, the 195 model meets U.S. Environmental Protection Agency 2010 emissions regulations by utilizing an optimized selective catalytic reduction system.