No more controversy
With VN, Volvo proves it was right all along
Usually, when you ask an OEM if you can borrow one of their trucks and take it for a spin, they generally toss you the keys to the most tricked-out truck in the lineup. So I was a little surprised last month when I arrived at Volvo's corporate headquarters to discover that Frank Bio, Volvo's product manager, had selected a mid-level trim tractor for my North Carolina test drive.
The tractor in question was a 2013 Volvo 670 painted in gleaming Dupont Glacier White. Today, it's easy to forget just how controversial the VN tractor was when it first appeared in 1996. Volvo introduced one of the first true aerodynamic designs for a Class 8 tractor in a world of flat-nosed rigs. Looking back today, Bio believes it was an earthshaking move on his company's part.
"We were probably too early with a full aero design," he says. "A lot of people just didn't see the point. Fuel was selling for around $2 a gallon at the time, and it was such a departure from what you typically saw on the road then." But Bio says Volvo knew it had a rock-solid business case behind the design, and fleets began to see that. "Of course, we couldn't foresee the huge fuel price spikes that hit the industry in 2008," he says. "But when fuel prices skyrocketed, the VN made perfect sense to fleets and owner-operators alike."
And Volvo engineers haven't let up over the years. This particular truck, mid-level or not, featured Volvo's full-on aerodynamic package, including an adjustable roof wing, full side fairings and a host of back-of-cab features designed to accelerate airflow around the tractor-trailer gap and over the trailer's top.
*Earthshaking move: Volvo introduced one of the first true aerodynamic Class 8 designs in 1996.
*Skyrocketing fuel prices: The VN made perfect sense to fleets and owner-operators alike.
*Integrated drivetrain: The XE13 is insanely complicated to create but simple to understand.
Bio had picked a big 250-mile circle for us, heading out of Greensboro on Interstate 40 where we'd kiss the suburban edge of Raleigh before picking up quiet backroads through Sanford, N.C., and back to Volvo headquarters. We had some hills to pull – although nothing like you see on the Virginia border. My main challenge was traffic, although it was no sweat for me in this truck. The views outside the cab were nothing short of commanding thanks to the VN's low-slope nose and vibration-free aerodynamic mirror designs.
Another nice touch was the optional hood-mounted mirrors. They took a little getting used to; your natural inclination is to check your side-mounted mirrors first. But once I grew accustomed to their location, I found I depended on them more to help out in heavy traffic and tight urban surroundings.
2013 Volvo VN 670
GVCR: 80,000 pounds
Engine: Volvo D13
Horsepower: 425 hp
Torque: 1,725 lb.-ft.
Transmission: Volvo I-Shift ATO2612D
Gears: 12
INTEGRATED drivetrain package: XE (Exceptional Efficiency)
Front axle: 12,500 pounds
Rear axle: 40,000 pounds
Optional: Volvo Enhanced Stability Package, ABS traction control, hood-mounted mirrors
At highway speeds, the D13 diesel engine lugged effortlessly away under the hood, but I hardly noticed; the interior was very quiet thanks to the truck's sleek aerodynamic profile and Volvo's sound-and-vibration dampening. Premium seats were part of the package on this "mid-level" trim tractor, including a back-cycler function: At the touch of a button, the back of the seat rotated through a series of lumbar positions designed to ease back strain and keep the driver comfortable and alert, even on long hauls.
This aerodynamic tractor is ahead of its time.
And because this was a Volvo, safety was shot through this truck's DNA; full driver-side airbags are standard, and in the event of a frontal impact, the drivetrain is engineered to drop down beneath the chassis instead of crashing through the firewall and floorboard into the cab of the truck.
The real star of this Volvo VN, however, had to be the fully-integrated XE13 drivetrain, which is insanely complicated to create but simple to understand. Basically every component on the truck – from the engine to the transmission, axles and cruise control – is tied into one overarching computer system that compares thousands of data points per second – including current gear, available gears, engine RPM, available torque, throttle position and cruising speed – to calculate the best performance characteristics given that data to ensure the best possible fuel economy for the moment while still giving the driver plenty of power and torque to deal with ever-changing highway and terrain conditions.
Volvo engineers understand that lower-revving engines use less fuel. A quick glance at the tachometer at 70 mph showed the engine was ticking over at about 1,100 rpms. Checking the Driver Information System, I saw the payoff right away: I was logging 9 mpg easily during our initial cruise on the less congested portions of I-40. Traffic and hills eventually dropped my trip average down to a little over 7 mpg for the day.
Not bad for a mid-level truck.

JACK ROBERTS is Executive Editor of Commercial Carrier Journal. E-mail jroberts@ccjmagazine.com or call (205) 248-1358.
Detroit announces GHG14 engine roadmap
DD15 will receive the most technology enhancements
Detroit Diesel announced a number of changes to its family of diesel engines to meet the Greenhouse Gas 2014 (GHG14) regulations passed last August by the U.S. Environmental Protection Agency and the National Highway Traffic Safety Administration. Earlier this year, Daimler Trucks North America announced EPA certification of its complete portfolio of model-year 2013 on-highway, vocational and medium-duty vehicles as fully compliant with the regulation.
"We will certify early to GHG14 on January 1, 2013, with the engines," says Mark Groeneweg, director of truck engine product engineering for Daimler Trucks.
In Detroit's engine lineup, the DD15 will receive the most technology enhancements, including a proprietary asymmetric turbocharger with a new amplified common rail system, a variable-speed water pump and an optimized oil pump. "We've upped the pressure capability in the system to 2,500 bar injection pressure, and with this system, we can change the rate at which fuel is delivered to keep formation of NOx low but get the fuel in fast," says Groeneweg.
In addition, Detroit announced a new oil control ring in its piston design to reduce oil consumption, and a new fuel filter system that will extend changes to 100,000 miles.
In its aftertreatment system, Detroit is moving away from the air-assisted diesel exhaust fluid dosing system to a liquid-only system that eliminates the use of compressed air from the engine.
"With the modifications we've made to the DD15, we are not only meeting compliance standards, but we're providing our customers with a reliable solution that can provide significant fuel economy gains," says Brad Williamson, manager, engine and component marketing for Daimler Trucks.
– Jeff Crissey
Mesilla Valley retrofits fleet with TrailerTails
ATDynamics, a supplier of tractor-trailer rear-drag aerodynamics technologies, and Mesilla Valley Transportation jointly announced that MVT has completed the retrofit of its entire fleet of 4,000 tractor-trailers with TrailerTail aerodynamic technology manufactured by ATDynamics. Retrofitting took place at the rate of 12 trailers per day at MVT's maintenance facility in El Paso, Texas.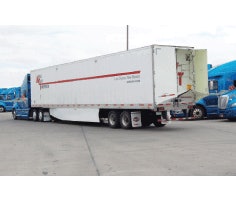 TrailerTail is a lightweight thermoplastic composite fairing installed at the back of a tractor-trailer to streamline airflow behind the trailer, cutting aerodynamic drag and reducing fuel consumption by 6.6 percent at 65 mph,
ATDynamics says. MVT estimates that the fleetwide deployment of TrailerTails will save in excess of one million gallons of diesel fuel annually, resulting in a payback period of less than 14 months on the capital investment.
"We were an early adopter of this technology when, nearly two years ago, many of our industry peers raised an eyebrow at our decision to retrofit our entire fleet with TrailerTails, but today virtually every sizable fleet on the road is evaluating or beginning to adopt ATDynamics' technology," says Royal Jones, MVT chief executive officer.
TrailerTails are compliant with the U.S. Department of Transportation's length restrictions for tractor-trailers, which allow up to a 5-foot noncargo-bearing extension for aerodynamic fairings. TrailerTails also help improve highway safety for both truck drivers and the public; the add-ons are designed to improve trailer stability in high winds, improve visibility for drivers through reduced trailer spray in wet conditions and reduce injuries and vehicle damage from rear-end collisions with tractor-trailers.
A TrailerTail requires less than 45 minutes to install and in one year will offset the annual average fuel consumption of a typical passenger vehicle, ATDynamics says.
– Aaron Huff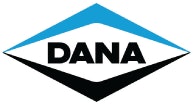 Dana bolsters field sales, service organization
Dana Holding Corp. announced numerous actions to strengthen its North American field sales and service organization. The company will increase touch points with customers through localized inventory to support down trucks, new training resources, a dedicated call center, a user-friendly Website and other enhanced customer interfaces.
"We've made a significant investment to strengthen our capabilities and deploy a dedicated, experienced team equipped with the tools to quickly and effectively maximize customer productivity and put more pay in their loads," said Mark Wallace, president of On-Highway Driveline Technologies at Dana.
Focused on more than 4,000 North American commercial vehicle OEMs and dealerships – including those previously supported under Dana's Roadranger alliance with Eaton Corp. – Dana's field sales and service team numbers nearly 100 professionals.
Westport Kentucky Integration Center opens in Louisville
Westport Innovations, a producer of natural gas engines, opened its Westport Kentucky Integration Center. Home to the new Westport Wing Power System assembly center, the facility is capable of installing up to 20,000 systems per year.
As a Ford Qualified Vehicle Modifier, Westport LD has developed the Wing Power System, a fully integrated bifuel system designed, built, installed and delivered "key-ready" to customers through Westport LD authorized Ford dealers and distributors. The Ford vehicle warranty remains intact, and the additional components are warranted by Westport LD.
The Westport Kentucky Integration Center is located across the street from the Ford Motor Co. Kentucky Truck Plant. The trucks are taken directly from the Ford plant to WKIC, where natural gas fuel systems are installed, then are returned to Ford for delivery to its dealerships.