When it comes to public image, we all could do more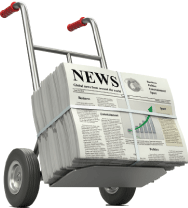 Have you or a loved one been injured in a wreck involving a commercial truck? Call your local parasitic law team at 1-800-TRUX-SUK today."
Ads like these from ambulance-chasing law firms appear in daytime and late-night TV ads in media markets across the country. Thankfully, the negative messages of these baseless ads targeting the trucking industry quickly are lost amidst similar ads for victims of worker's compensation claims, mesothelioma and other plaintiff cases.
Unfortunately, every now and then news involving truck accidents grabs the attention of state and local newspaper and television media markets, and these outlets have a lot more power in forming public opinion of our industry. Such was the case last month when I received an e-mail from a distressed reader who was upset over the treatment by a local news media report of a regional carrier after a deadly accident involving a truck and a passenger car on Interstate 4 in Florida.
The news report – in an attempt to put the trucking company in the worst light imaginable – shows an image of the fiery wreck and flashes details of the carrier's two-year performance for unsafe driving (41 violations) and fatigued driving (22 violations) on the screen in big red numbers in an effort to back up claims of an unsafe driving culture by three "whistleblowers" – disgruntled drivers appearing in the news piece with disguised faces and distorted voices.
The problem: The industry often is portrayed in the worst light.
Get in contact: Find form letters for contacting local news media at
ccjdigital.com/media-form-letters.
Share your success: We at CCJ would love to hear how your company is working to create a positive image in your communities. E-mail me at jcrissey@rrpub.com.
I became curious and looked up the carrier's safety performance in the Federal Motor Carrier Safety Administration's Safety Measurement System database, and lo and behold, it turns out the company is one of the safest carriers in the industry with excellent SMS percentile rankings for both unsafe driving and fatigued driving categories: 8.1 percent and 10.1 percent, respectively. But thanks to a sensationalized news piece, they were branded as an outlaw trucking company in the mind of the public – at least those who watched the news that night. I called the reporter for comment, but the station stands by its initial report.
This unfortunate scenario is repeated across the country, and the trucking industry takes blow after blow. Outside of association efforts like the Truckload Carriers Association's Highway Angel program and the American Trucking Associations' America's Road Team and Share the Road campaigns, too little is done to tell the positive stories this industry has to share.
It's time to pull our weight as individuals. The next time your company purchases trucks with low-emissions engine technology, advanced fuel-savings features or accident avoidance systems, contact your local media outlets and tell your story. Tell them how today's engines are 60 times cleaner than engines 20 years ago. Tell them about today's advanced collision avoidance systems and how your company is doing its part to lower the chance of accidents.Tell them how three of your drivers reached the million-mile mark without a recordable accident.
For fleets without savvy communications specialists, we've developed form letters for you to use to make the contact process easier. You can find them at ccjdigital.com/media-form-letters.

Repairing the trucking industry's image is an uphill battle, but it is one worth fighting. Do not waste the next opportunity to portray your company in a positive light. When you get positive press, it raises the public's opinion of our industry, and then we all win.
JEFF CRISSEY is Editor of Commercial Carrier Journal. E-mail jcrissey@ccjmagazine.com.