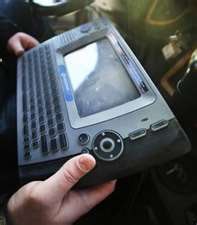 The Federal Motor Carrier Safety Administration has selected the Virginia Tech Transportation Institute to conduct a study into whether electronic onboard recorders reduce the risk of fatigue-related crashes.
The study will use existing data from the U.S. Department of Transportation to compare safety records and crash rates among EOBR-equipped trucks and nonequipped trucks. The study also will look at hours-of-service compliance, what portion of the industry is currently using the devices, associated costs and other benefits of the devices.
The report should be done by the end of 2013. FMCSA in May issued a final rule that formally rescinded its April 2010 final rule concerning EOBRs for HOS compliance. FMCSA's action responded to a court decision that vacated the rule that would have mandated EOBRs on all trucks used by certain noncompliant carriers.
The U.S. Court of Appeals for the Seventh Circuit in August 2011 vacated the agency's EOBR rule following a challenge by the Owner-Operator Independent Drivers Association. OOIDA had argued that the final rule had not met federal regulations stipulating FMCSA ensure the devices not be used to harass vehicle operators.
FMCSA on Feb. 10 announced its intent to move forward with its rulemaking regarding EOBRs and HOS supporting documents by preparing a supplemental notice of proposed rulemaking. FMCSA held an EOBR listening session April 26 in Bellevue, Wash., to allow interested persons to present comments, views and relevant new research the agency should consider in development of its SNPRM.
The MAP-21 highway funding legislation passed by Congress and signed by President Obama in July included a mandate for electronic logging devices. Carriers can expect a proposed rule on EOBRs as early as March 2013, said Dave Kraft, director of industry affairs for Qualcomm, during an webinar on Thursday, Aug. 16.
Kraft said that a rule would follow the congressional mandate in the highway bill. FMCSA's Motor Carrier Safety Advisory Committee will hear from the agency on major motor carrier safety provisions included in the highway bill on the first day of the next public MCSAC meeting, set for Aug. 27-29 in Alexandria, Va.