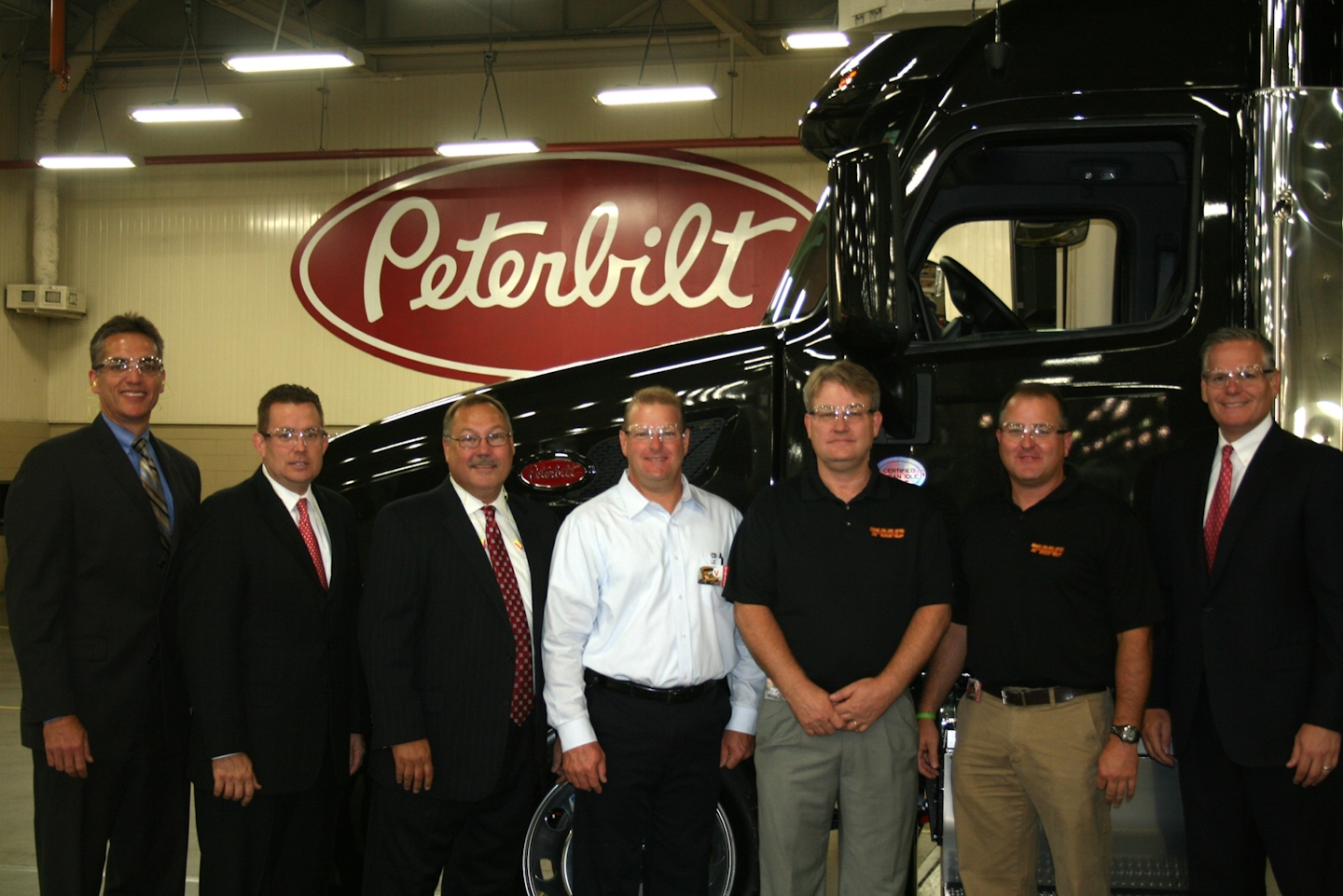 Peterbilt Motors Co. announced the delivery of the first Model 579 to TMC Transportation of Des Moines, Iowa. Representatives from TMC and Allstate Peterbilt were in attendance to commemorate the occasion. The Model 579, Peterbilt's newest SmartWay-designated product, was designed to optimize fuel efficiency, increase vehicle reliability and enhance operator comfort.
"Peterbilt is proud to celebrate this exciting event with TMC Transportation, as our companies share the same passion for industry-leading quality, performance and customer satisfaction," said Bill Kozek, Peterbilt general manager and Paccar vice president. "The Model 579 is the culmination of innovative engineering design and manufacturing processes that result in the highest-quality product. To share this occasion with a long-term loyal partner and our Denton (Texas) employees is very rewarding."
"This is really an exciting occasion for TMC Transportation, experiencing firsthand the pride, quality and craftsmanship from Peterbilt's production team that is evident in the products they manufacture," said Jason Webb, executive vice president of asset management for the flatbed carrier. "We are proud to take delivery of the first Model 579 and add this exciting new product to our fleet."
In addition to commemorating the first delivery of the Model 579, TMC placed an order for an additional 1,500 units, citing the product's fuel efficiency design characteristics and early driver feedback upon reviewing comfort and amenities inherent in the cab and sleeper interior. Both Webb and Rod Simon, TMC executive vice president of maintenance, conducted a comprehensive technical review of the first 579 unit.
"We are confident in the product and the operational performance improvements we will gain in the form of fuel efficiency, driver comfort and vehicle reliability," Webb said. Driver comfort played a key role in the decision to purchase additional units, with retention remaining a critical factor in fleet utilization.
The Model 579 features a 2.1 meter-wide aluminum cab with a panoramic-style windshield that provides added visibility. Complete with a functional business area, the sleeper doubles as a comfortable and office. Features include new sound abatement technology that helps minimize outside noise, a feature-rich climate control system and wide use of LED lighting.
"TMC Transportation is a leader among the nation's flatbed operations and possesses a special dedication to operating premium aerodynamic vehicles," said Jeff Vanthournout, president of Allstate Peterbilt, the selling dealer. "The purchase of an additional 1,500 units shows the confidence they have that the Model 579 will contribute positively to their business model, and we thank them for our long-term partnership."