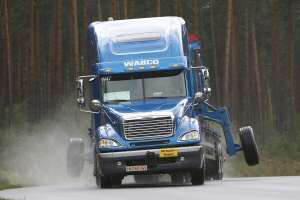 WABCO Holdings Inc. announced it has acquired Ephicas, a provider of aerodynamic solutions for commercial vehicles. The company also introduced OnLane technology, a lane departure warning system for trucks and buses.
Leveraging Ephicas' expertise and patented technologies, WABCO says it will develop a range of aerodynamic products, branded OptiFlow, that are designed to increase vehicle efficiency and reduce fuel consumption for trucks, trailers and buses. Terms of the acquisition were not announced.
"Like WABCO, Ephicas is an innovator of technologies for vehicle efficiency and an industry pioneer for bringing these technologies to market," says Nick Rens, vice president of trailer systems and aftermarket for WABCO. "Together, we expect to accelerate WABCO's drive for leadership in the field of commercial vehicle aerodynamics. We see a growing opportunity in aerodynamics as commercial vehicle manufacturers and fleet operators around the world seek to meet government targets for vehicle emissions while satisfying their own requirement to enhance fuel efficiency."
The three founders of Ephicas will join WABCO. Ephicas' leader, Hessel Jongebreur, will become a product line leader within WABCO's trailer systems business; and fellow founders Gandert Van Raemdonck, technical head, and Hjalmar Van Raemdonck, operations head, will be responsible for ongoing innovation and operational delivery of OptiFlow products.
"Ephicas has proved its ability to invent, patent and deliver breakthrough aerodynamic solutions for commercial vehicles," says Jongebreur. "By joining forces with WABCO, we can further leverage mutual innovation power and contribute to WABCO's technology leadership while also delivering OptiFlow solutions to a global customer base."
OnLane, designed to provide visual and acoustic warnings or an optional seat-vibration warning in case of unintentional lane departure, integrates a camera and an electronic control unit into a single box and can be mounted at the top or bottom of the vehicle's windshield. OnLane is designed to be compliant with the European Union's regulation that requires LDWS on new trucks and buses as of November 2013.
"OnLane marks another major step in vehicle safety and driver effectiveness, further strengthening WABCO's global technology leadership," said Jean-Christophe Figueroa, Wabco vice president, Vehicle Control Systems. "OnLane extends our portfolio of advanced driver assistance systems and represents WABCO's first in a series of advanced camera functions for LDWS, which allows for future integration of additional features such as driver drowsiness warning, traffic sign recognition and headlight control."
OnLane technology is the company's first safety system using a camera. OnLane's technology supports the future introduction of WABCO's On GuardMax, an advanced emergency braking system designed to react to moving, decelerating and stationary vehicles ahead and can autonomously bring the vehicle to a complete stop. OnLane fuses with the radar sensor in OnGuard technology. WABCO said it also will supply an aftermarket kit to retrofit trucks and buses with OnLane, enabling fleets to further improve vehicle safety and driver effectiveness.
The company also introduced two of its newest heavy-duty brake products and a new manual transmission system. The brake products are WABCO's Maxx air disc brake technology, a high-performance single-piston braking product for trucks, buses and trailers; and an electronic braking system for hybrid trucks and buses. The OptiDrive automated manual transmission system is designed to support hybrid drivelines.