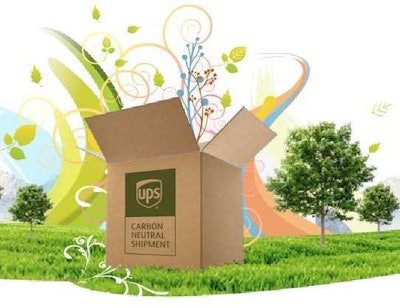 UPS announced that for the second consecutive year, the company has received the highest score in the 2012 Carbon Disclosure Project's "Carbon Disclosure Leadership Index" of S&P companies, receiving a 99 out of 100.
UPS is one of only two U.S. companies to achieve the high score, reflecting the company's commitment to transparency and leadership with regards to carbon reporting and performance in mitigating environmental impact. Only four companies in the world received scores of 99 or higher.
According to the Carbon Disclosure Project, companies are scored on their climate change disclosure, and high scores indicate good internal data management and understanding of climate change-related issues affecting the company.
Results from the 2012 Carbon Disclosure Project indicate that S&P 500 companies are making significant strides with regards to transparency and progress on carbon goals, narrowing the gap with Global 500 companies. The average performance score of the S&P 500 increased by 44 percent, with assurance of emissions data nearly doubling, signaling a greater commitment to transparency and accuracy.
"UPS's commitment to sustainability and transparency in reporting is a guiding principle to our strategy," said Scott Wicker, UPS chief sustainability officer. "Being recognized by one of the world's most respected organizations evaluating environmental performance is an affirmation that our programs are on the right path to creating a better environment for our employees, our customers and our communities."