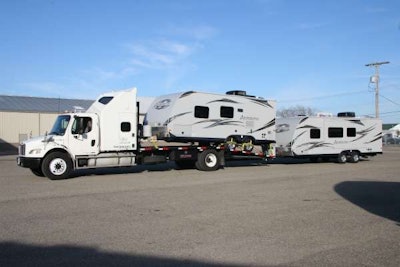 Indiana Transport, which provides power units to deliver towable vehicles, announced it has implemented Pegasus TransTech's Transflo Express truckstop scanning, a service that provides fleets with same-day access to trip documents at more than 850 participating locations, including all Pilot, Flying J, Love's, and many independent truckstops.
Based in Elkhart, Ind., Indiana Transport delivers many new products manufactured there,with brand names such as Landmark, Big Horn, Cyclone and Kodiak, among others. The company also provides towage for RV dealers and others and operates some 400 power units.
With Transflo Express, Indiana Transport drivers hand delivery documents to a cashier for scanning; at many truckstops, they can scan documents themselves at kiosks. Either way the documents are delivered electronically in seconds to headquarters in Elkhart for immediate billing and payroll processing, speeding the flow of paperwork, reducing days-sales-outstanding and increasing cash flow.
"Transflo Express delivers many advantages to all kinds of fleets and their drivers," said Bob Helms, Pegasus TransTech chairman and chief executive officer. "We're very pleased that Indiana Transport has selected us to help meet their document delivery needs."