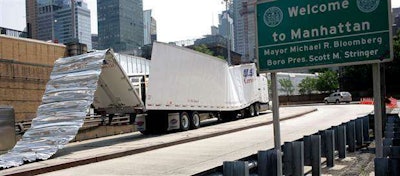 The United States needs standards for global positioning system devices used by truck and bus drivers to prevent hitting low bridges and driving onto restricted roads, a U.S. senator told the U.S. Department of Transportation.
In a letter to U.S. Transportation Secretary Ray LaHood on Tuesday, Sept. 25, U.S. Sen. Charles Schumer (N.Y.-D) wrote that truck drivers following faulty directions provided by GPS devices have hit bridges in the New York City area more than 200 times in the past two years.
Schumer wrote that nearly 80 percent of bridge strikes in New York state are caused by poor GPS guidance even though parkways with low overpasses are closed to commercial traffic. GPS devices fail to note restrictions for trucks and buses even when the roads are well-marked with warning signs, he said.
"These accidents are frequent, costly, dangerous and entirely avoidable," Schumer said at a news conference. "If we have the technology to send a truck to Mars, we have the technology to prevent trucks from crashing into bridges."
Schumer cited a study by the New York Department of Transportation that recommended prohibiting truckers from using consumer GPS systems and hiking fines for truckers on nontruck routes.
Other recommendations included reviewing several routes under CSX bridges unrestricted to trucks to consider barring trucks on these routes; requiring truckers with multiple accidents on bridges on unauthorized routes to purchase additional liability insurance; and using remote monitoring to identify trucks on unauthorized routes and issuing summons or penalties by mail.