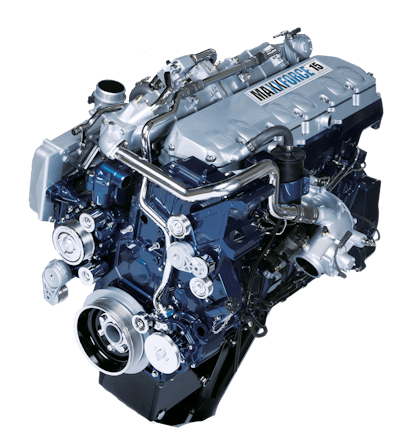 Navistar announced Wednesday, Sept. 26, that it will drop its MaxxForce 15-liter heavy-duty diesel engine in favor of the Cummins ISX15, which will appear in ProStar+ tractors by yearend. International will continue to build the MaxxForce 15 in the short term until the order board is filled and then cease production.
The announcement came at International's 7th Boot Camp Dealer/Sales Educational Program in Tooele, Utah. Bob Mann, vice president of dealer sales for International, said Navistar will drop the ICT+ marketing name for its exhaust aftertreatment system and simply refer to it as "SCR," or selective catalytic reduction, going forward.
Mann said International medium-duty engines still retain U.S. Environmental Protection Agency emissions credits, so the immediate SCR focus for engineers will be on the heavy-duty engines. The current timetable for International medium-duty SCR adoption is April 2013 for MaxxForce 11- and 13-liter engines, January 2014 for DT Series engines and MaxxForce 9- and 10-liter engines, and the MaxxForce 7-liter engine in January 2015.
The company also announced a host of new and improved products that will enter the production pipeline in the next few months and that Mann said will give International the products needed to recapture market share lost over the past couple of years. Key introductions will include:
• A four-wheel drive TerraStar, available in February 2013;
• An Allison 1350 transmission option for TerraStar;
• A new/retrofittable engine brake for the MaxxForce 7;
• A slope-nosed WorkStar 7600, available now;
• Onboard diagnostic systems for vocational trucks, beginning in January 2013;
• A LoneStar-derived Eagle interior for the WorkStar 7600, available now; and
• The new LoadStar low cab-forward truck, appearing next year. A natural gas version will be available in July 2013.
Dealers key to past, future success
Jim Hebe, vice president of sales for Navistar, said – not for the first time – that International today finds itself "fighting for survival," but that company dealers would be key to digging it out of the hole created by the company's push to develop an exhaust gas recirculation-only diesel engine.
"Things are bad," Hebe admitted. "But we've got Cummins on board, and we're fighting our way back. We've got a long way to go, and there are still a lot of distractions out there. We're seeing battles over who's going to be on our board of directors. But I don't think that matters. It didn't matter three years ago, and it won't matter going forward, because the strength of this company rests with its dealer organization."
Hebe said he feels more comfortable and confident than any time since 2006 about where International is and where the company is going. "We are focused on businesses that make money and make sense for our customers, and that's crucial," he said.
Hebe told a packed room of dealers and sales representatives from across the country that they kept International alive during the darkest days of the EGR-SCR war. "If it wasn't for you, there's a good chance we wouldn't be here today," he said. "That's all because of the way you supported our customers."
Hebe said Navistar is ready to turn the page and move past the animosity of the EGR-SCR debate, saying the days of criticizing its competitors are over. Dealers and sales people will be taught about competitive strong points in order to understand their strengths and sell against them, but the tone going forward will be markedly different, he said.