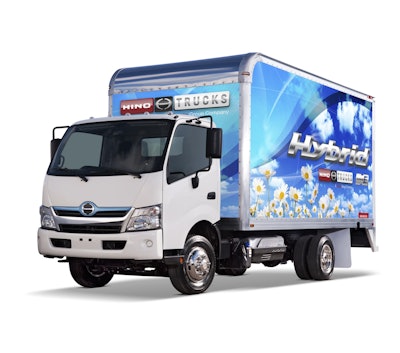 Hino Trucks' 2013MY Class 5 195h diesel electric cab-over has been approved by the California Air Resources Board and is eligible for the California Hybrid and Zero-Emission Truck and Bus Voucher Incentive Project (HVIP).
HVIP is an incentive program created by the California Air Resources Board (ARB) to accelerate the California deployment of hybrid and zero-emission medium and heavy-duty vehicles and vehicle technologies. The HVIP provides vouchers to help California fleets purchase an eligible truck or bus to further build the market by reducing the cost of these vehicles for fleets that purchase and operate the vehicles in the State of California. This provides a public benefit by helping commercialize these technologies and support a critical ramp-up in production that is necessary to meeting California's clean air goals.
"California customers will take delivery of the first diesel electric 195h vehicles in November," said Glenn Ellis, Hino Trucks Vice President of Marketing. He added, "It is our goal to help support ARB's initiative of accelerating the deployment of hybrid trucks. The hybrid upcharge on our 195h is only $12,000, so customer's who utilize the HVIP, can see up to a $25,000 voucher. This means they can purchase a 195h hybrid truck for less than a traditional diesel truck.
Hybrid and electric trucks and buses are a fairly new technology and are therefore more expensive than traditional vehicles, especially in the early market years when production volumes are low. ARB recognizes that these vehicles have the proven ability to reduce criteria and greenhouse gas (GHG) pollutants in California and aims to accelerate the penetration of these cleaner vehicles to meet state clean air regulations and climate change goals.