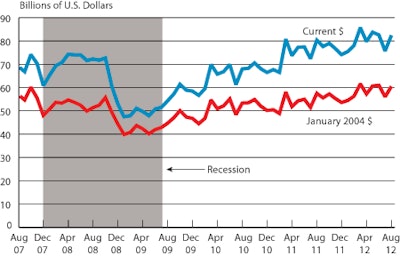 Trade using surface transportation between the U.S. and its North American Free Trade Agreement partners, Canada and Mexico totaled $82.5 billion in August, up 2.6 percent over August 2011. According to a report by the U.S. Bureau of Labor Statistics, the number represents a 5.2 percent increase year over year when adjusted for inflation.
The number is also up 52 percent over August 2009's, directly after the recession ended.
Surface transportation includes freight moved by truck, rail, pipeline and mail. Surface trade in August accounted for 87.2 percent of NAFTA trade.