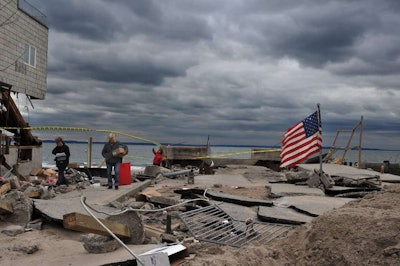 Carriers providing relief supplies following Superstorm Sandy say previous disaster aid experience, coordinating with relief organizers and contingency planning are the trifecta for delivery success.
Companies credit all three for being able to deliver humanitarian aid, from giants like UPS and FedEx pledging $1.5 million each in cash support, to family owned and operated Borwegen Trucking and Arabie Trucking furnishing trucks and transportation costs to deliver relief.
UPS is providing $250,000 in logistical aid for urgent response and $1 million in cash and support to relief organizations. UPS had pre-positioned shelter support trailers before this year's hurricane season as a participant in the American Red Cross' Annual Disaster Giving Program.
UPS began pre-storm planning a week before Sandy hit, but the company has long a history of contingency planning said Susan Rosenberg, a UPS spokeswoman. It was flexible with suppliers delivering fuel so the company's bulk storage was sufficiently stocked.
Bottled water was in much demand, but personal hygiene kits were another provision delivered that was much appreciated. The cold nor'easter that followed Sandy increased need for coats and blankets, Rosenberg said.
Company supplies have included delivering 5,500 buckets for debris removal, she added.
FedEx is providing monetary or in-kind transportation support to relief organizations to assist their efforts, allowing agencies to provide aid including food, shelter, clothing, medical supplies and hygiene kits.
The company has transported 3 million pounds in relief supplies over the past 10 days, said Parl Bajaj, a company spokeswoman. Contingency planning had kept company trucks in diesel, she said.
As of Nov. 12, Borwegen Trucking of Greenville, N.Y. had received nearly two truckloads of water and cleaning supplies, said owner Terry Borwegen. She is working with the local sheriff, who in turn is coordinating with NYC law enforcement for successful delivery 132 miles north to the New York City area.
The13-tractor-and-14 tanker carrier is furnishing trucks, drivers and transportation costs to move supplies. Previously, the company had carried out similar efforts to help disaster areas, including the Gulf Coast following Katrina and Joplin, Mo. after the 2011 tornado.
On Nov. 17, Arabie Trucking of Thibodaux, La., plans to dispatch two truckloads of donated baby food, diapers, batteries, blankets, water and other supplies to small East Coast towns damaged by Sandy.
Owner Sandi Arabie said she partnered with Lafourche Parish Government for the effort because her general hauling company "lost almost everything" to Hurricane Gustave in 2008 and after witnessing Katrina's damage.
Kendra Adams, president of the New Jersey Motor Truck Association, said transportation issues remained after roads reopened in New York and New Jersey. Truckers faced gridlocks in some areas and those less experienced with NYC ran into issues such as over height on routes.
Adams and others interviewed said truckers seemed to have sufficient access to diesel.