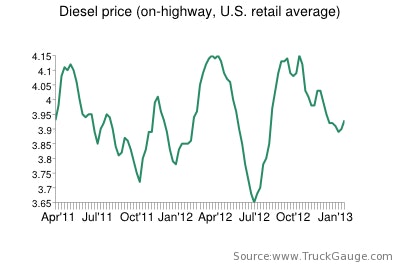 The national average retail diesel price rose for the second straight week during the week ended Jan. 28, increasing 2.5 cents to $3.927 a gallon, according to the U.S. Department of Energy's Energy Information Administration. The latest weekly price is 7.7 cents above the same week last year.
Diesel prices rose in all regions, led by a 5.8-cent increase in the Rocky Mountain region. Even so, the Rocky Mountain states still have the lowest retail diesel prices on average at $3.736 a gallon. The smallest increase was 1.4 cents in the Gulf Coast region. The nation's most expensive diesel on average is still in New England where the average price is $4.181 a gallon.
Complete diesel price information is available on EIA's Website.