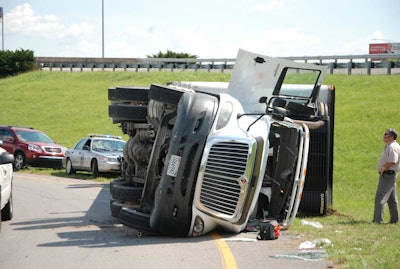 A report released this week by the American Trucking Associations concludes that many more times than not, car drivers are at fault when cars and trucks crash with one another. ATA's report rounded up reports from several large studies for its findings, including from agencies like the Federal Motor Carrier Safety Administration and National Highway Traffic Safety Administration and groups like the AAA Foundation for Traffic Safety and the University of Michigan's Transportation Research Institute.
The University of Michigan Transportation Research Institute — a leader in truck-related crash research, says ATA — studied 8,309 fatal car-truck crashes to determine fault. 81 percent of the time, car drivers were assigned at fault, says the study, versus 27 percent for truck drivers.
A similar study done by the National Highway Traffic Safety Administration in 2003 studied 10,092 fatal accidents, deeming that cars were responsible 91 percent of the time during head-on crashes, 91 percent of the time in opposite-direction sideswipes, 71 percent of rear-end crashes and 77 percent of same-direction sideswipes.
FMCSA's studies looked at 6,131 fatal car-truck crashes over a three-year period in 2007, 2008 and 2009. In 2007 and 2008, cars were assigned fault in 85 percent of crashes. The number dropped to 81 percent in 2009.
ATA President Bill Graves says FMCSA needs to take this information into account for its Compliance, Safety, Accountability program and figure out a way to deal with the issue of crash accountability in scoring.
"Every crash, and every fatality and injury, suffered on our nation's highways is a tragedy," said ATA President Bill Graves said. "Preventing them from happening requires a proper understanding of the causes of these crashes. It is also tragic that carriers and drivers across this country are saddled with guilt and blame for many crashes they could do nothing to prevent."
Click here to see the full report.